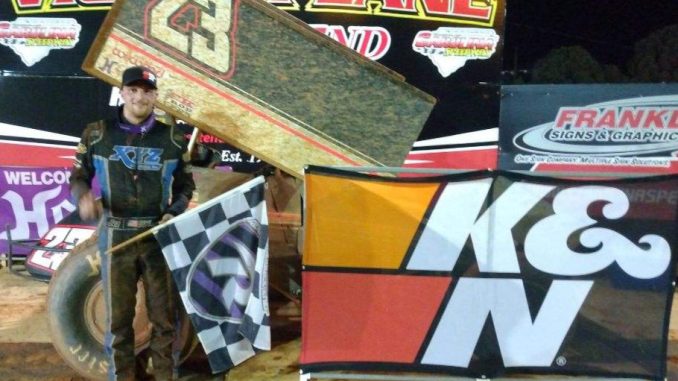 By Pete Walton
GASTONIA, NC – July, 28, 2023 -Zane DeVault of Plymouth, IN waited out a four-hour rain delay to win the 25-lap United Sprint Car Series Feature Race Friday night at Carolina Speedway. DeVault took the lead on lap seven, and led the rest of the way. Johnny Bridges of Cherryville, NC came home in the second spot.
USCS National point leader, 14-time USCS National Champion and National Sprint Car Hall of Fame inductee Terry Gray of Bartlett, TN finished third, and Terry Witherspoon of Jacksonville, FL was fourth. Lance Moss of Cherryville, NC came back from a mid-race spin to take the fifth position.
Joe Larkin of Suwanee, GA finished sixth, with seventh going to Jeff Willingham of Ripley, MS. Camden Jackson of Cherryville, NC took the eighth spot, and Shawn Mott of Rockwell, NC was ninth. Brian Thomas of Pendergrass, GA rounded out the top ten.
In preliminary action, C.J. Miller of Mooresville, NC won the six-lap Hoosier Speed Dash to earn the K&N Filters Pole Position for the Big Show. The two eight-lap Heat Races were won by Moss in the Engler Machine & Tool First Heat and Eric Riggins Jr. of Charlotte, NC in the JJ Supply of NC Second Heat.
Miller took the lead at the drop of the green flag for the 25-lap Feature Race followed by Bridges, DeVault, Gray and Riggins. On lap five, Riggins got by Gray for the fourth spot, and DeVault passed Bridges for the second position on lap six. Miller slowed off the pace on lap seven giving DeVault the lead. Miller stalled in turn four to bring out the first of three caution flags.
DeVault brought the field down for the restart with Bridges, Riggins, Gray, and Witherspoon in the top five. Riggins drove by Bridges for the second spot on lap 13, as DeVault had opened up a 2.2 second lead. Moss brought out the caution flag on lap 14 with a spin in turn one. He was able to restart seventh as the last car on the lead lap.
When the field went back to green, Riggins was able to keep pace with the leader DeVault. With just 1.372 seconds separating DeVault and Riggins, the night for the second-place driver went up in smoke on lap 21. There was an oil fire on Riggins' car, so the red flag was displayed. DeVault was able to cruise to a four second margin of victory over Bridges at the checkered flag.
The final night of the three-race USCS Carolina Swing will take place on Saturday night at Cherokee Speedway in Gaffney, SC, the Track Your Mama Warned You About. For more information visit the Cherokee Speedway website at www.cherokeespeedwaysc.com.
United Sprint Car Series Marketing Partners are K&N Filters, Engler Machine & Tool, Hoosier Racing Tire, Hero Graphics, DMI, J&J Supply of NC, Huggins Cams, Racing Electronics, JE Pistons, DHR Suspension, Wilwood Disc Brakes, KSC Racing Products, PRO Shocks, Schoenfeld Headers, and Arizona Sport Shirts.
OFFICIAL RESULTS FOR THE UNITED SPRINT CAR SERIES RACE AT CAROLINA SPEEDWAY IN GASTONIA, NC ON 7/28/2023:
USCS FEATURE RACE – 25 Laps: 1. Zane DeVault, Plymouth, IN; 2. Johnny Bridges, Cherryville, NC; 3. Terry Gray, Bartlett, TN; 4. Terry Witherspoon, Jacksonville, FL; 5. Lance Moss, Cherryville, NC; 6. Joe Larkin, Suwanee, GA; 7. Jeff Willingham, Ripley, MS; 8. Camden Jackson, Cherryville, NC; 9. Shawn Mott, Rockwell, NC; 10. Brian Thomas, Pendergrass, GA; 11. Eric Riggins Jr., Charlotte, NC; 12. Robert Tyler, Mount Pleasant, NC; 13. Eric Gunderson, Canton, GA; 14. Kevin Heavner, Charlotte, NC; 15. C.J. Miller, Mooresville, NC; 16. Brian Tyler, Parma, MI; 17. A.J. Maddox, Tampa, FL; 18. Gavan Boschele, Mooresville, NC DNS; 19. Kyle Connery, Vero Beach, FL DNS.
HOOSIER SPEED DASH – 6 Laps: 1. Miller; 2. Gray; 3. DeVault; 4. Bridges; 5. Moss; 6. Riggins.
HEAT RACES – 8 Laps:
ENGLER MACHINE & TOOL FIRST HEAT: 1. Moss; 2. Miller; 3. Bridges; 4. Larkin; 5. Willingham; 6. Mott; 7. Heavner; 8. Boschele; 9. Connery; 10. Maddox.
JJ SUPPLY OF NC SECOND HEAT: 2. Riggins; 2. DeVault; 3. Gray; 4. Witherspoon; 5. Jackson; 6. R. Tyler; 7. Thomas; 8. Gunderson; 9. B. Tyler.
United Sprint Car Series News Release: Contact: PETE WALTON – 770-865-6097