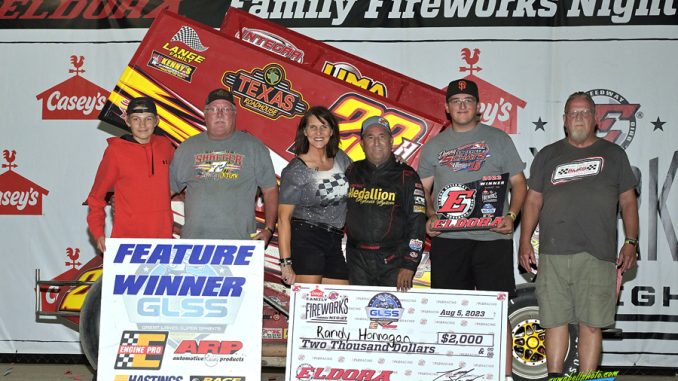 By T.J. Buffenbarger
ROSSBURGH, Ohio (August 5, 2023) — Randy Hannagan won the Great Lakes Super Sprint Tour/National Racing Alliance main event Saturday night during Family Fireworks Night at Eldora Speedway in dominating style. Hannagan, from San Jose, California, had built up an 8.304 second lead when a caution came out for a car stopped in turn three with two laps to go. Hannagan was unphased by the restart and drove away for his fifth win of the 2023 season.
This is a testament of how good Dennis Yoakam Racing is," Hannagan said in victory lane to credit his team for the dominant performance. "Tyson, Jay, Mason, everybody works on this thing. It was a tough one because when you start up front, you don't know where you need to be running. I just ran where I think I thought needed to be and it felt pretty good."
Hannagan started on the front row with Kyle Sauder, who was making the final start of his sprint car career, for the 25-lap main event. Hannagan drove into the lead early with Sauder trying to keep pace. Behind the lead duo Jason Shultz and Jared Horstman raced for third position with Horstman taking the position on completion of lap one.
Hannagan stretched his lead out while overtaking slower cars by over eight seconds with the only caution flag of the main event appeared with two laps to go when Horstman's teammate Hud Horton slowed in turn three.
Hannagan had Sauder on his back bumper for the restart but was up for the challenge driving away from the field for the victory. Sauder, Horstman, Brad Lamberson from 11th starting position, and Shultz rounded out the top five.
Shultz and Devon Dobie were fastest in the two flights of time trails with Shultz fastest overall with a lap of 14.162 seconds. Shultz, Sauder, Horstman, and Max Stambaugh won heat race events. Chad Dunham won the B-Main.
By taking the green flag Horstman secured the 2023 National Racing Alliance point title.
The Great Lakes Super Sprint tour returns to action Friday and Saturday August 11th and 12th in opposite corners of Michigan starting Friday at Hartford Motor Speedway in Hartford, Michigan located in the southwest portion of Michigan before heading 235 miles northeast to Silver Bullet Speedway located in Owendale, Michigan.
Great Lakes Super Sprints / National Racing Alliance
Family Fireworks Night
Eldora Speedway
Rossburg, Ohio
Saturday, August 5, 2023
TI22 Performance Qualifying Flight A
1. 35S-Jason Shultz, 14.162[15]
2. 47C-Adam Carberry, 14.428[14]
3. 22H-Randy Hannagan, 14.440[8]
4. 45-Chuck Hebing, 14.451[19]
5. 10-Kelly Hebing, 14.585[12]
6. 0-Brayton Phillips, 14.586[13]
7. 83-Adam Cruea, 14.587[10]
8. 2-Kyle Sauder, 14.590[11]
9. 20I-Kelsey Ivy, 14.663[6]
10. 49T-Gregg Dalman, 14.732[16]
11. 73C-Cody Fendley, 14.834[18]
12. 47-Kyle Drum, 14.886[7]
13. 24-Kobe Allison, 15.006[5]
14. 11H-Caleb Harmon, 15.035[4]
15. 88N-Frank Neill, 15.144[1]
16. 48-Wade Buttrey, 15.352[3]
17. 37-Noah Dunlap, 15.501[2]
18. 22-Jacob Balliet, 15.648[9]
19. 07-Shane Simmons, 16.601[17]
TI22 Performance Flight B
1. 23-Devon Dobie, 14.357[14]
2. 27-Brad Lamberson, 14.458[16]
3. 98-Joe Trenca, 14.485[13]
4. 85-Dustin Daggett, 14.524[8]
5. 17-Jared Horstman, 14.554[3]
6. 71H-Max Stambaugh, 14.567[7]
7. 17H-Hud Horton, 14.580[1]
8. 89-Robbie Stillwaggon, 14.595[15]
9. 35-Ron Blair, 14.662[11]
10. 66-Chase Dunham, 14.785[12]
11. 46-Ryan Coniam, 14.789[9]
12. 31-Jac Nickles, 14.855[18]
13. 11G-Luke Griffith, 14.897[5]
14. 11M-Hayden Miller, 14.918[17]
15. X-Mike Keegan, 14.926[2]
16. 11-Ryan Stillwaggon, 15.258[6]
17. 33-RJ Payne, 15.364[10]
DNS: 12B-Luke Hall, 15.364
Engler Machine Tool Heat Race #1 (8 Laps)
1. 35S-Jason Shultz[4]
2. 22H-Randy Hannagan[3]
3. 73C-Cody Fendley[6]
4. 24-Kobe Allison[7]
5. 20I-Kelsey Ivy[5]
6. 88N-Frank Neill[8]
7. 37-Noah Dunlap[9]
8. 83-Adam Cruea[1]
9. 07-Shane Simmons[10]
10. 10-Kelly Hebing[2]
Howard Johnson of Lima Heat Race #2 (8 Laps)
1. 2-Kyle Sauder[1]
2. 0-Brayton Phillips[2]
3. 47C-Adam Carberry[4]
4. 45-Chuck Hebing[3]
5. 49T-Gregg Dalman[5]
6. 47-Kyle Drum[6]
7. 48-Wade Buttrey[8]
8. 11H-Caleb Harmon[7]
9. 22-Jacob Balliet[9]
PERfit / Engine Pro Heat Race #3 (8 Laps)
1. 17-Jared Horstman[2]
2. 17H-Hud Horton[1]
3. 46-Ryan Coniam[6]
4. 23-Devon Dobie[4]
5. 98-Joe Trenca[3]
6. 35-Ron Blair[5]
7. X-Mike Keegan[8]
8. 11G-Luke Griffith[7]
9. 33-RJ Payne[9]
Specialty Fuels Logistics Heat Race #4 (8 Laps)
1. 71H-Max Stambaugh[2]
2. 85-Dustin Daggett[3]
3. 27-Brad Lamberson[4]
4. 89-Robbie Stillwaggon[1]
5. 31-Jac Nickles[6]
6. 66-Chase Dunham[5]
7. 11M-Hayden Miller[7]
8. 11-Ryan Stillwaggon[8]
DNS: 12B-Luke Hall
Coffey Sons Plumbing Heating B-Main (12 Laps)
1. 66-Chase Dunham[4]
2. 47-Kyle Drum[2]
3. 35-Ron Blair[3]
4. X-Mike Keegan[7]
5. 11M-Hayden Miller[8]
6. 11H-Caleb Harmon[10]
7. 88N-Frank Neill[1]
8. 11G-Luke Griffith[11]
9. 48-Wade Buttrey[6]
10. 37-Noah Dunlap[5]
11. 11-Ryan Stillwaggon[12]
12. 83-Adam Cruea[9]
13. 22-Jacob Balliet[14]
14. 07-Shane Simmons[13]
DNS: 33-RJ Payne
DNS: 12B-Luke Hall
DNS: 10-Kelly Hebing
Engine Pro A-Main (25 Laps)
1. 22H-Randy Hannagan[1]
2. 2-Kyle Sauder[2]
3. 17-Jared Horstman[5]
4. 27-Brad Lamberson[11]
5. 35S-Jason Shultz[3]
6. 71H-Max Stambaugh[6]
7. 47C-Adam Carberry[9]
8. 46-Ryan Coniam[13]
9. 24-Kobe Allison[14]
10. X-Mike Keegan[24]
11. 23-Devon Dobie[10]
12. 66-Chase Dunham[21]
13. 98-Joe Trenca[19]
14. 45-Chuck Hebing[15]
15. 35-Ron Blair[23]
16. 20I-Kelsey Ivy[17]
17. 89-Robbie Stillwaggon[16]
18. 49T-Gregg Dalman[18]
19. 0-Brayton Phillips[8]
20. 85-Dustin Daggett[4]
21. 47-Kyle Drum[22]
22. 31-Jac Nickles[20]
23. 73C-Cody Fendley[12]
24. 17H-Hud Horton[7]