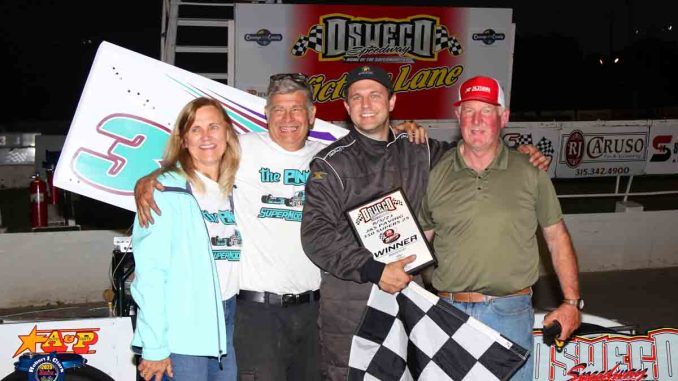 By Camden Proud
OSWEGO, NY (August 5, 2023) – Nick Barzee of Burnt Hills, NY became the third different first time winner in the J&S Paving 350 Supermodified division this season with a wire to wire victory from the pole for his first career win at Oswego Speedway this past Saturday night.
Family ties run deep at Oswego for Barzee, who is the nephew of Speedway Hall of Famer and many-time track champion Mike Muldoon, of course the great nephew of his Dad, Jim Muldoon, and the brother-in-law of SBS veteran and feature winner Alex Hoag.
While first-hand success at the Steel Palace has been a longtime dream for the Barzee Family, Nick has otherwise had a season to forget, with two heavy crashes significantly damaging the family owned Booth Chassis.
After spending countless hours in the shop to make repairs on two occasions, Barzee's luck had unfortunately still not turned around as of two weeks ago, when the No. 31 had a healthy lead in the Mr. J&S Paving 350 Super feature, only to see mechanical woes force Nick to surrender the race lead and send him pitside.
But finally, with a very fast race car and a great starting spot, things turned around and it would finally all come together for the Barzee Family this past weekend as Nick, father Bobby Barzee, mother Michelle Muldoon Barzee, and crew celebrated in victory lane for the first time.
"This feels pretty good. I'm kind of at a loss for words," said Barzee in victory lane. "I have been racing here for so long, and this just feels great. I know I started on the pole, but still, a win is a win and I'm very happy. The car has been great all night so I can't complain. I'd like to thank JP Jewelers, they have been onboard with us for a couple of years and they are sponsoring the race tonight, MARDON PC, A&P Auto, Barzee Auto Body, and Dreamworks Landscape."
Scoring his second runner-up finish in as many weeks was Dave Cliff, who picked up a win last month in the Barbeau Racing No. 50. The weekend prior, Cliff and team ventured to Sandusky Speedway for the Outlaw 350 Supermodified portion of the Hy-Miler Nationals, where Cliff was able to secure a fine runner-up effort.
Back at Oswego and starting in fifth, Cliff made quick work of fourth starting Kyle Perry, third starting Talen Hawksby, and outside polesitter Jason Spaulding, who was forced pitside with issues while running in second, and attempted to give chase to Barzee, but instead, was forced to fend off a hard charging Josh Sokolic towards the end of the 25-lap main.
"Our car was pretty good all night tonight finally. It was actually a little too loose for a change," mentioned Cliff. "Congrats to Nick (Barzee). They've had a horrible start to the year so it's good to see them get this car going again. I could gain on him a couple laps here and there, but by the end he was pulling away and I was just way too loose. He did what he had to do. By the time Josh (Sokolic) and I got through he was long gone, but that was a lot of fun. Thanks to Josh for racing me clean. I have to thank Lonnie at Joe's Jerky, Midstate Tree Services, Woodchuck Saloon, and Lakeside Restaurant."
Settling for third was the high point man Sokolic, who has four feature wins this year and a healthy championship lead over Perry with just two events to go.
"We got off to a slow start and had to pick off a few cars early on, but once we got into clean air the car was handling good," Sokolic said. "I felt like I was pretty even with everyone. I caught up to Dave and tried to stick my nose to the outside, but he's a clean racer, he knew I was there. I tried and the car didn't stick. Just have to thank my family, Dad, Mom, sister, sponsors, and everyone who helps out on the car. It was good, but I just couldn't get up to where I need to be tonight."
Rounding out the top five were Hawksby and Perry with Robbie Wirth, Cameron Rowe, and Spaulding completing the field.
The Oswego Speedway Winged Super Challenge comes to a close this Saturday night, August 12th as the ISMA / MSS Supermodifieds will be in town for their third and final appearance of the season alongside the Pathfinder Bank SBS and J&S Paving 350 Supers. Tickets are available online at OswegoSpeedway.com.
For more information, please visit the track website online at OswegoSpeedway.com or LIKE on Facebook at Facebook.com/OswegoSpeedway or FOLLOW on Twitter @OswegoSpeedway or Instagram @OfficialOswegoSpeedway.
RESULTS
JP Jewelers Retro Night J&S Paving 350 Super 25
Saturday, August 5, 2023
Oswego Speedway
Oswego, NY
Feature (25-laps): 1. 31 NICK BARZEE, 2. 50 Dave Cliff, 3. 26 Josh Sokolic, 4. 79 ® Talen Hawksby, 5. 20 Kyle Perry, 6. 4 ® Robbie Wirth, DNF 7. 04 Cameron Rowe, 8. 23 Jason Spaulding
Heat 1 (10-laps): 1. 50 Dave Cliff, 2. 23 Jason Spaulding, 3. 31 Nick Barzee, 4. 26 Josh Sokolic, 5. 79 ® Talen Hawksby, 6. 20 Kyle Perry, 7. 4 ® Robbie Wirth, 8. 04 Cameron Rowe
Group Time Trials: 1. 26 Josh Sokolic – 16.895, 2. 31 Nick Barzee – 16.917, 3. 20 Kyle Perry – 16.966, 4. 79 ® Talen Hawksby – 16.982, 5. 50 Dave Cliff – 17.020, 6. 23 Jason Spaulding – 17.074, 7. 4 Robbie Wirth – 17.590
D&S Landscaping Hard Charger ($25): #50 Dave Cliff
Lighthouse Lanes Up & Comer (Pizza & Wings): #31 Nick Barzee