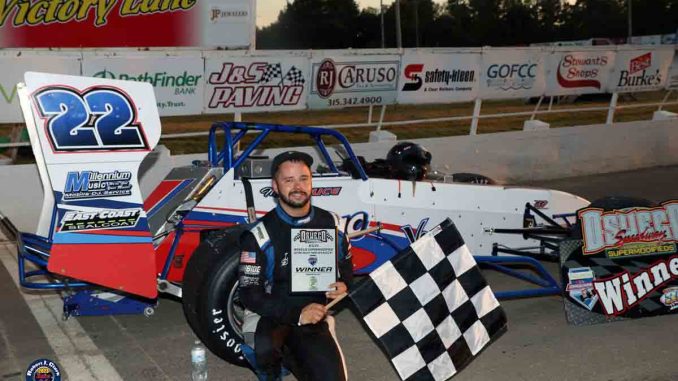 By Camden Proud
OSWEGO, NY (August 5, 2023) – It is safe to say Mike Bruce is a fan of the Twin 40's. Just as he did on July 8th in the first round of the Twins, the Oswego driver again started outside pole, took the lead on the start, and led the rest of the way for his third career Supermodified victory, splitting the Twins with back to back winner Tyler Thompson, who dominated the second 40-lapper after taking home $10,000 with his Mr. Novelis Supermodified title two weeks ago.
Despite starting on the front row, Bruce certainly had to work for the win as he was pressured by Dan Connors Jr. in the later stages of Twin 1. The double deuce had originally jumped in front of Lou LeVea Jr. on the start and built a comfortable lead until Connors drove from fifth to second in the 01, working over Bruce to no avail as the laps wound down.
"I was wheeling it for sure on that one. I saw the 01 move up to the front on the restart, and he actually showed me a wheel in turn 1. I pushed up a bit, I think the brakes were getting hot, but I figured I would make him (Connors) go to the outside and just thought as long as I hugged the hub rail I'd be fine," mentioned Bruce. "But then, all of the sudden I saw him on the outside of me too so I hope it was a good battle up front for the fans and we can put on another good show for the second one. I have to thank my crew for busting their butts. My father is home tonight which sucks, but thanks my fans, Aunt Patty, Uncle Bob, sister and boyfriend for watching on Flo, and want to thank all the sponsors Bruce Electric, Lighthouse Lanes, Vona's, Millenium Music, East Coast Sealcoat Bruce Construction, Joey Hawksby for helping set this big block up, Bobby Magner my crew chief, Larry Muroski, my brother, Nicole, Carlee and all the crew."
Settling for second was Connors, his second runner-up finish of 2023. The driver of the No. 01 now has four top five finishes on the year and sits just a fourteen points out of second in the championship standings.
"I could see Mike's car going away. He was getting loose, mentioned Connors." I was just a little too tight to get by him, but I could get next to him. It just wasn't quite enough I guess. Thanks to Paul's Big M, PJ's Ice Cream, Top Stitch, and Chris Nelson State Farm."
Completing the podium was Lou LeVea Jr, who has otherwise had a miserable season filled with bad luck, but finally, the No. 83 was rewarded with a good starting spot and remained in contention at the front from start to finish, holding strong in second until Connors squeaked by on the lap 23 restart.
While for a moment 'Little Dog' was gaining on the race leader, after the yellow flag, he instead would have to play defense with the 39 of Alison Sload hot on his heels, but held onto third for his first top five finish of the season and the third podium finish of his career at Oswego.
"I think that yellow cost us second," stated LeVea Jr.. "We didn't need that, we just got too free after we restarted. I was just holding on for dear life. Starting up front helps a lot. Raby's Ace Home Center just came onboard this year, Lighthouse Lanes, Morrison Performance, and the Big Dipper Ice Cream all help us out so I have to thank those guys."
Despite a good battle at the front, unfortunately, the first twin was marred by a first lap, first corner smash up that involved Brandon Bellinger, Camden Proud, and Lou LeVea Sr.
Bellinger, who tangled with another car and went sideways, collected a spinning Proud, and later LeVea. Proud was done for the night in the Doug Didero tribute No. 3, while LeVea was able to make repairs and start the second Twin, and Bellinger came back out after a pit stop in the first feature.
After a lengthy cleanup, the green flag was put back in the air for the second original restart, as Bruce poured it on, again taking the lead from the outside lane and trying to run away and hide from the 83 of LeVea Jr.
But, it didn't last long, as only 2 laps were in the books when the yellow came out again as Dave Shullick Jr. went around in turn 1, trying to avoid a pair of cars that banged wheels just ahead of him. Shullick, the high point man, would have to tag the tail with a bent nose wing on the Osetek No. 95.
On the first single file restart, Bruce built a considerable lead with LeVea Jr. still in second and Tim Snyder holding strong behind them after starting in third while it was Connors in fourth and seventh starting Alison Sload up to fifth.
The field would string out and remain in this order with 10 laps in the books, as twelfth starting Tyler Thompson, Dave Danzer, Jeff Abold, Shullick, and Joe Gosek duked it out inside the top 10.
By halfway, LeVea Jr. had significantly closed the gap, reeling in race leader Bruce, with Snyder left to hold onto third as Connors breathed down his tail pipes.
However, the yellow came out on lap 22, with Snyder going wide and spinning out of third in the Zero, also collecting seventh running Danzer, as well as ninth running Shullick.
Snyder and Danzer both sustained no damage and because he spun to avoid, the Mike Murphy Tribute No. 60 of Danzer received his spot back. However, Shullick was once again banged up in this incident and retired from the first feature event only to be credited with a 13th place finish.
'The Shoe 2' did however salvage a good points night, starting in that thirteenth spot and putting on a show to drive all the way up to P2 in the second 40-lapper.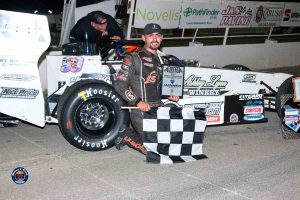 During that yellow in the first race, eventual winner of the second twin; Thompson, who charged from his twelfth starting spot up to sixth, pulled the No. 98 to the pits nose first, moving everyone in the top 10 up one spot.
On the ensuing restart, Bruce was able to get a good jump as the LeVea Jr. No. 83 did not fire well, allowing Connors to drive around the outside and take over second.
Connors quickly closed the small gap Bruce had built, and made the race leader work for it as the laps wound down, but Bruce was able to keep Connors at bay for the win with LeVea third, Sload fourth, and Danzer rebounding to finish in fifth.
Abold, Gosek, Snyder, and Logan Rayvals completed the top 10.
The Oswego Speedway Winged Super Challenge comes to a close this Saturday night, August 12th as the ISMA / MSS Supermodifieds will be in town for their third and final appearance of the season alongside the Pathfinder Bank SBS and J&S Paving 350 Supers. Tickets are available online at OswegoSpeedway.com.
For more information, please visit the track website online at OswegoSpeedway.com or LIKE on Facebook at Facebook.com/OswegoSpeedway or FOLLOW on Twitter @OswegoSpeedway or Instagram @OfficialOswegoSpeedway.
RESULTS
JP Jewelers Retro Night Novelis Supermodified Twin 40's
Saturday, August 5, 2023
Oswego Speedway
Oswego, NY
Twin #1 (40-laps): 1. 22 MIKE BRUCE, 2. 01 Dan Connors Jr, 3. 83 Lou LeVea Jr, 4. 39 Alison Sload, 5. 60 Dave Danzer, 6. 5B Jeff Abold, 7. 00 Joe Gosek, 8. 0 Tim Snyder, 9. 94 Logan Rayvals DNF 10. 98T Tyler Thompson, 11. 90 Jack Patrick, 12. 02 Brandon Bellinger, 13. 95 Dave Shullick Jr, 14. 3 Camden Proud, 15. 66 Lou LeVea Sr.
Twin #2 (40-laps): 1. 98T TYLER THOMPSON, 2. 95 Dave Shullick Jr, 3. 02 Brandon Bellinger, 4. 60 Dave Danzer, 5. 39 Alison Sload, 6. 5B Jeff Abold, 7. 00 Joe Gosek, 8. 0 Tim Snyder, 9. 83 Lou LeVea Jr, 10. 22 Mike Bruce, 11. 94 Logan Rayvals, 12. 90 Jack Patrick DNF 13. 01 Dan Connors Jr, 14. 66 Lou LeVea Sr. DNS 3 Camden Proud
Heat 1 (12-laps): 1. 5B Jeff Abold, 2. 98T Tyler Thompson, 3. 02 Brandon Bellinger, 4. 3 Camden Proud, 5. 60 Dave Danzer, 6. 0 Tim Snyder, 7. 94 Logan Rayvals, 8. 66 Lou LeVea Sr.
Heat 2 (12-laps): 1. 22 Mike Bruce, 2. 95 Dave Shullick Jr, 3. 01 Dan Connors Jr, 4. 39 Alison Sload, 5. 00 Joe Gosek, 6. 83 Lou LeVea Jr, 7. 90 Jack Patrick
Group Time Trials: 1. 60 Dave Danzer – 15.735, 2. 95 Dave Shullick Jr. – 15.763, 3. 98T Tyler Thompson – 15.807, 4. 39 Alison Sload – 15.815, 5. 02 Bandon Bellinger – 15.886, 6. 01 Dan Connors Jr. – 15.949, 7. 5B Jeff Abold – 15.974, 8. 22 Mike Bruce – 16.035, 9. 3 Camden Proud – 16.056, 10. 00 Joe Gosek – 16.312, 11. 94 Logan Rayvals – 16.419, 12. 83 Lou LeVea Jr. – 16.467, 13. 0 Tim Snyder – 16.477, 14. 90 Jack Patrick – 16.633, 15. 66 Lou LeVea Sr. – 16.661 DNS 70 Dave McKnight (blown motor)
D&S Landscaping Hard Charger Twin 40 #1 ($25): #94 Logan Rayvals
Lighthouse Lanes Up & Comer Twin 40 #1 (Pizza & Wings): #83 Lou LeVea Jr.
D&S Landscaping Hard Charger Twin 40 #2 ($25): #95 Dave Shullick Jr.
Lighthouse Lanes Up & Comer Twin 40 #2 (Pizza & Wings): #94 Logan Rayvals