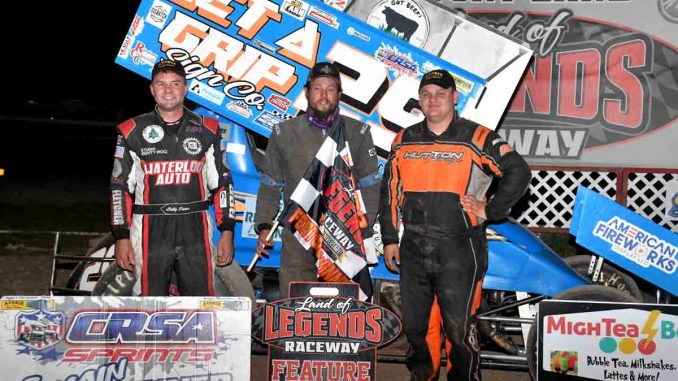 Tom Skibinski
(CANANDAIGUA, NY) – A phrase often said is its better to be lucky than good. Herrick was both on Saturday after leading every lap to ultimately outlast track and tour favorite Jordan Hutton and capture his first-ever A-Main in Canandaigua.
"Finally got a good draw tonight and got a good starting spot," noted Herrick, 33, the 2012 CRSA rookie of the year from McDonough after becoming the 10th tour winner in 19 events run at the fairgrounds. "We got lucky, let's be real, when we're here Jordan's got the car to beat. We just got to the front first tonight."
A track record 30 CRSA entries signed in on July 22, yet that mark only stood for two weeks as a near all-time tour mark of 32 winged warriors packed the pits on Saturday for the DisBatch Brewing Company Challenge finale. While Hutton won the fourth and final heat, Herrick placed third in the first qualifier yet drew #1 among the top-12 from the preliminary events.
Fourth starting Hutton needed just five laps to grab second and that set up match point for the remaining 15 circuits: Defending CRSA champion Herrick vs. Hutton, current high point man in both CRSA and LOLR standings and winner of the first two traveling shows contested at Canandaigua.
Canandaigua staples Darryl Ruggles (lap 5) and Adam DePuy (lap 8) slowed to bring caution in the early stages before a rollover by Tim Lotz prior to the halfway mark required a red flag to clear his wreckage in turns one and two. Back under green Herrick opened a commanding lead, yet as the laps clicked off growing traffic gained significance in determining the final outcome, allowing Hutton to show his nose for the first time entering turn one on lap 17.
Herrick never flinched yet a sudden hesitation out of turn two to avoid contact with the lapped car of John Smith forced Hutton to hop the right-rear tire of Herrick's #29 Get A Grip Sign Co.-Riverside Redemption Ctr-Old Iron Automotive/Eagle and the race was all but decided with less than three miles to go. Herrick fell back a dozen car-lengths at the stripe with Bobby Parrow, Thomas Radivoy and southern tier chauffeur Scott Landers settling in among the front-five.
"Kinda had a slow start to the year and finally got one here, where I'd like to say we typically struggle but we've been really good this year for some reason," added Herrick, whose finishes in May (2nd) and July (3rd) were a close second only to Hutton who won both features. Herrick's seventh career CRSA checkered flag was worth $1,000. "Lapped cars were a little spooky, but got real lucky, whenever we got to traffic just kept getting a caution."
Remaining humble even in defeat, Hutton applauded Herrick's success while expressing his own disappointment after a rare runner-up finish at the fairgrounds.
"I'm not going to lie to everyone, no one is ever pleased to get second. When we come here, we try to win them all," stated Hutton, who earned $300 for winning the inaugural DisBatch Brewing Co. Challenge mini-series, edging Herrick ($250) 508-503 in the final points tally. Parrow ($200/487pts), Radivoy ($150/481pts) and Frenchman Tomy Moreau ($100/463pts) also shared in the prize package to be distributed at the season-ending banquet Dec. 2 at Vernon Downs Hotel & Casino.
"If you want to be the best there is, you've got to believe that you are. Tonight Dalton was better than us. I had a shot with two (laps) to go but that lapped car went low then slid to go high and I jumped his right-rear and that pretty much took me out of it," added Hutton, who also leads Herrick by a count of 1474-1450 in the overall CRSA points chase through nine events.
The A-Verdi Storage Containers CRSA Sprints powered by Super Gen Products will now head to Afton Motorsports Park on Saturday August 12, then stay in the Southern Tier for a Saturday August 19 date with "New York's Toughest Bullring" at Woodhull Raceway.
The A-Verdi Storage Containers CRSA Sprints are powered by Super Gen Products. Associate sponsors for 2023 include Pit Stop Convenience Stores, DisBatch Brewing Company, the Maguire Family of Dealerships, Powdertech Powdercoating, PJC Sprayfoam, Profab Enterprises, Magsarus Ignitions, Hoosier Racing Tire, Insinger Performance with their Stinger Race Fuel, My Race Pass and is owned and operated by Mike Emhof Motorsports.
For more information on the series, results, points and 2023 schedule please visit our website www.crsasprints.com
Please visit the A-Verdi Storage Containers CRSA Sprints powered by Super Gen Products on Facebook (@CRSAsprints) and on Twitter (@CRSAsprints).
A-VERDI STORAGE CONTAINERS CRSA SPRINTS POWERED BY SUPER GEN PRODUCTS, DISBATCH BREWING COMPANY CHALLENGE SERIES @ LAND OF LEGENDS RACEWAY OFFICIAL RESULTS- Saturday August 5th, 2023:
A-MAIN RESULTS (20 Laps): 1. 29-Dalton Herrick[1]; 2. 66-Jordan Hutton[4]; 3. 80-Bobby Parrow[6]; 4. 1Q-Thomas Radivoy[10]; 5. 33-Scott Landers[2]; 6. 10K-Johnny Kolosek[5]; 7. 77-Matt Rotz[7]; 8. 8-Dillon Paddock[22]; 9. 45-David Ferguson[11]; 10. 17E-Ethan Gray[15]; 11. 22-Tomy Moreau[12]; 12. 12-Tyler Chartrand[9]; 13. 10-Nathan Pierce[24]; 14. 2-Randy Years[8]; 15. 21B-Blake Warner[18]; 16. 9K-Kyle Pierce[20]; 17. 4T-Ray Preston[23]; 18. 48JR-Darryl Ruggles[17]; 19. 23-John Smith[21]; 20. J27-John Cunningham[14]; 21. 18C-Dan Craun[16]; 22. 33Z-Sydney Weatherbee[19]; 23. D9-Dustin Sehn[25]; 24. 18-Timmy Lotz[13]; 25. 99-Adam Depuy[3]
Powdertech Powdercoating Hard Charger Bonus: 8 Dillon Paddock +14 Spots
Maguire Family of Dealerships "Magnificent Move of the Race": 80 Bobby Parrow
Heats (8 laps)
#1: 1. 77-Matt Rotz[3]; 2. 33-Scott Landers[1]; 3. 29-Dalton Herrick[6]; 4. 18C-Dan Craun[4]; 5. 9K-Kyle Pierce[5]; 6. 21B-Blake Warner[8]; 7. 10-Nathan Pierce[7]; 8. 30-Kirsten Dombroski[2]
#2: 1. 45-David Ferguson[1]; 2. 22-Tomy Moreau[2]; 3. 18-Timmy Lotz[3]; 4. 1Q-Thomas Radivoy[7]; 5. 23-John Smith[5]; 6. 4-Cliff Pierce[4]; 7. 14-James Layton[6]; 8. 410-Jerry Sehn Jr[8]
#3: 1. 2-Randy Years[4]; 2. 80-Bobby Parrow[6]; 3. J27-John Cunningham[1]; 4. 48JR-Darryl Ruggles[3]; 5. 17E-Ethan Gray[7]; 6. 4T-Ray Preston[5]; 7. 54-Fred Proctor[8]; 8. 48A-Alysha Bay[2]
#4: 1. 66-Jordan Hutton[2]; 2. 10K-Johnny Kolosek[1]; 3. 99-Adam Depuy[4]; 4. 12-Tyler Chartrand[6]; 5. 8-Dillon Paddock[5]; 6. 33Z-Sydney Weatherbee[8]; 7. D9-Dustin Sehn[3]; 8. 29T-Tori Kaplin[7]
B-Main (10 Laps)
1. 21B-Blake Warner[1]; 2. 4T-Ray Preston[3]; 3. 10-Nathan Pierce[6]; 4. 33Z-Sydney Weatherbee[2]; 5. 4-Cliff Pierce[5]; 6. 29T-Tori Kaplin[10]; 7. D9-Dustin Sehn[8]; 8. 14-James Layton[7]; 9. 410-Jerry Sehn Jr[9]; 10. 30-Kirsten Dombroski[11]; 11. 54-Fred Proctor[4]; 12. (DNS) 48A-Alysha Bay