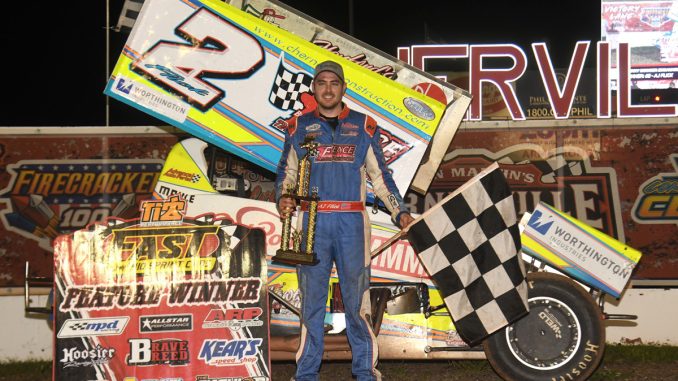 By Aaron Fry
Pennsylvania's own A.J. Flick led all 30 laps Saturday night to score his first Ti22 Performance FAST win of 2023 at Lernerville Speedway. He defeated a stout field of 29 cars as Dale Blaney and Ryan Smith rounded out the podium finishers.
Preliminary action found Austin Bishop, Tim Shaffer and Brandon Spithaler quickest in their qualifying groups with Spithaler's 13.985 second lap in group 3 to be the overall fastest time of the night. Heat races were won by Bishop, Shaffer and Cale Young. The 12 lap B-Main found Danny Sams III taking the checkered flag first as tour point runner-up Ricky Peterson charged up 9 spots to transfer into the main event after an engine change following qualifying.
The 30-lap main event would see Flick and Spithaler on the front row with the pair dueling for the opening lap lead. But an incident on the first lap involving Austin Bishop and Carl Bowser would necessitate a restart. On the second try, Flick and Spithaler drove hard into turn one with Spithaler running out of room at the top of the track, sliding to a stop off turn 2.
As the old saying goes, the third time is the charm, and once underway, the field of drivers would race 30 consecutive green flag laps without a hiccup as Flick showed the way the entire time. At the finish it was Blaney and Smith followed by Tim Shaffer and Matt Farnham completing the top 5. Spithaler raced back to finish sixth with Dan Shetler seventh and a hard charging Ricky Peterson up 11 positions to finish eighth. Cody Bova and Darin Gallagher rounded out the top 10.
Up next for the FAST tour is the big 2-day weekend. This Saturday, September 2nd will see the return to Pittsburgh's Pennsylvania Motor Speedway, then on Sunday, September 3rd, the prestigious Pete Jacobs Memorial at Wayne County Speedway! Following that, the tour will make a stop at Mercer Raceway Park on September 16th and finally wrap up at Atomic Speedway on Saturday, October 7th.
BOX SCORE
Lernerville Speedway
Saturday, August 26, 2023
Entries: 29
ARP Fasteners Qualifying
Group 1: 1. 35-Austin Bishop 13.993, 2. 6R-Ryan Smith 14.008, 3. 2P-Ricky Peterson 14.170, 4. 08-Dan Kuriger 14.181, 5. 6-Bob Felmlee 14.364, 6. 7NY-Matt Farnham 14.705, 7. 5-Jeremy Weaver 14.729, 8. 33-Brent Matus 14.839, 9. 3J-Jacob Begenwald 15.200, 10. 55*-Matt Sherlock 15.250
Group 2: 1. 49x-Tim Shaffer 14.049, 2. 2-A.J. Flick 14.074, 3. 20B-Cody Bova 14.176, 4. 29-Dan Shetler 14.393, 5. 12-Darin Gallagher 14.506, 6. 13-Brandon Matus 14.520, 7. 25R-Jordan Ryan 14.866, 8. 24D-Danny Sams III 15.001, 9. 4k-Todd Burgard 16.1-5, 10. M4-Louie Mattes 17.822
Group 3: 1. 22-Brandon Spithaler 13.985, 2. 32-Dale Blaney 14.053, 3. 11-Carl Bowser 14.239, 4. 17-Cole Young 14.299, 5. 86-Michael Lutz Jr 14.672, 6. 05-Adam Herb 15.311, 7. 76-Davy Jones 15.378, 8. 22c-Jon Carpenter 16.359, 9. 23jr-Jack Sodeman Jr NT
NAPA of Fremont, OH – Heat 1: 1. 35-Bishop[4] ; 2. 6R-Smith[3] ; 3. 6-Felmlee[5] ; 4. 7NY-Farnham[6] ; 5. 5-Weaver[7] ; 6. 33-Matus[8] ; 7. 08-Kuriger[1] ; 8. 3J-Begenwald[9] ; 9. 55*-Sherlock[10] ; 10. 2P-Peterson[2]
Mad Tree Brewing – Heat 2: 1. 49x-Shaffer[4] ; 2. 29-Shetler[1] ; 3. 2-Flick[3] ; 4. 12-Gallagher[5] ; 5. 20B-Bova[2] ; 6. 24D-Sams[8] ; 7. 25R-Ryan[7] ; 8. 13-Matus[6] ; 9. 4K-Burgard[9] ; 10. M4-Mattes[10]
Elite Wings USA – Heat 3: 1. 17-Young[1] ; 2. 32-Blaney[3] ; 3. 11-Bowser[2] ; 4. 22-Spithaler[4] ; 5. 86-Lutz[5] ; 6. 05-Herb[6] ; 7. 76-Jones[7] ; 8. 22c-Carpenter[8] ; 9. 23jr-Sodeman[DNS]
MSD Ignitions – B Main: 1. 24D-Sams[2] ; 2. 08-Kuriger[4] ; 3. 25R-Ryan[5] ; 4. 2P-Peterson[13] ; 5. 33-Matus[1] ; 6. 13-Matus[8] ; 7. 23jr-Sodeman[12] ; 8. 3J-Begenwald[7] ; 9. 55*-Sherlock[10] ; 10. 4K-Burgard[11] ; 11. 22c-Carpenter[9] ; 12. M4-Mattes[14] ; 13. 05-Herb[3] ; 14. 76-Jones[6]
Ti22 Performance – A Main: 1. 2-Flick[1] ; 2. 32-Blaney[8] ; 3. 6R-Smith[4] ; 4. 49x-Shaffer[5] ; 5. 7NY-Farnham[11] ; 6. 22-Spithaler[2] ; 7. 29-Shetler[7] ; 8. 2P-Peterson[19] ; 9. 20B-Bova[14] ; 10. 12-Gallagher[12] ; 11. 25R-Ryan[18] ; 12. 6-Felmlee[9] ; 13. 08-Kuriger[17] ; 14. 5-Weaver[13] ; 15. 17-Young[3] ; 16. 33-Matus[20] ; 17. 86-Lutz[15] ; 18. 24D-Dams[16] ; 19. 11-Bowser[10] ; 20. 35-Bishop[6]
Indy Race Parts – Hard Charger: 2P-Ricky Peterson +11
All Star Performance – Hard Luck: 23jr-Jack Sodeman Jr