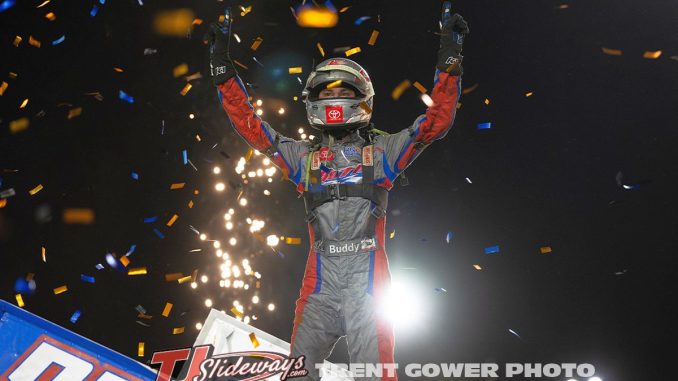 From Alex Nieten
CHICO, CA (September 8, 2023) – Silver Dollar Speedway delivered yet again.
The northern California bullring is known for providing some of the most intense, wheel-to-wheel battles in Sprint Car racing. And that's exactly what the Chico, CA quarter mile offered on Friday night.
The second and final prelim of the Curb Records Gold Cup Race of Champions presented by Riebes Auto Parts gave the fans a battle they'll not soon forget. Two California heavyweights trading blows. A race coming down to the wire. And the outcome not being decided until the final lap.
When the dust settled at Silver Dollar Friday night, Buddy Kofoid arose triumphant after a fierce duel with Justin Sanders. After losing the lead coming to the white flag, Kofoid ripped back by Sanders on the final circuit to secure a World of Outlaws NOS Energy Drink Sprint Car victory in his home state. The grandstands erupted as one of their own climbed atop the wing of the California-based Roth Motorsports machine following a classic finish.
For the Penngrove native who has always held Gold Cup close to his heart, the victory brought out emotion amid the celebration.
"I grew up coming to the Gold Cup as a kid," Kofoid said. "It was a family tradition for us to take the week off work and the week off school. We would stay here when I was four, five, six, seven, eight years old, so this race is super special to me. And to do it in the Dennis and Teresa Roth-owned #83JR is pretty damn cool."
When the green flag flew, the war commenced right away between Kofoid and Sanders. Pole-sitter Chase Randall slipped back on the initial lap while Kofoid and Sanders traded the top spot multiple times. On the second circuit Kofoid looked under Sanders in Turns 1 and 2, but the yellow flag flew as they were side by side for a spinning Jonathan Allard.
On the restart Sanders was able to inch ahead, but Kofoid never let the Mittry Racing #2X leave his sights. Another caution on Lap 8 set up a pivotal restart.
Sanders maintained his advantage exiting Turn 2, but it was Spencer Bayston who stuck the bottom perfectly to get a massive launch down the back straightaway. Bayston slipped ahead of both of the top two and went high in Turns 3 and 4. Kofoid responded by throwing a huge slide job on the two to grab the top spot.
Once he took over the lead, Kofoid began to put some distance between himself and Bayston. Meanwhile, Sanders stalked the CJB Motorsports #5 in search of an opportunity to move back into the runner-up spot.
On Lap 22, the gap he needed opened as Sanders utilized a big run out of Turn 2 to slip by Bayston heading into the next set of corners. From there, the pursuit of Kofoid was on.
Sanders quickly began to cut into the lead little by little. A tenth or two was trimmed each lap as the duo navigated traffic until Sanders was on the tail tank of the Roth #83JR.
On Lap 29, Sanders gave the top in Turns 1 and 2 a try and was able to pull alongside Kofoid on corner exit before Kofoid nosed ahead as they roared into the next set of corners with the white flag in sight. Sanders again committed to the top and was able to clear Kofoid to take the lead as he raced across the line for the white flag.
Heading into Turn 1, Sanders had to dive under a lapped car and slipped up slightly off the bottom at the apex of the corner. Kofoid, who had been running the bottom every lap on that end of the racetrack, fully sent his machine at the cushion and nailed it perfectly to rip by Sanders off of Turn 2.
With the lead secured, Kofoid protected in the final set of corners to earn his first trip to World of Outlaws NOS Energy Drink Sprint Car Victory Lane since joining the legendary Roth Motorsports that's long called Fresno, CA home.
"When we got to traffic, there were a couple guys that were just good enough that I couldn't spring in front of them and put them away," Kofoid explained. "Then I heard Justin, but I didn't want to get off the bottom. I tried it once and didn't feel good at all and moved right back down. I was content with the middle-top in (Turns) 3 and 4 because I could feel it cleaning off. Then I heard him and saw him, and then I saw the white (flag) and thought just my luck. Then I sent it on the top and that was the best it felt on the top all day. I kind of got lucky but also just had a really good car and great people working on it that allowed me to maneuver last minute and to pick him back off."
On top of the victory, Kofoid also earned enough points to secure one of the two remaining spots for Saturday's important Toyota Racing Dash.
Sanders came home with a bittersweet runner-up. The Aromas, CA native was three-quarters of a lap away from his first trip to World of Outlaws Victory Lane, and the defeat was a tough pill to swallow. But on the bright side, he snagged the final lock-in to the Dash for the finale to position himself strongly for a chance at $25,000 on Saturday.
"I still don't know if I would've went to the top on that last lap going into (Turn) 1," Sanders said. "Honestly, when I ripped around those guys and got in front of Jonathan (Allard), I thought I was going to be clear. Buddy just kicked it into another gear and ripped around us coming off of (Turn) 2."
Dominic Scelzi came home third to complete a second consecutive all California native podium sweep. The Fresno, CA pilot wheeled the Scelzi Motorsports #41 from 10th to earn a strong result in his home state.
"We were good. We were really good actually," Scelzi said. "We've got to figure out the first half of the night. We've got to qualify better. I don't know what I was doing in the Heat Race. I tried to be a hero on the start and missed the slider. I think I was just trying a little too hard. Jimmy (Carr) gave me an awesome race car tonight, especially in the Feature. The way the racetrack played out, we just kept getting better and better."
Spencer Bayston and Rico Abreu rounded out the top five.
Abreu also earned the KSE Racing Hard Charger as he drove from 21st to fifth.
Tanner Carrick came out on top of Low-E Insulation Qualifying to claim Simpson Performance Products QuickTime honors.
CASE No.1 Engine Oil Heat One went to Chase Randall. NOS Energy Drink Heats Two through Four were topped by Justyn Cox, Ryan Bernal, and Justin Sanders.
Rico Abreu won the Micro-Lite Last Chance Showdown.
World of Outlaws NOS Energy Drink Sprint Car Series
69th Gold Cup Race of Champions
Silver Dollar Speedway
Chico, California
Friday, September 8, 2023
Qualifying
1. 83T-Tanner Carrick, 11.736[30]
2. 9-Kasey Kahne, 11.742[35]
3. 17-Sheldon Haudenschild, 11.829[34]
4. 2-David Gravel, 11.847[11]
5. 0-Jonathan Allard, 11.959[29]
6. 5-Spencer Bayston, 12.014[3]
7. 83JR-Michael Kofoid, 12.025[8]
8. 2X-Justin Sanders, 12.082[17]
9. 57W-Chase Randall, 12.088[27]
10. 15-Donny Schatz, 12.092[2]
11. 5V-Colby Copeland, 12.140[36]
12. 41S-Dominic Scelzi, 12.153[31]
13. 24-Rico Abreu, 12.156[9]
14. 7-Ashton Torgerson, 12.159[25]
15. 1T-Tanner Holmes, 12.174[16]
16. 115-Nick Parker, 12.213[24]
17. X1-Michael Faccinto, 12.229[5]
18. 88N-DJ Netto, 12.235[18]
19. 3Z-Brock Zearfoss, 12.281[7]
20. 21S-Jesse Schlotfeldt, 12.326[14]
21. 45-Jake Morgan, 12.371[13]
22. 22-Ryan Bernal, 12.538[4]
23. 42X-Justyn Cox, 12.574[22]
24. 46JR-Joel Myers Jr, 12.605[19]
25. 54S-William Fielding, 12.682[28]
26. 51-Shane Hopkins, 12.690[26]
27. 56C-Carson Hammes, 12.697[1]
28. 91J-Drake Standley, 12.737[33]
29. 7W-Dennis Scherer, 12.830[21]
30. 71W-Michael Wasina, 12.841[20]
31. 21M-Michael Ing, 12.874[15]
32. 15S-Michael Sellers, 12.931[6]
33. 25S-Seth Standley, 12.951[10]
34. 2S-Jayce Steinberg, 13.026[32]
35. 4L-Doug Lippincott, 13.165[23]
36. 2W-Wyatt Brown, 13.215[12]
Heat Race #1 (10 Laps)
1. 57W-Chase Randall[4]
2. X1-Michael Faccinto[2]
3. 83T-Tanner Carrick[6]
4. 0-Jonathan Allard[5]
5. 25S-Seth Standley[9]
6. 24-Rico Abreu[3]
7. 45-Jake Morgan[1]
8. 54S-William Fielding[7]
9. 7W-Dennis Scherer[8]
Heat Race #2 (10 Laps)
1. 22-Ryan Bernal[1]
2. 88N-DJ Netto[2]
3. 15-Donny Schatz[4]
4. 5-Spencer Bayston[5]
5. 7-Ashton Torgerson[3]
6. 9-Kasey Kahne[6]
7. 51-Shane Hopkins[7]
8. 71W-Michael Wasina[8]
9. 2S-Jayce Steinberg[9]
Heat Race #3 (10 Laps)
1. 42X-Justyn Cox[1]
2. 3Z-Brock Zearfoss[2]
3. 83JR-Michael Kofoid[5]
4. 17-Sheldon Haudenschild[6]
5. 5V-Colby Copeland[4]
6. 1T-Tanner Holmes[3]
7. 56C-Carson Hammes[7]
8. 21M-Michael Ing[8]
9. 4L-Doug Lippincott[9]
Heat Race #4 (10 Laps)
1. 2X-Justin Sanders[5]
2. 2-David Gravel[6]
3. 41S-Dominic Scelzi[4]
4. 46JR-Joel Myers Jr[1]
5. 115-Nick Parker[3]
6. 21S-Jesse Schlotfeldt[2]
7. 15S-Michael Sellers[8]
8. 91J-Drake Standley[7]
9. 2W-Wyatt Brown[9]
Last Chance Showdown (12 Laps)
1. 24-Rico Abreu[2]
2. 9-Kasey Kahne[1]
3. 1T-Tanner Holmes[3]
4. 51-Shane Hopkins[6]
5. 45-Jake Morgan[5]
6. 15S-Michael Sellers[11]
7. 56C-Carson Hammes[8]
8. 91J-Drake Standley[9]
9. 71W-Michael Wasina[10]
10. 21M-Michael Ing[13]
11. 21S-Jesse Schlotfeldt[4]
12. 4L-Doug Lippincott[15]
13. 2S-Jayce Steinberg[14]
14. 54S-William Fielding[7]
15. 7W-Dennis Scherer[12]
16. 2W-Wyatt Brown[16]
NOS Energy Drink Feature (30 Laps)
1. 83JR-Michael Kofoid[3]
2. 2X-Justin Sanders[2]
3. 41S-Dominic Scelzi[10]
4. 5-Spencer Bayston[4]
5. 24-Rico Abreu[21]
6. X1-Michael Faccinto[12]
7. 22-Ryan Bernal[16]
8. 2-David Gravel[6]
9. 15-Donny Schatz[9]
10. 5V-Colby Copeland[11]
11. 57W-Chase Randall[1]
12. 88N-DJ Netto[13]
13. 17-Sheldon Haudenschild[7]
14. 42X-Justyn Cox[17]
15. 1T-Tanner Holmes[23]
16. 9-Kasey Kahne[22]
17. 83T-Tanner Carrick[8]
18. 3Z-Brock Zearfoss[14]
19. 51-Shane Hopkins[24]
20. 0-Jonathan Allard[5]
21. 46JR-Joel Myers Jr[19]
22. 7-Ashton Torgerson[15]
23. 115-Nick Parker[18]
24. 25S-Seth Standley[20]
Northwest Focus Midget Car Series
Heat Race #1 (8 Laps)
1. 71-Bryan Murphy[1]
2. 24-Nick Evans[2]
3. 2J-Jonathan Jorgenson[4]
4. 18-Ayuka Carlson[3]
5. 21-Todd Hartmann[6]
6. 90-Brian Holmkvist[7]
7. 5C-Chris Foster[8]
8. 17-Kyle Hanson[5]
Heat Race #2 (8 Laps)
1. 17M-Shane Smith[3]
2. 48-Stewart Lee[2]
3. 62-Chuck Pierce[4]
4. 14-Garrett Thomas[7]
5. 23-Randy Schaaf[6]
6. 66-Jeff Westergard[5]
7. 16-Duane Swanson[1]
8. 21C-Dale Creager[8]
A-Main (25 Laps)
1. 24-Nick Evans[4]
2. 2J-Jonathan Jorgenson[5]
3. 21-Todd Hartmann[6]
4. 90-Brian Holmkvist[11]
5. 66-Jeff Westergard[12]
6. 17-Kyle Hanson[16]
7. 14-Garrett Thomas[8]
8. 23-Randy Schaaf[10]
9. 48-Stewart Lee[2]
10. 5C-Chris Foster[13]
11. 62-Chuck Pierce[7]
12. 18-Ayuka Carlson[9]
13. 21C-Dale Creager[14]
14. 71-Bryan Murphy[1]
15. 17M-Shane Smith[3]
16. 16-Duane Swanson[15]