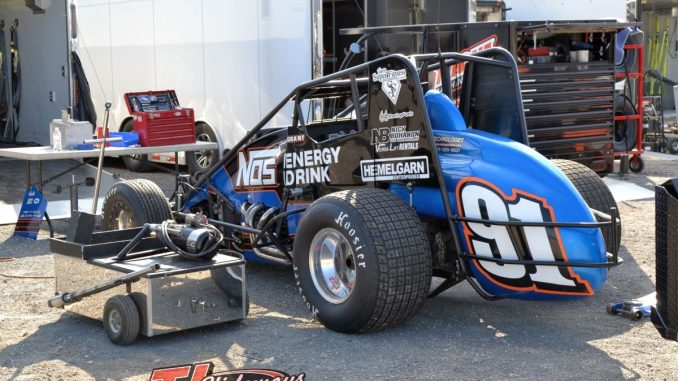 By T.J. Buffenbarger
ROSSBURG, Ohio (September 22, 2023) – Justin Grant earned the pole position for the USAC Silver Crown Series portion of the 4-Crown Nationals Friday night at Eldora Speedway. Grant lap of 17.076 seconds put him at the top of the 32 car field.
C.J. Leary joins Grant on the front row for Saturday's finale while Brady Bacon, Jake Swanson, and Chase Dietz round out the top five.
USAC Silver Crown Series point leader Logan Seavey will roll off sixth on Saturday with Matt Westfall returning to his family owned #54 entry qualifying seventh. Kody Swanson, second place in Silver Crown points, earned the eight starting spot. Mario Clouser and Carmen Perigo rounded out the top 10.
Chase Stockon, Kevin Thomas Jr, Emerson Axsom, Trey Osborn in his first USAC Silver Crown start, Brian Ruhlman, Kyle Robbins, Kaylee Bryson, Matt Mitchell, and Dallas Hewitt locked themselves into Saturday's finale.
Veteran driver Jerry Coons Jr. won the Last Chance Race over Kyle Steffens and Zach Hampton, who was impressive in his first Silver Crown Series start. Trey Burke, Russ Gamester, and Wayne Johnson also transferred to Saturday's finale.
USAC Silver Crown Series
Eldora Speedway
Rossburg, Ohio
Friday, September 22, 2023
Qualifying:
1. 91-Justin Grant, 17.076
2. 6-C.J. Leary, 17.145
3. 9-Brady Bacon, 17.264
4. 10-Jake Swanson, 17.336
5. 86-Chase Dietz, 17.444
6. 22-Logan Seavey, 17.497
7. 54-Matt Westfall, 17.516
8. 77-Kody Swanson, 17.534
9. 92-Mario Clouser, 17.794
10. 52-Carmen Perigo, 17.735
11. 69-Chase Stockon, 17.764
12. 23-Kevin Thomas Jr, 17.813
13. 20-Emerson Axsom, 17.926
14. 81-Trey Osborn, 17.943
15. 49-Brian Ruhlman, 17.974
16. 97-Mitchel Moles, 18.023
17. 7-Kyle Robbins, 18.032
18. 26-Kaylee Bryson, 18.043
19. 5-Matt Mitchell, 18.045
20. 57-Dallas Hewitt, 18.117
21. 51-Russ Gamester, 18.171
22. 18-Travis Welpott, 18.227
23. 07-Sterling Clint, 18.240
24. 55-Jerry Coons Jr, 18.334
25. 99-Zach Hampton, 18.347
26. 37-Joss Moffatt, 18.347
27. 12-Wayne Johnson, 18.434
28. 08-Kyle Steffens, 18.558
29. 15-Chris Fetter, 18.572
30. 11-Trey Burke, 18.655
31. 555-Taylor Ferns, 18.738
32. 4-Mark Bittner, 18.803
33. 31-Dave Berkheimer, 18.854
34. 44-Danny Long, 18.916
35. 3-Tim Simmons, 19.590
36. 34-Gary Dunkle, 20.704
Last Chance Race (#12 Laps):
1. 55-Jerry Coons Jr.
2. 08-Kyle Steffens
3. 99-Zach Hampton
4. 11-Trey Burke
5. 51-Russ Gamester
6. 12-Wayne Johnson
7. 37-Joss Moffatt
8. 15-Chris Fetter
9. 555-Taylor Ferns
10. 31-Dave Berkheimer
11. 44-Danny Long
12. 3-Tim Simmons
13. 34-Gary Dunkle
14. 07-Sterling Cling
15. 4-Mark Bittner
(First six finishers transferred to Saturdays feature event)