John Rittenoure
TULSA, Okla. (September 25, 2023) –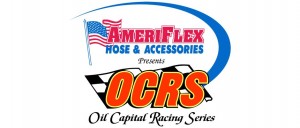 Drivers that entered at least 7 of the 16 events held qualified for the Challenge and are locked into Saturday's $3,000-to-win, $1,000-to-start main event.
A total of 23 drivers will compete in three heat races to determine their starting position in the main event. Drivers will draw for heat race starting positions and passing points will determine feature starting positions. A redraw will be held after the heats.
Following is a list of drivers who are qualified for Saturday's Challenge VIII. No other drivers are eligible to race in this event.
Sheldon Barksdale, Mitchell Barros, Zach Chappell, Johnny Kent, Joe Bob Lee, Joshua Tyre, Danny Wood, Emilio Hoover, Brandon Leland, Alex DeCamp, Fred Mattox, Rees Moran, Gage Laney, Terry Easum, Ryker Pace, Blake Edwards, Alex Sewell, Danny Smith, Bradley Fezard, Jimmy Forrester, Frank Taft, Casey Wills, Greg York.
Alex Sewell is the only repeat winner of the AmeriFlex Challenge with wins coming in 2019-20. Sewell finished third last year (2022) behind Challenge VII winner Whit Gastineau and second place Blake Hahn. Sewell was awarded an OCRS victory on May 27 of this year at Salina when first place finisher Blake Edwards was disqualified when he weighed light at the scales after the feature. Hahn won Challenge VI in 2021. Mike Goodman was the 2018 winner, Mickey Walker won in 2017, and Sean McClelland captured the very first Challenge in 2016.
What you need to know……..
Where: Salina Highbanks Speedway, Pryor Creek, Oklahoma
When: Saturday, September 30
Pits open: 3 p.m.
Driver Sign-in: 5 p.m. to 5:30 p.m.
Drivers Meeting: 5:45 p.m.
Hot Laps: 6:30 p.m.
Racing Starts: 7 p.m.
Race Info: A-Feature pays $3,000-to-win, $1,000-to-start. Pill Draw: $20 MUST run AmeriFlex sticker to be paid.
Mufflers: Open Headers
2023 Winners
03/11 – Red Dirt Raceway, Tanner Conn
03/18 – Tulsa Speedway, Fred Mattox
04/01 – Enid Speedway, Zach Blurton
04/15 – Longdale Speedway, Zach Blurton
05/26 – Arrowhead Speedway, Sean McClelland
05/27 – Salina Highbanks Speedway, Alex Sewell
06/10 – Lawton Speedway, Alex Sewell
06/15 – Lucas Oil Speedway, Rees Moran
06/16 – I-70 Motorsports Park, Whit Gastineau
06/17 – Lake Ozark Speedway, Rees Moran
06/23 – Red Dirt Raceway, Rees Moran
07/15 – Creek County Speedway, Kyle Clark
07/29 – Caney Valley Speedway, Zach Chappell
08/19 – Elk City Motorsports Park, Johnny Kent
08/20 – Lawton Speedway, Danny Smith
09/09 – Caney Valley Speedway, Alex Sewell
Top 10 Standings: 1. Johnny Kent, 1614; 2. Danny Wood, 1585; 3. Joe Bob Lee, 1558; 4. Sheldon Barksdale, 1485; 5. Zach Chappell, 1377; 6. Joshua Tyre, 1215; 7. Rees Moran 1150; 8. Fred Mattox, 1086; 9. Alex DeCamp, 967; 10. Terry Easum, 917.