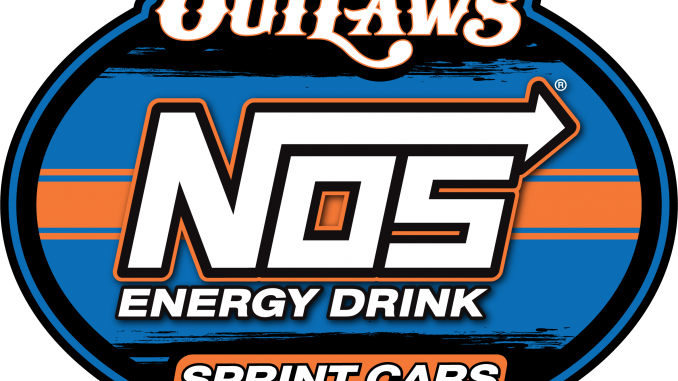 MECHANICSBURG, PA (September 29, 2023) — Heavy rain showers that appeared following the parade lap for the feature event put a damper on the opening night of the 61st Annual Champion Racing Oil Williams Grove National Open for the World of Outlaws NOS Energy Drink Sprint Car Series Friday night at Williams Grove Speedway, forcing officials to postpone that main event until the after the conclusion of Saturday night's program.
Tyler Courtney and current World of Outlaws series point leader Brad Sweet are scheduled to start on the front row for the 30-lap feature.
David Gravel was the fastest in LowE Insulation Qualifying Flight A and overall for the 61 car field with a lap of 16.101 seconds. Lance Dewease was fastest in Flight B with a lap of 16.177 seconds.
Case No1 Engine Oil Heat Races were won by Gravel, Courtney, Rico Abreu, and Brian Brown. Courtney won the the Toyota Dash.
Ryan Smith won the non-qualifiers race, Justin Whittall won the C-Main, and James McFadden won the MicroLite Last Chance Showdown.
LowE Insulation Qualifying Flight A
1. 2-David Gravel, 16.101[22]
2. 7BC-Tyler Courtney, 16.137[11]
3. 41-Carson Macedo, 16.142[13]
4. 49-Brad Sweet, 16.184[23]
5. 19-Brent Marks, 16.185[21]
6. 83-James McFadden, 16.196[25]
7. 13-Justin Peck, 16.206[14]
8. 3Z-Brock Zearfoss, 16.220[7]
9. 58-Chase Randall, 16.287[1]
10. 69K-Daryn Pittman, 16.337[20]
11. 48-Danny Dietrich, 16.358[2]
12. 7S-Robbie Price, 16.361[15]
13. 15-Donny Schatz, 16.362[8]
14. 18-Giovanni Scelzi, 16.392[26]
15. 91-Kyle Reinhardt, 16.438[18]
16. 15H-Sam Hafertepe Jr, 16.456[16]
17. 5-Spencer Bayston, 16.489[19]
18. 12S-Brent Shearer, 16.538[29]
19. 45-Jeff Halligan, 16.550[6]
20. 1T-Tanner Holmes, 16.550[27]
21. 10X-Ryan Smith, 16.662[9]
22. 5W-Lucas Wolfe, 16.663[3]
23. 12-Billy Dietrich, 16.671[24]
24. 11P-Robbie Kendall, 16.706[28]
25. 1W-Tyler Reeser, 16.785[12]
26. 90-Jordan Givler, 16.820[17]
27. 35B-Austin Bishop, 16.886[4]
28. 35-Zach Hampton, 16.945[10]
29. 12W-Troy Fraker, 17.881[5]
LowE Insulation Qualifying Flight B
1. 39M-Lance Dewease, 16.177[7]
2. 21-Brian Brown, 16.310[26]
3. 24-Rico Abreu, 16.378[29]
4. 8E-Freddie Rahmer, 16.395[21]
5. 83JR-Michael Kofoid, 16.409[3]
6. 9-Kasey Kahne, 16.412[12]
7. 71-Anthony Macri, 16.418[8]
8. 8-Aaron Reutzel, 16.468[19]
9. 6G-Garet Williamson, 16.477[6]
10. 26-Zeb Wise, 16.521[16]
11. 11T-TJ Stutts, 16.525[14]
12. 27-Troy Wagaman Jr, 16.561[25]
13. 1X-Chad Trout, 16.565[4]
14. 67-Justin Whittall, 16.638[9]
15. 1S-Logan Schuchart, 16.651[5]
16. 99-Skylar Gee, 16.685[1]
17. 39T-Kyle Moody, 16.697[27]
18. 23-Devon Borden, 16.704[23]
19. 1M-Landon Myers, 16.723[24]
20. 44-Dylan Norris, 16.729[2]
21. 69-Cameron Smith, 16.751[18]
22. 17-Sheldon Haudenschild, 16.781[20]
23. 6-Kody Hartlaub, 16.793[10]
24. 20G-Noah Gass, 16.817[13]
25. 11-Cory Eliason, 16.833[28]
26. 17B-Steve Buckwalter, 16.842[15]
27. 5C-Dylan Cisney, 16.849[22]
28. 23A-Chris Arnold, 17.047[17]
29. 23M-Michael Millard, 17.734[11]
Non-Qualifier Race (8 Laps)
1. 10X-Ryan Smith[1]
2. 69-Cameron Smith[2]
3. 17-Sheldon Haudenschild[4]
4. 5W-Lucas Wolfe[3]
5. 6-Kody Hartlaub[6]
6. 11-Cory Eliason[10]
7. 20G-Noah Gass[8]
8. 17B-Steve Buckwalter[12]
9. 35-Zach Hampton[15]
10. 11P-Robbie Kendall[7]
11. 90-Jordan Givler[11]
12. 5C-Dylan Cisney[14]
13. 35B-Austin Bishop[13]
14. 23A-Chris Arnold[16]
15. 23M-Michael Millard[18]
16. 12W-Troy Fraker[17]
17. 12-Billy Dietrich[5]
DNS: 1W-Tyler Reeser
Case No1 Engine Oil Heat Race #1 (8 Laps)
1. 2-David Gravel[1]
2. 41-Carson Macedo[2]
3. 13-Justin Peck[4]
4. 19-Brent Marks[3]
5. 58-Chase Randall[5]
6. 48-Danny Dietrich[6]
7. 15-Donny Schatz[7]
8. 91-Kyle Reinhardt[8]
9. 5-Spencer Bayston[9]
10. 45-Jeff Halligan[10]
11. 10X-Ryan Smith[11]
Heat Race #2 (8 Laps)
1. 7BC-Tyler Courtney[1]
2. 49-Brad Sweet[2]
3. 3Z-Brock Zearfoss[4]
4. 69K-Daryn Pittman[5]
5. 18-Giovanni Scelzi[7]
6. 15H-Sam Hafertepe Jr[8]
7. 1T-Tanner Holmes[10]
8. 69-Cameron Smith[11]
9. 12S-Brent Shearer[9]
10. 7S-Robbie Price[6]
DNS: 83-James McFadden
Heat Race #3 (8 Laps)
1. 24-Rico Abreu[2]
2. 39M-Lance Dewease[1]
3. 83JR-Michael Kofoid[3]
4. 11T-TJ Stutts[6]
5. 1X-Chad Trout[7]
6. 71-Anthony Macri[4]
7. 39T-Kyle Moody[9]
8. 6G-Garet Williamson[5]
9. 17-Sheldon Haudenschild[11]
10. 1S-Logan Schuchart[8]
11. 1M-Landon Myers[10]
Heat Race #4 (8 Laps)
1. 21-Brian Brown[1]
2. 8E-Freddie Rahmer[2]
3. 8-Aaron Reutzel[4]
4. 26-Zeb Wise[5]
5. 27-Troy Wagaman Jr[6]
6. 9-Kasey Kahne[3]
7. 23-Devon Borden[9]
8. 44-Dylan Norris[10]
9. 5W-Lucas Wolfe[11]
10. 99-Skylar Gee[8]
11. 67-Justin Whittall[7]
Toyota Dash (6 Laps)
1. 7BC-Tyler Courtney[1]
2. 49-Brad Sweet[2]
3. 24-Rico Abreu[3]
4. 41-Carson Macedo[4]
5. 21-Brian Brown[7]
6. 2-David Gravel[5]
7. 39M-Lance Dewease[6]
8. 8E-Freddie Rahmer[8]
C-Main (10 Laps)
1. 67-Justin Whittall[2]
2. 10X-Ryan Smith[1]
3. 20G-Noah Gass[5]
4. 6-Kody Hartlaub[3]
5. 90-Jordan Givler[9]
6. 35B-Austin Bishop[10]
7. 23A-Chris Arnold[12]
DNS: 1M-Landon Myers
DNS: 11-Cory Eliason
DNS: 17B-Steve Buckwalter
DNS: 35-Zach Hampton
DNS: 11P-Robbie Kendall
DNS: 5C-Dylan Cisney
DNS: 23M-Michael Millard
DNS: 12W-Troy Fraker
DNS: 12-Billy Dietrich
DNS: 1W-Tyler Reeser
MicroLite Last Chance Showdown (12 Laps)
1. 83-James McFadden[1]
2. 71-Anthony Macri[4]
3. 9-Kasey Kahne[2]
4. 48-Danny Dietrich[3]
5. 23-Devon Borden[8]
6. 44-Dylan Norris[12]
7. 1T-Tanner Holmes[9]
8. 15H-Sam Hafertepe Jr[5]
9. 15-Donny Schatz[7]
10. 39T-Kyle Moody[6]
11. 17-Sheldon Haudenschild[14]
12. 91-Kyle Reinhardt[11]
13. 5W-Lucas Wolfe[16]
14. 45-Jeff Halligan[19]
15. 6G-Garet Williamson[10]
16. 7S-Robbie Price[21]
17. 67-Justin Whittall[22]
18. 12S-Brent Shearer[17]
19. 99-Skylar Gee[20]
20. 10X-Ryan Smith[23]
21. 69-Cameron Smith[13]
22. 5-Spencer Bayston[15]
DNS: 1S-Logan Schuchart