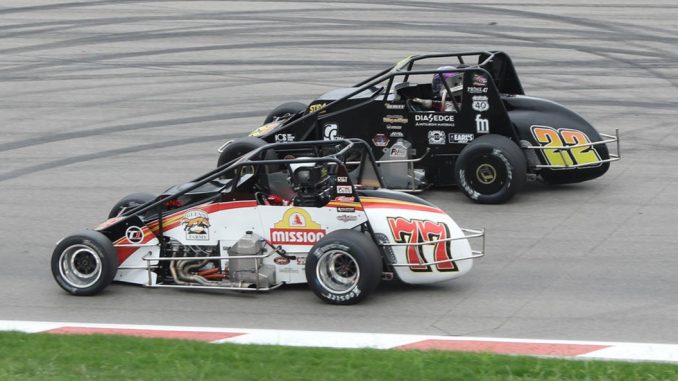 By Richie Murray
Brownsburg, Indiana (October 12, 2023)………On Tuesday afternoon, both Logan Seavey, Kody Swanson and their respective teams took a relatively similar approach into a private testing session at Lucas Oil Indianapolis Raceway Park.
The task was simple – to make sure everything is buttoned up for this weekend's running of the Howard Companies Championship Saturday USAC Silver Crown season finale on October 14 at IRP where Seavey brings in a 16-point lead in the standings over Swanson.
Seeing how the pavement cars haven't turned a wheel in more than six weeks, and nearly five months since their last run at IRP, the test was beneficial in a myriad of manners, least of all to make sure it was "all systems go" heading into Saturday.
For Seavey and his Rice Motorsports-Abacus Racing team, there were oil leaks and rear end leaks to double check on and the team even made a mock qualifying run to help ensure a quality starting spot so that they won't have to fight their way up through the field on race day.
As far as Swanson and the Doran-Binks Racing operation, the modus operandi was to sort out the brake trouble that plagued them the last time out at WWT Raceway in late August and to get a little more homework completed to make certain that all the i's were dotted, and all the t's were crossed heading into the real deal this weekend.
While both teams' ultimate goal of a championship remains the same, their approaches to Saturday's final race day of the USAC Silver Crown season differ just a bit. Both have been in this very same position each of the last three years with Swanson leading Seavey by one entering the finale in 2021 while Seavey came into the finale of 2022 with a three-point edge. Both times, however, Swanson ultimately prevailed with the series crown.
For Seavey, the task on paper for Saturday is simple – finish fourth or better, and regardless of what Swanson does, Seavey wins the championship. As a change of pace, Seavey doesn't have to win or beat Kody this time around. Knowing that they finished as the runner-up this past May at IRP does a bit to ease their comfort level. But "comfort" is a relative term in auto racing, although Seavey admitted, "I feel a lot better on the pavement; this is one of our better tracks, so overall, I feel better about it than I did last year."
As for Swanson, the weight is lifted off his shoulders a bit. He's fully aware that he can only control what he can control, and that means trying to earn three points for winning the pole, grabbing three more points for leading the most laps, and 70 more for scoring the feature win, all departments in which he ranks number one all-time at the .686-mile paved oval. From there, the points will take care of themselves, championship or no championship.
"For me this time, there's no pressure, like at all," Swanson admitted. "We've won some races and we've been fast, but we've had a couple miscues that put us in this situation. We're far enough back that the ball is in his court. If he finishes inside the top-four, there's nothing that I can do. I just want to win the race."
Swanson experienced those "miscues" at IRP in May when a fuel pump issue knocked him out of the race while leading and once more at WWT Raceway in August when his brakes malfunctioned, again while leading, relegating him to 19th and 14th place results, respectively. All the while, Seavey racked up a 2nd and 4th place finish in those two outings, gaining him valuable points. On the flipside, when Seavey's right front wheel center broke at Winchester and sent him into the wall, Swanson answered with a resounding victory.
Yes, all the races pay the same amount of points each time out on the USAC Silver Crown schedule, and with the slate only being 11 races long throughout the year, mistakes must be minimized and avoiding DNFs are critical in determining a champion, requiring almost outright perfection each race, every race on both dirt and pavement. But the points are put under an even higher resolution microscope in a one-race setting, and Seavey acknowledged that fact. But same as always, they're trying to keep everything as even-keeled as possible and preparing the same as they do every time they're in the shop or at the racetrack.
"Obviously, the nerves are a little bit up on everybody," Seavey stated. "We're all looking at the same goal and we see the points and what not. We always try to be prepared as much as possible. Winchester was our first real DNF of the year and it hurt us really bad. But we got our car rebuilt after that and we were just as good. I'd like to think we're as prepared and I'm just as prepared as we always would be, and we can just show up here and try to win a race."
Swanson acknowledges his role on the race team is a bit more atypical. Prior to testing on Tuesday at IRP, Swanson was in the team's Cincinnati, Ohio-based shop, located roughly two hours away, until 10:30pm the night before in order to be ready for testing the next morning. Though stress is a natural element of this aspect of the sport, Swanson is trying not to sweat it out regarding the points race, and instead, focusing on the part of just trying to go out and win.
"There are little parts of it I'm involved with that make it challenging," Swanson explained. "In some ways, it can stress you out because you're involved in so many layers. But I'm doing my best to enjoy each opportunity and each race and not to get so caught up in it. We're just trying to win a race this weekend and hope it works out. There are many hands that are in on it and I'm thankful for everyone who does pitch in on it."
Just two years ago, Seavey's ambition on the pavement was just to finish races and to finish on the lead lap. Two years later, he's eager to win on the pavement and has finished inside the top-five in all but one race this year, the lone DNF being due to an accident. Due to his relative lack of experience on the pavement in comparison to Swanson, Seavey feels as if there's no way he can ride around and coast to reach his goal on Saturday night. It's going to be an all-out effort from top to bottom for 100 laps to get to where he wants to be.
"I don't feel like I can slow down at all," Seavey stated. "I have to run as hard as I can to be in the top four or five. I just don't have the experience the other guys have but it's part of learning and being a part of a series you're new to and a surface that you're new to. To run fourth on pavement would be a great day, but our goal coming into every pavement race is to win even though we haven't won one yet. Even from last year to this year, I've gotten a lot more confident in the car. Running the Little 500 (at Anderson Speedway) helped in that regard, learning how to run side-by-side with other cars and pass on pavement. A couple years ago, the goal was to just finish."
The high-speed chess match between Seavey and Swanson has gone back and forth all year long. Seavey has won three times on the dirt while Swanson has answered with a top-five in every dirt outing. Swanson has been victorious three times on the pavement this year while Seavey has answered with top-fives in all but one of those starts. So much is so even with these two wheelmen, and faltering at any point in the season can be detrimental, most definitely in a season finale setting.
"It's part of Silver Crown racing," Swanson said. "The season is so short, you can't afford anything that doesn't go your way, and some years, that's how it goes. I'm really fortunate to have had a number of years where things did work out and this year, we still have a chance. I'm not complaining in any way. I'm just thankful to have a chance and we'll try to go out and win a race this weekend."
RACE DETAILS
Championship Saturday features the USAC Silver Crown National Championship, the 500 Sprint Car Tour and Pavement Midgets on Saturday, October 14.
Spectator gates open at noon eastern, followed by 500 Sprint Car Tour Practice at 12:30, Pavement Midget Practice at 12:55, USAC Silver Crown Practice at 1:20, 500 Sprint Car Tour Practice at 1:50, Pavement Midget Practice at 2:15, USAC Silver Crown Practice at 2:40, 500 Sprint Car Tour Qualifying at 3:10, Pavement Midget Qualifying at 3:40, USAC Silver Crown Qualifying at 4:10, Opening Ceremonies at 4:45 with main events starting at 5pm. Times are subject to change. All times are eastern.
Advance tickets are on sale now at www.raceIRP.com. Tickets will also be on sale at the gate on race day.
Saturday's event will be aired live on FloRacing at https://flosports.link/40w7aPg.
====================
SATURDAY'S IRP USAC SILVER CROWN ENTRY LIST:
02 TANNER SWANSON/Kingsburg, CA (Bowman Racing)
06 BRYAN GOSSEL/Fort Collins, CO (Bryan Gossel)
08 KYLE STEFFENS/St. Charles, MO (Gordon Steffens)
2 PATRICK LAWSON/Edwardsville, IL (Patrick Lawson)
5 (R) DAKODA ARMSTRONG/New Castle, IN (C & A Motorsports)
6 C.J. LEARY/Greenfield, IN (Klatt Enterprises)
7 KYLE ROBBINS/New Castle, IN (KR Racing)
11 (R) TREY BURKE/Alvin, TX (Davey Hamilton Racing-SRG)
14 (R) TANNER BERRYHILL/Bixby, OK (Davey Hamilton Racing-SRG)
18 TRAVIS WELPOTT/Pendleton, IN (Welpott Racing)
19 DAVEY HAMILTON JR./Boise, ID (Legacy Autosport)
22 LOGAN SEAVEY/Sutter, CA (Rice Motorsports-Abacus Racing)
26 (R) KAYLEE BRYSON/Muskogee, OK (Sam Pierce Racing)
31 DAVE BERKHEIMER/Mechanicsburg, PA (Dave Berkheimer)
32 (R) GREGG CORY/Shelbyville, IN (Williams Racing)
51 RUSS GAMESTER/Peru, IN (Gamester Racing)
60 NATHAN BYRD/Goodyear, AZ (Robert Wilson Racing)
67 KYLE O'GARA/Beech Grove, IN (SFHR Development)
77 KODY SWANSON/Kingsburg, CA (Doran-Binks Racing)
81 (R) TREY OSBORNE/Columbus, OH (BCR Group)
91 JUSTIN GRANT/Ione, CA (Hemelgarn Racing)
92 MARIO CLOUSER/Auburn, IL (Kazmark Motorsports)
94 MIKE McVETTA/Grafton, OH (Ram Engineering)
98 BOBBY SANTOS/Franklin, MA (DJ Racing)
111 TOM PATERSON/Argos, IN (Tom Paterson)
131 DEREK BISCHAK/Angola, IN (Derek Bischak)
555 TAYLOR FERNS/Shelby Township, MI (Taylor Ferns Racing)
(R) represents a USAC Silver Crown Rookie of the Year contender