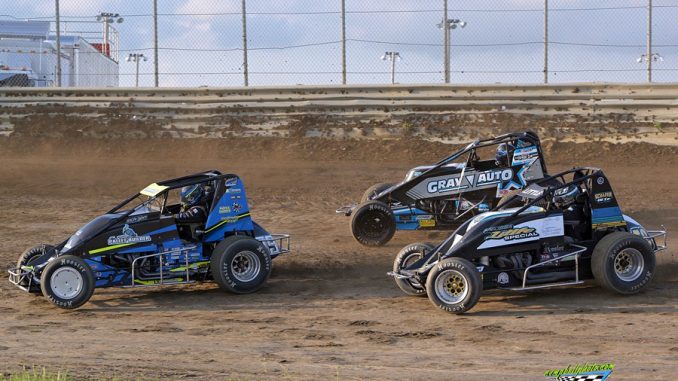 By Aaron Fry
For the final time in 2023, the stars and cars of the MPD Racing Buckeye Outlaw Sprint Series is set to thrill race fans young and old. The final battle will take place at Waynesfield Raceway Park this Saturday, October 28th in the Goblin Classic paying $2,000 to win the main event along with the modifieds, compacts and trucks in action.
Ricky Lewis has already clinched the tour championship, but there are may other storylines to set to unfold. Obviously, the final championship point standings will take center stage as second place Korbyn Hayslett is only 3 points ahead of Isaac Chapple. Cody Gardner appears to have a lock on the fourth position as Jesse Vermillion will look to hold off Lee Underwood to secure the top 5 spot. Underwood sits only 46 points in front of Brian Ruhlman for the sixth spot. Blake Vermillion, Steve Little and Dustin Ingle round out the current top 10.
Aside from the points chase, two drivers will have a shot at history on Saturday. In the 13 seasons of the BOSS tour, no driver has ever won more than five main events in the same year. California's Ricky Lewis and Pennsylvania's Carmen Perigo will be looking for their record-breaking sixth win. However, the current holder of the record five wins is Chapple who will be out to secure the runner-up points finish AND preserve his record.
On Saturday, pit gates will open at 1 pm with general admission gates opening at 2. Hot laps are set for 3:30 with race action beginning at 4:45. Adult general admission is $20 with juniors $10 and kids 12 and under free. Pit passes will be $30. For competing teams, the race will pay the 2023 standard BOSS purse as follows: 2000, 1000, 750, 650, 550, 500, 450, 425, 400, 375, 350, 340, 330, 320, 310, 300, 300, 300, 300, 300. Heat races will pay: 40, 30, 20, 10 thanks to Mad Tree Brewing, Outsider's Merchandise & Apparel and Elizabeth Gardner Photography. The race winner will get a free tire certificate from Hoosier Racing Tire and four other $50 bonus awards will be provided by Cowen Truck Line Inc, All Pro Aluminum Cylinder Heads, E A Home Supply and All Star Performance Products.
All cars must be on 4 corner Hoosier Racing Tires and the right rear must be a 2022 or 2023 spec right rear. Legal compounds include the Medium, H15, or D15A. Cars do not have to run the same right rear all night. Mufflers are NOT required. We will be using the yellow Westhold transponders and rentals will be available. Raceiver radios are mandatory anytime cars are on the race track and under power.
We encourage everyone to get out and support Waynesfield Raceway Park this Saturday. Race track owners and promoters take a big chance on these fall shows and we appreciate their efforts. Kids will have the opportunity to trick-or-treat after hot laps.