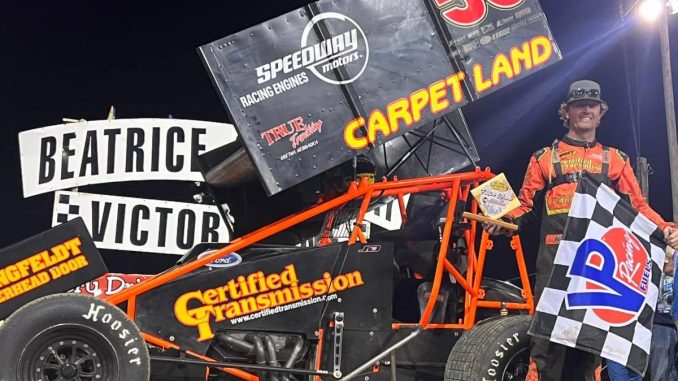 Inside Line Promotions
SPRINGFIELD, Neb. (Nov. 7, 2023) – Jack Dover produced a pair of feature victories this year during a different type of racing season.
Dover raced a limited number of times as he took on a new role as the crew chief for up-and-coming sprint car driver Tim Estenson.
"I learned a lot helping Timmy," he said. "If I was to go back to full-time racing I feel I could take 10 or 15 wins and have a great year just from what I've learned. Helping Timmy and doing my deal of racing a limited amount was a great learning year."
Dover managed a little more than two dozen starts this year for four different teams, guiding two to victories to extend his sprint car winning streak to 19 years in a row. His first triumph came on July 30 at Huset's Speedway in Brandon, S.D., in the Shawn Loos owned 305ci winged sprint car. Dover also recorded a win in his No. 53 winged sprint car on Sept. 29 at Beatrice Speedway in Beatrice, Neb.
"I'm pleased with two wins," he said. "To get a win is hard. Everybody is so equal and the talent is getting better each year. To get multiple wins in a year when I wasn't able to focus solely on driving was a success.
"When I stop to think about it, continuing the winning streak means a lot. It's been every year since I've started racing so it's 23 years now counting the micro sprint seasons."
Dover powered the Tim Estenson Motorsports sprint car to a pair of third-place results and his best outing in the Rick and Chris Bowers No. 81 sprint car was a 19th-place run during a World of Outlaws NOS Energy Drink Sprint Car Series race.
"We had a shot at winning in Timmy's car one night, but I made some driver mistakes in the final laps," he said. "I think a lot of why we did so good in all the cars is I learned a lot of stuff as far as setup and shock stuff. The more I learn I'll keep improving."
Dover earned eight podiums – half coming in his No. 53 sprint car – during the season.
"A lot of the times I ran my car were bigger events," he said. "We ran the High Limit deal at Eagle Raceway and made the show. We ran second in two ASCS National Tour shows. We won at Beatrice. Any time we ran it we competed with the best.
"Lakeside Speedway and Boone County Raceway were two of my better races. We had a shot to win at Lakeside, but I didn't move up the track soon enough. And at Boone County we finished second by eight one thousandths of a second at the end. Both of those were ASCS National races we almost won.
"I want to give my partners a huge shoutout for sticking with me. It was a different season for us, but all of my partners supported me and I'm grateful for them."
SEASON STATS –
26 races, 2 wins, 9 top fives, 12 top 10s, 15 top 15s, 16 top 20s
MEDIA LINKS –
Website: http://www.JackDoverRacing.com
Twitter: https://twitter.com/JackDoverRacing
Facebook: https://www.facebook.com/jackdoverracing?fref=ts
SPONSOR SPOTLIGHT – Husker Diesel
Husker Diesel, which is based in Gretna, Neb., offers in-house fabrication and specialty TIG welding, general automotive diagnostics and repair, engine and transmission building, pulling and racing truck builds, custom exhaust, alignments for over-sized and custom off-road trucks, wheel and tire packages, suspension work, custom dyno tuning, performance parts and much more all under one roof. For more information, visit http://www.HuskerDiesel.com .
"Husker Diesel has been with our team for the last couple of years," Dover said. "I've known Jake, who is a head guy there for 10 or 15 years. We've become close friends and I'm grateful for the support of everyone at Husker Diesel."
Dover would also like to thank Liquid Trucking, Carpet Land, Certified Transmission, Backlund Plumbing, True Trucking, Thorpe's Body Shop, Husker Diesel, West Omaha Irrigation and Lawns, Langfeldt Overhead Doors, Speedway Graphics, Phil Durst, SSS Motorsports, Speedway Engines, Spike Chassis, Sway Away, ButlerBuilt Professional Seat Systems, Keizer Aluminum Wheels, Schoenfeld Headers, Smith Titanium, K&N Filters, FK Rod Ends, DMI, Vortex Wings, Speedway Motors and Industrial Plating for their continued support.