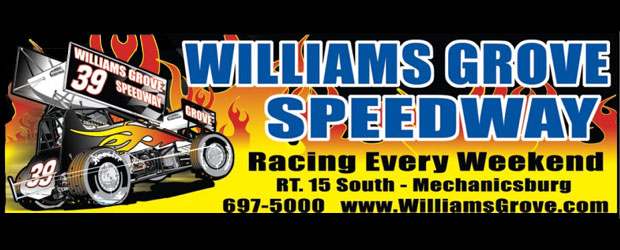 From Williams Grove Speedway
Mechanicsburg, PA — (August 12, 2011) — Doug Esh waited until the final turns of the final lap to steal the win in Friday's 25-lap sprint car feature at Williams Grove Speedway. After starting in the 12th spot, Esh earned a $500 bonus for the win that ended up being worth more than $4,100.
In the 25-lap 358 sprint championship race, Kevin Nouse of Lewisberry scored his fourth career Grove win in the division, worth $1,200.
Derek Sell of Royersford led the first six circuits from the pole after the first two rows were swapped following a false initial start. Tim Glatfelter was following Sell when the races first caution flag waved just after the sixth circuit was recorded.
The restart was red flagged when Steve Buckwalter flipped across the fronstretch near the flag stand and got clobbered mid-air by Lance Dewease. Neither driver was injured.
With the lead, Sell entered lapped traffic with 10 laps to go followed closely by Glatfelter, who ended up driving by with 18 down as Esh began entering the picture along with seventh starter Brent Marks.
Marks motored into second with four laps to go and began tracking down the leader with Esh in tow.
With two to go, Marks had caught the leader but held back from trying a pass until just after the white flag when he pulled the trigger for what he hoped was going to be his second career speedway victory.
As Glatfelter raced into the first corner on the cushion, Marks drove low through the turns to slide up into the lead in the second corner.
But it was far from a smooth pass as Glatfelter backpedaled to maintain his composure before giving Marks a sender, punting him onto the backstretch.
With that, Glatfelter's mount twitched sideways exiting the turn, which gave him a bird's eye view of Esh streaking by to his inside and into second.
And a blink of an eye later, Esh swooped in on leader Marks to perform a massive dive into the third corner to crank out the victory in the last fleeting seconds.
It was the 19th time Lancaster driver Esh graced the Grove winner's circle in his career.
Marks finished second followed by Sell, Chad Layton and slipping Glatfelter.
Sixth through 10th went to Frank Cozze, Danny Dietrich, Adam Wilt, Nicole Bowers and Gerard McIntyre, Jr.
Heats went to Wilt, Sell and Glatfelter with Dietrich taking the consolation race.
Chris Arnold led on the first circuit of the 358 championship before Nouse took over for what would be his win.
But before that could happen, he had to withstand the fast closing cars of Eric Tomecek and Logan Schuchart.
The pair had reeled in Nouse with 16 away and was ready to make it a three-car race for the lead when the yellow flag appeared.
However after the caution, neither driver was able to touch Nouse for the victory although Tomecek gave it the old college try on the restart as well as again on a restart with seven laps to go.
The final restart on lap 18 came after a red flag for a vicious frontstretch series of flips by point leader Pat Cannon who had started 22nd and had worked his way up to be inside of the top 10.
After slamming the outside frontstretch wall just past the flagstand, his car careened toward the pit opening while disintegrating. Cannon escaped injury after also flipping in his heat racer earlier in the night.
Also flipping earlier in the night was Michael Ruttkamp, who after hitting the backstretch bridge came to rest outside of the speedway's backstretch. Ruttkamp was also uninjured.
Heats went to Nouse, Tomecek and Tim Berkheimer with Nate Hammaker scoring the consolation.
Feature Finishes
August 12, 2011
Sprint cars, 25 laps: 1. Doug Esh, 2. Brent Marks, 3. Derek Sell, 4. Chad Layton, 5. Tim Glatfelter, 6. Frank Cozze, 7. Danny Dietrich, 8. Adam Wilt, 9. Nicole Bowers, 10. Gerard McIntyre, Jr., 11. Aaron Ott, 12. Rick Lafferty, 13. Cory Haas, 14. TJ Stutts, 15. Alan Krimes, 16. Daryl Stimeling, 17. Dave Wilson, 18. Troy Fraker, 19. Steve Buckwalter, 20. Lance Dewease, 21. Mark Zimmerman, 22. Don Kreitz, Jr., 23. Mark Smith, 24. Ryan Bohlke.
358 sprints, 25 laps: 1. Kevin Nouse, 2. Eric Tomecek, 3. Logan Schuchart, 4. Tim Berkheimer, 5. Davey Franek, 6. Chris Arnold, 7. Brie Hershey, 8. Jay Galloway, 9. Steve Fannasy, 10. Scott Geesey, 11. Amy Ott, 12, Adrian Shaffer, 13. Chad Trout, 14. Nate Hammaker, 15. Kyle Moody, 16. Brian Garland, 17. Jacob Allen, 18. Pat Cannon, 19. Dale Hammaker, 20. Glenndon Forsythe, 21. Rich Eichelberger, 22. Austin Reed, 23. Billy Johns, 24. Ted Thomas