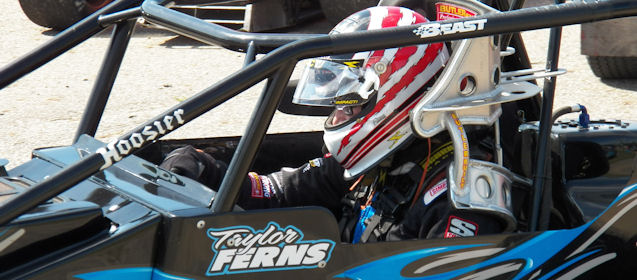 By Ferns Racing PR, MudclodBob photo
Shelby Township, Mich.—Nov. 23, 2011— While Michigan is home for Taylor Ferns, California has been a "home away home" during her young career, as she has racked up six wins in the Golden State and enjoyed a great deal of success on the West Coast. The 15-year old will be in California this week to compete in the 71st Turkey Night Grand Prix at Toyota Speedway at Irwindale with the USAC Mopar National Midget Series.
The event at Irwindale will mark the second time this season that the native of Shelby Township, Mich. has raced with the USAC Mopar National Midget Series, and the first time on pavement, after making her series debut on the dirt at Tri-City (Ill.) Speedway last month. Ferns will take to the half-mile at Irwindale on Thursday, Nov. 24 in the Motor City Transport Inc. Beast with a Stanton Mopar engine under the hood.
"I'm really looking to Turkey Night," said Ferns. "It's a great event and it will be my first time on the big track. There are always a lot of cars out there, so qualifying is very important. At events like that making the race is an accomplishment in itself. We'll focus on running consistent laps and doing the best we can."
The reigning USAC Mopar D1 Midget Series champion has competed a couple of times at Irwindale Speedway on the inner one-third-mile oval at the state-of-the-art venue. Ferns finished second in the 40-lap Junior Focus main event during the 2009 Turkey Night Grand Prix, after qualifying third in a very strong 25-car field. The high school sophomore also competed at Irwindale last year with the Ford Focus Midget Series, timing in 13th of the 33 cars in attendance, to earn a spot in the 30-lap main event.
Ferns raced in California for the first time in 2009, claiming the "California Focus Week" title, while earning her first win in the Golden State that same year. She would go on to record a total of six victories in California over the course of the 2009 season, including picking up two wins at Ocean Speedway in Watsonville, along with taking the checkered flag at Perris Auto Speedway, Kings Speedway, Ventura Raceway and on the asphalt at All American Speedway in Roseville.
"I've always enjoyed racing in California," noted Ferns. "It seems like people in California are a little more laid back and just enjoy things more. The atmosphere is always great and so is the weather too. It's a fun place to visit and race."
The Turkey Night Grand Prix will consist of a 98-lap main event on the paved half-mile at Irwindale. Ferns competed in 12 races on the asphalt this season en route to claiming the USAC Mopar D1 Midget Series title, finishing in the Top-10 in each and every one of those races, earning a win at the Indianapolis Speedrome. She had an average finish of 6.2 in her starts on pavement this year with the USAC D1 Midget Series, on tracks ranging from one-fifth-of-a-mile to a half-mile.
"Having run a lot of races on pavement this year certainly helps when you go to a place like Irwindale," shared Ferns. "I've raced with a number of the USAC National drivers over the course of the season as well and I have a good time racing with them. I respect them and I think they respect me too."
Following the event at Irwindale, Ferns will head to Florida for the inaugural Mazda Road to Indy Scouting Combine, Nov. 28–30 at Andersen Race Park. Ferns, who is the winningest female in USAC history, will be one of 12 drivers to take part in the Mazda Road to Indy Scouting Combine, with each driver climbing behind the wheel of one of three identically prepared USF2000 cars on the one-mile track, which is located just south of St. Petersburg. A panel of judges will evaluate each driver's performance and will name an overall winner at the conclusion of the three-day program, which in addition to the on-track activities, includes mock media interviews and a business of racing seminar.
"I'm really looking forward to going to Florida and testing the F2000 car," said Ferns. "I tested an F2000 car at Sebring with the Skip Barber Racing School a couple of years ago, so I am anxious to get back in one of those cars and on a road course again. It will be a great experience."
# # #
Keep up with all the action: For the latest news and results, visit Taylor Ferns and Ferns Racing online at http://www.taylorferns.com.