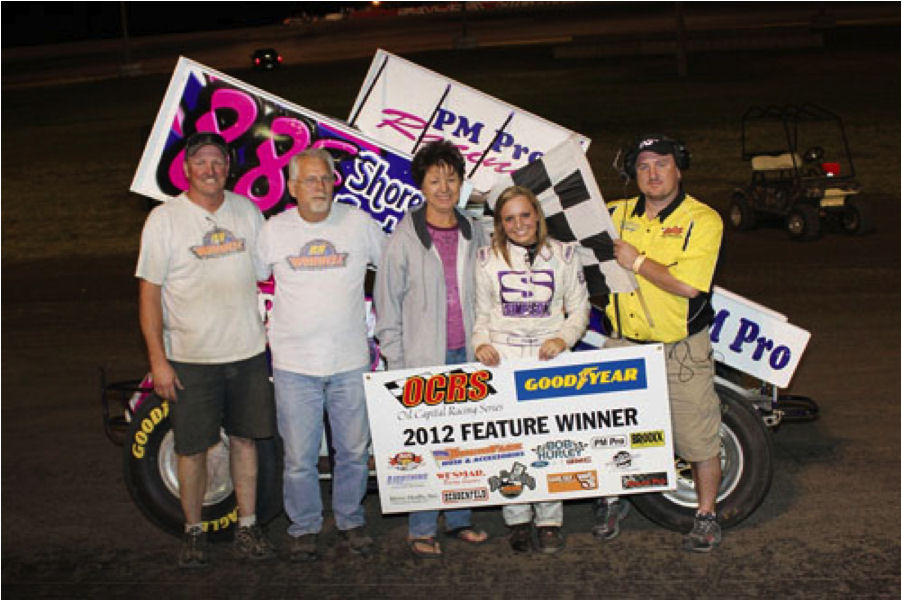 John Lemon
Salina Oklahoma (May 19, 2012)- Shayla Waddell is known as "The Princess" in the camp of the Oil Capital Racing Series for obvious reasons. She possesses an attractive persona and she has all grace and charm that one would expect to find in a woman of high standards. However, to view Waddell as a high society Kardashian type individual would be a mistake. This down to earth and soft spoken nineteen year old teenage sensation commands the respect of her peers due to her solid moral standards and likewise character. After tonight's event at the fourth tour stop on the OCRS 2012 schedule at the Salina Highbanks Speedway, the respect that Waddell will receive from her peers from this day forward will increase 50 fold as she became the first woman in OCRS history to claim a main event win.
Sweeps The Field
Princess Waddell was dead on target all night long. She first claimed victory in the "Bob Hurley Auto Family" heat race and then took the "Pole Dash" race later in the evening. The dash win required a decision from the college student as the new program of the "Back Row Challenge" sponsored by the Oil Medics was presented to her in front of an electrified crowd. If opted to start the feature in the rear of the pack, Waddell would win an extra $1,000 from the Oil Medics if she could run through the field to win the feature. Having the excitement of having the opportunity to be in such a solid position to vie for that first OCRS triumph, Waddell elected to keep her pole position starting berth on a track that was hardened by a constant steady wind throughout the day.
Waddell took command immediately in her Shores-Sentry / Red Rock Distributing / PM Pro / Production Engine / Eagle Chassis mount at the drop of the green over Owasso Oklahoma resident Matt Sherrell in his Don & Pat Carrens owned Sherrell Paint & Body / JPM Precision Machine / J&J chassis. Waddell built up a ten car length advantage early until encountering lapped traffic by lap nine and Sherrell closed the gap by two thirds as Waddell was patient and cautious to maneuver around the lapped car ahead and then she began to stretch out her lead once more.
As laps were clicking off, Fred Mattox, another fast teenage charger was holding onto third with Jeremy Allen and defending OCRS champion Sean McClelland and Jamie Passmore all next in line. As the track began to take excess rubber with each passing lap, Beau Gastineau, an M&W Aluminum heat race victor, had a right rear tire blow on lap 13 and he safely removed his machine from the track without having to go yellow. Mattox was trying to get underneath Sherrell at the same time but Sherrell kept closing the door on him.
At the completion of the 16th circuit, Bristow's Tim Kent started limping with a blown right rear and a yellow was falling for him. At the same time, Rafe Essary had a problem in turns three and four and he stopped on the top of the embankment with fluid draining out of his XXX chassis which required track personnel to take care of the track. If that wasn't enough for one yellow, Jeremy Allen looped his mount on the backstretch. He would restart at the rear as would Kent after returning from the work area. Eassary would be towed to the pits. In the grandstands, the crowd was in a feverish pitch to see if Waddell could bring the #88s to victory. There would be just four laps remaining as OCRS officials called for a 20-lap affair prior to the start on the feature based on track conditions from the days wind.
On the restart, McClelland shot around Mattox for third in his Maxwell Oil / Lawton Auto Parts / XXX chassis in turns one and two and set his sights on Waddell and Sherrell. On lap 18, McClelland got his front end up along side of Sherrell but Sherrell would win what was literally a drag race down the back stretch to turn three with Sherrell winning that battle. With the momentum Sherrell built up in holding of McClelland, he got right on Waddell and looked to make a pass but to no avail.
Another yellow would fall as Josh Toho would slow with problems in the Bob Martin #41. This would set up a green-white-checkered finish and one more hurdle for Waddell to clear. Waddell would bring the field to green in a slower pace than the previous restarts and McClelland would go on the attack on Sherrell yet another time only to have Sherrell fight the champ off once more. Waddell would bring it on home for her first win to an exhilarating and pumped up crowd. Sherrell would take second with McClelland, Mattox, and Passmore rounding out the top five.
Seemingly unsure about her place in victory lane, Waddell flashed her perfect smile and told the crowd what she was thinking on the restarts that allowed her competition to make a run at her; "I knew they were there (on her bumper) because I could hear them. I just told myself to keep it in the right spots and just hold on. This is such an exciting win for the team and Im just really happy to be here (victory lane)." When asked about his run, Sherrell was gracious in his comments towards the young lady. "First I have to congratulate Shayla and the job she did tonight. She drove a good race and they (Waddell team) really deserve this one. As for myself, we just settled in line and did all we could to catch her. I knew there were others on top of me too and it was a challenge to fend them off while trying to overtake Shayla."
Waddell not only snares her first OCRS triumph (she won two non sanctioned features at the former State Fair Speedway in Oklahoma City in 2008 / 2009), she moves to within six points of the lead for the "Goodyear Tire & Rubber" championship trophy. Danny Smith held onto his points lead but it has been cut down to just two markers by Passmore (304-302).
Smith, from Sapaulpa, earned the $100 cash payout of the AmeriFlex Hose & Accessories "Hard Charger" program with a tenth place finish (up from 16th). Broken Arrow's Colton Brewer was the nights best finishing rookie with a 12th place run.
Beau Gastineau won his second career OCRS heat race (won his 1st in 2010) when he captured the M&W Aluminum heat race and micro sprint standout Alex DeCamp made his sprint car debut a solid one with a victory in the Wesmar Racing Engines B-Feature in his Morton Excavating / Klint Pursley Trucking / STK Engines / Eagle sprinter. DeCamp was 14th in the main event and by the looks of his first foray into the sprint car world, the Locust Grove Oklahoma resident isn't going to take long to be a challenger to his peers. Sherrell took honors in the Drive Shafts Inc. heat race.
The next events for the OCRS warriors will be a holiday doubleheader during the Memorial Day affairs. On Friday night, OCRS will be at the huge half mile of the Thunderbird Speedway in Muskogee Oklahoma for the second running of "Callie's Night" and then on Saturday, it's off to the Caney Valley Speedway in Caney Kansas where the sprinters will tackle the ¼ mile bullring in the "Thunder In The Valley Showdown".
OCRS thanks all of their associate sponsors for their support of the OCRS series. These additional sponsors include: Grand Prix Auto, Lightning Wings, Keizer Aluminum Wheels, Schoenfeld Mufflers, Brodix Cylinders and PM-Pro.