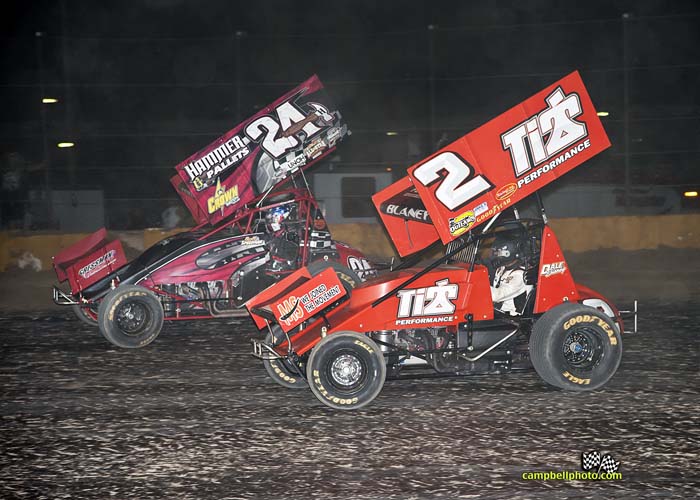 From Brian Liskai
Fremont, OH — (Saturday, June 30, 2012) — It was like dangling a carrot…put $10,000 out in front of Dale Blaney and he goes after it.
The "Low Rider" did just that at Fremont Speedway Saturday for the finale of the 30th Annual Ohio Sprint Speedweek. The Hartford, Ohio native chased down race-long leader Bryan Sebetto and passed him with seven laps to go in the 50-lap affair and went on to claim the finale on Fort Ball Pizza Palace Night.
For Blaney, it was his sixth University of Northwestern Ohio All Star Circuit of Champions win of 2012. It was also his 90th career series victory, moving him to within 8 of tying hall-of-famer Kenny Jacobs for the All Stars all-time win lead. Blaney has swept the four UNOH All Star shows at Fremont in 2012 and now leads the series' all-time win list at "The Track That Action Built" with 11 wins. It was also Blaney's 16th career win at Fremont.
"Shaff's kind of owned this place the last couple of years and he still runs really, really good here and to beat him and sweep both of them here for Speedweek and add the Memorial Day weekend sweep…we kind of finally found Fremont again. The track was awesome…you could run any where you wanted to. My car was really good when it gets like this and George and Troy and Bobby, Rick and Junior and all the guys they put it together and I just drove it," said Blaney beside his Ti22 Performance backed machine.
Blaney, who started 10th in the 50-lap feature, used lapped traffic to catch and pass Sebetto.
"I kind of found a little different line in four there…I was kind of hurting a little bit and I finally started to get patient and running it down off the middle and run down off the hill. In one and two I was a little bit better than he (Sebetto) was and in three and four he was better than me. I kind of had to run the top behind him for a little bit but then I got to running different lanes. You can do that when you are behind guys. It works out. If I was leading at that point…there's a good chance I could have gotten taken advantage of," added Blaney, a four time Ohio Sprint Speedweek champion and three time UNOH All Star Champion.
Blaney would finish third in the Ohio Sprint Speedweek points and continues to lead the Ohio Region points of the UNOH All Stars while holding second in the series' national points.
Broken Arrow, Oklahoma's Stevie Smith would finish fifth and earn his second Ohio Sprint Speedweek championship, having won the title in 2009.
"I owe it to my guys. They've had me a consistent, good race car. This is great for the team. I wish this was a 100 lapper…I wish we were a little bit better and we could have gotten up there and raced with them. We tried our best and we did our best and it just wasn't good enough," said Smith beside his CL Motorsports/DDNI/CJB Motorsports #19.
Defending Ohio Speedweek champion and three time UNOH All Star Champion Tim Shaffer would race from his 11th starting spot to edge Sebetto at the checkered for a second place finish. Shaffer, who leads the national UNOH All Star points, would come home second in the speedweek points and trails Blaney in the Ohio region points battle.
"The car really came on those last 20 laps. The guys are doing just a great job…Aaron Call and Janet Holbrook, the Kistler Engines, VRP Shocks, J&J Chassis…it's a package deal and it's really coming together and it really feels fun again," said Shaffer. "Me and Bryan (Sebetto) got to racing each other so hard there at the end Blaney got away from us. That had to be a hell of a race to watch…it was a lot of fun where I was sitting."
Sebetto, who embarked on his first ever complete Ohio Sprint Speedweek event, lead from laps 1-42.
"Lapped traffic was a pain tonight. They were all over the place. There at the end them guys…they wouldn't run in the same place any two laps. It was frustrating, but Dale got through it the best. I'm glad to bring it home in one piece and put on a heck of a show for the fans," said Sebetto beside his Hammer Pallets, Crown Battery, R3 Nutrition, Crown Batter, Gressman Powersports backed machine.
"To end up fourth in the speedweek points…to go to tracks I've never raced on and never having to run a B-main…it's says a lot about this team. We were fast all week…sometimes our finish didn't show how good we were. I'm proud of this team and all the guys who work their butts off and Randy and Lisa Hammer for believing in me and spending the money to take me on the road," added Sebetto, the defending Fremont Speedway champion.
Tiffin, Ohio's Paige Polyak – the first female to ever win a sprint car feature at Fremont in its' 61-year history, waited until the last corner of the last lap to pass race-long leader Caleb Griffith to take the exciting Fremont Federal Credit Union 305 Sprint feature. She literally won by an eyelash as she claimed her fourth career Fremont win by .02 seconds.
"All I said on that last restart was 'hit your marks.' I knew the #13 would hold up Alvin (Roepke) and I could get around him. I just needed a long green flag run. I finally got one. That last corner I just went in there as hard as I could and it stuck…I couldn't believe it," said Polyak beside her Steyer Seeds, H.E. Rudy Truck, Handy Grafix, Meggit Powdercoating, JLH General Contractors, Pit Stop Carryout, NAPA of Bryan backed machine.
"I like finishing this way…both cars come home in one piece. Caleb ran a heck of a race…he ran me clean. I was surprised when he went to the bottom…I knew it was my only chance to get him. I have to thank Liggins and my crew, Duane, my Dad, Kelsey, Jim Cobb, my Mom and all my fans," added Polyak in the Engine Pro Victory Lane.
Not to be outdone, the Fremont Fence Dirt Trucks also put on a great battle with six trucks running nose to tail and side by side the entire 20 lap distance. Dustin Keegan would drive the bottom to perfection to take the lead with eight laps to go and held off Jimmy McGrath Jr. lap after lap to score his third career win at Fremont and third this season.
"This is just unbelieveable the season we are having with this thing. We struggled here the last couple of weeks but we finally got it dialed back in. I seen Jimmy…and I was like 'I'm not going to let him get by me…it's not going to happen.' I'm known as a bottom feeder…I don't like to get off of it," said Keegan beside his Paul's Drive Thru, LST Excavating, Foster Auto Body, Advanced Auto Parts, York Fabrication backed #D1.
"I have to thank all my sponsors and a couple we just added, OC Shocks, JLH General Contractors, Chuck Roelle Fabrication," added Keegan.
Paul McMahan and Sebetto would bring the field to the green with Sebetto grabbing the lead over McMahan, Smith, Shane Stewart, Byron Reed, Mike Linder and Dean Jacobs. Sebetto would fly away out front while McMahan battled with Stewart, with and Reed for second. The caution would fly on lap four for a multi-car event involving Chris Andrews, Cory Crabtree and Cap Henry, who had worked his way from the 24th starting position up to 14th.
On the restart, with clean air, Sebetto would pull way. He would encounter lapped traffic by the 11th circuit with Stewart moving into second with McMahan, Smith, Blaney, Reed, Linder and Shaffer in pursuit. By lap 18, Stewart began to track down Sebetto with McMahan, Blaney, Smith and Reed right there to challenge. Blaney would move into third on lap 20, and just as Stewart began to pressure Sebetto for the lead, he would slide off the high side of turns three and four and drop back to third on lap 22.
As they neared the half-way point, Blaney was quickly closing on Sebetto who was dealing with heavy lapped traffic. By lap 27, Blaney was racing under Sebetto as the large crowd rose to their feet to watch the excitement. The two would continue to wage a great battle as they sliced and diced through lapped traffic with Stewart, Shaffer, McMahan and Smith in tow.
On lap 31, Sam Hafertepe would make hard contact with the front stretch wall and flip hard, though he would exit the car uninjured. On the restart, Sebetto, Blaney and Stewart would run nose to tail with two lapped cars separating them from Shaffer, McMahan and Smith. The red would bring about a fuel stop as well.
Now, with a clear track ahead of him, it appeared Sebetto was primed to win the biggest race of his career. He would pull away slightly on the restart with Blaney, Steward, Shaffer, McMahan, Smith, Reed and Greg Wilson in pursuit. Shaffer would drive under Stewart for third on lap 35.
With 10 laps to go, Sebetto would once again catch the rear of the field, allowing Blaney to close once again with Shaffer not far behind. Blaney would slide under Sebetto for the lead exiting turn two on lap 42 to take the lead. As Blaney picked his way through traffic, Sebetto now had his hands full with a closing Shaffer with Stewart, Smith and Reed in tow.
Blaney could not shake Sebetto or Shaffer, but he was able to negotiate through the traffic to take the win. Shaffer would drive under Sebetto on the last corner to take second with Stewart and Smith rounding out the top five.
In the 25-lap 305 sprint main, Jimmy Colvin and Alvin Roepke would bring the field to the green, with a pull-up involving Dustin Dinan, D.J. Foos and Jordan Ryan would necessitate a complete restart. Roepke would grab the lead when the green reappeared over Colvin, sixth starting Griffith, Polyak, Nate Dussel and John Ivy. Griffith would grab second on the next lap and would drive outside of Roepke exiting turn four on lap three to take the lead.
Polyak would take third on lap five as Griffith raced into lapped traffic on lap seven. The caution would fly for debris on lap eight, giving Griffith a clear track. He would pull away from a great battle between Roepke and Polyak with Ivy, Colvin and Dussel in pursuit. Meanwhile Foos would charge from last to fifth by lap 10.
Griffith would catch the rear of the field by lap 14, with Polyak trying to make up ground while Roepke battled with Ivy for third with Foos fifth. With eight laps to go, Polyak had reeled in Griffith with Ivy, Foos and Roepke in tow. With just three laps to go, Polyak had caught Griffith as Ivy, Foos, Roepke and Jimmy Colvin also battled hard for third.
Griffith and Polyak would race side by side over the next few laps as they sliced through lapped traffic. As they took the white flag, Polyak raced to Griffith's inside. Griffith would move down to block through turns three and four as Polyak jumped to the outside at the white flag.
It was side by side the entire last lap and as they exited turn four to the checkered, Polyak edged just past Griffith for the close win, with Ivy, Foos and Roepke rounding out the top five.
In the 20-lap truck feature, Kent Brewer and Jimmy McGrath Jr. would drive to the green with McGrath leading the first lap by a nose over McGrath while John Ivy, Art Ball, Danny Roepke Jr. and Keegan stayed very close. Brewer would take the lead on lap two with Ivy jumping into second on lap four and immediately driving to Brewer's outside to challenge for the lead.
A caution for a Bob Dible spin on lap five bunched up the field with Brewer leading Ivy, McGrath Jr., Roepke, Keegan, Cory Ward, Art Ball and Art Howey Jr. After the green reappeared, just as Ivy was again challenging for the lead, something mechanical would strike Ivy would would retire to the pits, moving Keegan to second.
Brewer and Keegan raced door to door over through lap 11 before Keegan could drive under Brewer for the lead. McGrath Jr. would blast around the high side to move into second on lap 12 and pressured Keegan the rest of the way. A caution for Chuck Roelle on lap 17 would bunch up the field, but Keegan was too strong on the bottom and would pull away for the win over McGrath, Roepke, Ward and Brewer.
Fremont Speedway will be back in action Saturday, July 7 for McDonald's Night with the Fortball Pizza Pace 410 sprionts; Fremont Federal Credit Union 305 Sprints, Fremont Fence Dirt Trucks and the kids' Sportsman 4-cylinder division in action.
Fremont Speedway – 6/30/2012
UNOH Night
All Star Circuit of Champions (42 Cars)
[#]-Starting Position
Qualifying – Kistler Engines
1. 29-Shane Stewart, 13.233; 2. 45-Paul McMahan, 13.270; 3. 5R-Byron Reed, 13.374; 4. 24H-Bryan Sebetto, 13.389; 5. 40-Caleb Helms, 13.449; 6. 3L-Mike Linder, 13.464; 7. 19-Stevie Smith, 13.499; 8. 12-Jared Ridge, 13.576; 9. 97-Dean Jacobs, 13.588; 10. 71AU-Ryan Davis, 13.591; 11. 9X-Brandon Martin, 13.658; 12. W20-Greg Wilson, 13.662; 13. 14K-Cole Duncan, 13.690; 14. 2-Dale Blaney, 13.706; 15. 83-Tim Shaffer, 13.709; 16. 5T-Travis Philo, 13.715; 17. 15H-Sam Hafertepe Jr., 13.755; 18. 60K-Jody Keegan, 13.791; 19. 16-Chris Andrews, 13.802; 20. 57X-Andrew Palker, 13.803; 21. O-Lee Jacobs, 13.804; 22. D4-Danny Holtgraver, 13.832; 23. 4K-Kody Kinser, 13.845; 24. 2+-Brian Smith, 13.871; 25. O9-Craig Mintz, 13.883; 26. 53-Phil Gressman, 13.912; 27. 3-Pete Miller III, 13.915; 28. 35-Stuart Brubaker, 13.930; 29. 55-Brad Bowman, 13.996; 30. 89G-David Gravel, 14.015; 31. 9Z-Duane Zablocki, 14.024; 32. 14W-Chad Wilson, 14.045; 33. 40C-Caleb Griffith, 14.211; 34. 40I-Mark Imler, 14.267; 35. 80-Trey Gustin, 14.423; 36. 60C-Kory Crabtree, 15.070; 37. 9W-Lance Webb, 15.136; 38. 46AU-Stuart Williams, 15.315; 39. 14H-Todd Heller, 17.375; 40. 54-Cap Henry, 99.997; 41. 4-Danny Smith, 99.998; 42. 73-Joe Ambruster, 99.999
Heat 1 – Kears Speed Shop (10 Laps – Top 5 finishers transfer to the A-feature)
1. 15H-Sam Hafertepe Jr.[2] ; 2. O-Lee Jacobs[1] ; 3. 29-Shane Stewart[6] ; 4. 14K-Cole Duncan[3] ; 5. 97-Dean Jacobs[4] ; 6. 4-Danny Smith[11] ; 7. 40-Caleb Helms[5] ; 8. O9-Craig Mintz[7] ; 9. 9W-Lance Webb[10] ; 10. 55-Brad Bowman[8] ; 11. 40C-Caleb Griffith[9]
Heat 2 – All Pro Aluminum Heads (10 Laps – Top 5 finishers transfer to the A-feature)
1. D4-Danny Holtgraver[1] ; 2. 2-Dale Blaney[3] ; 3. 45-Paul McMahan[6] ; 4. 60K-Jody Keegan[2] ; 5. 3L-Mike Linder[5] ; 6. 89G-David Gravel[8] ; 7. 53-Phil Gressman[7] ; 8. 46AU-Stuart Williams[10] ; 9. 40I-Mark Imler[9] ; 10. 71AU-Ryan Davis[4] ; 11. 73-Joe Ambruster[11]
Heat 3 – Dragon Race Fuel (10 Laps – Top 5 finishers transfer to the A-feature)
1. 83-Tim Shaffer[3] ; 2. 4K-Kody Kinser[1] ; 3. 16-Chris Andrews[2] ; 4. 19-Stevie Smith[5] ; 5. 5R-Byron Reed[6] ; 6. 14H-Todd Heller[10] ; 7. 9Z-Duane Zablocki[8] ; 8. 80-Trey Gustin[9] ; 9. 9X-Brandon Martin[4] ; 10. 3-Pete Miller III[7]
Heat 4 – Kinsler Fuel Injection (10 Laps – Top 5 finishers transfer to the A-feature)
1. W20-Greg Wilson[4] ; 2. 24H-Bryan Sebetto[6] ; 3. 2+-Brian Smith[1] ; 4. 35-Stuart Brubaker[7] ; 5. 57X-Andrew Palker[2] ; 6. 12-Jared Ridge[5] ; 7. 54-Cap Henry[10] ; 8. 60C-Kory Crabtree[9] ; 9. 14W-Chad Wilson[8] ; 10. 5T-Travis Philo[3]
Dash – Outerwears Performance Products (6 Laps, finishing order determined first 6 starting positions of A-feature
1. 45-Paul McMahan[1] ; 2. 24H-Bryan Sebetto[3] ; 3. 29-Shane Stewart[5] ; 4. 19-Stevie Smith[2] ; 5. 5R-Byron Reed[4] ; 6. 3L-Mike Linder[6]
B-Main – MSD Ignition (12 Laps – Top 4 finishers transfer to the A-feature)
1. O9-Craig Mintz[6] ; 2. 53-Phil Gressman[7] ; 3. 54-Cap Henry[20] ; 4. 55-Brad Bowman[9] ; 5. 4-Danny Smith[21] ; 6. 3-Pete Miller III[8] ; 7. 46AU-Stuart Williams[18] ; 8. 14H-Todd Heller[19] ; 9. 60C-Kory Crabtree[16] ; 10. 12-Jared Ridge[2] ; 11. 40I-Mark Imler[14] ; 12. 14W-Chad Wilson[12] ; 13. 9W-Lance Webb[17] ; 14. 73-Joe Ambruster[22] ; 15. 80-Trey Gustin[15] ; 16. 89G-David Gravel[10] ; 17. 40C-Caleb Griffith[13] ; 18. 9X-Brandon Martin[4] ; 19. 9Z-Duane Zablocki[11] ; 20. 40-Caleb Helms[1] ; 21. 71AU-Ryan Davis[3]
A-Main – University of Northwestern Ohio (50 Laps)
1. 2-Dale Blaney[10]; 2. 83-Tim Shaffer[11]; 3. 24H-Bryan Sebetto[2]; 4. 29-Shane Stewart[3]; 5. 19-Stevie Smith[4]; 6. 5R-Byron Reed[5]; 7. W20-Greg Wilson[8]; 8. 45-Paul McMahan[1]; 9. D4-Danny Holtgraver[17]; 10. 3L-Mike Linder[6]; 11. O9-Craig Mintz[20]; 12. 16-Chris Andrews[14]; 13. 14K-Cole Duncan[9]; 14. O-Lee Jacobs[16]; 15. 97-Dean Jacobs[7]; 16. 54-Cap Henry[24]; 17. 4K-Kody Kinser[18]; 18. 60K-Jody Keegan[13]; 19. 57X-Andrew Palker[15]; 20. 35-Stuart Brubaker[22]; 21. 15H-Sam Hafertepe Jr.[12]; 22. 53-Phil Gressman[21]; 23. 2+-Brian Smith[19]; 24. 55-Brad Bowman[23]
Hard Charger: 2-Dale Blaney[+9]
Fremont Federal Credit Union 305 Sprints (21 Cars)
[#]-Starting Position
Heat 1 – (8 Laps – Top 7 finishers transfer to the A-feature)
1. 40-Caleb Griffith[1] ; 2. 4X-John Ivy[2] ; 3. 25-Jason Keckler[3] ; 4. 83X-Nate Reeser[4] ; 5. 8J-Jess Stiger[5] ; 6. 77S-Jim Sipe[6] ; 7. 13D-Jeremy Duposki[7]
Heat 2 – (8 Laps – Top 7 finishers transfer to the A-feature)
1. OO-Alvin Roepke[1] ; 2. 27-Paige Polyak[2] ; 3. 9-Jimmy Colvin[6] ; 4. 68G-Tyler Gunn[3] ; 5. 22D-Dan Hammond[7] ; 6. 10S-Roger Shammo[4] ; 7. 10-Josh Harrison[5]
Heat 3 – (8 Laps – Top 7 finishers transfer to the A-feature)
1. 11F-D.J. Foos[6] ; 2. 1-Nate Dussel[3] ; 3. 5R-Jordan Ryan[1] ; 4. 5-Dustin Dinan[5] ; 5. 4M-Jamie Miller[2] ; 6. 19R-Steve Rando[4] ; 7. 10X-Dustin Stroup[7]
A-Main – (25 Laps)
1. 27-Paige Polyak[5]; 2. 40-Caleb Griffith[6]; 3. 4X-John Ivy[8]; 4. 11F-D.J. Foos[7]; 5. OO-Alvin Roepke[2]; 6. 1-Nate Dussel[3]; 7. 9-Jimmy Colvin[1]; 8. 10X-Dustin Stroup[21]; 9. 25-Jason Keckler[9]; 10. 5-Dustin Dinan[4]; 11. 19R-Steve Rando[18]; 12. 8J-Jess Stiger[13]; 13. 22D-Dan Hammond[14]; 14. 10S-Roger Shammo[17]; 15. 10-Josh Harrison[20]; 16. 5R-Jordan Ryan[12]; 17. 83X-Nate Reeser[10]; 18. 68G-Tyler Gunn[11]; 19. 4M-Jamie Miller[15]; 20. 13D-Jeremy Duposki[19]; 21. 77S-Jim Sipe[16]
Hard Charger: 10X-Dustin Stroup[+13]
Fremont Fence Dirt Trucks (19 Trucks)
[#]-Starting Position
Heat 1 – (8 Laps – Top 8 finishers transfer to the A-feature)
1. 99-Art Howey Jr.[2] ; 2. O1-Art Ball[7] ; 3. 5JR-Jimmy McGrath Jr.[10] ; 4. 8KB-Kent Brewer[9] ; 5. 17-Bob Dible[6] ; 6. 99X-Gene Potridge[4] ; 7. 5-Jim McGrath Sr.[3] ; 8. 115-Ben Good[1] ; 9. 95-Keith Sorg[5]
Heat 2 – (8 Laps – Top 8 finishers transfer to the A-feature)
1. 18W-Cory Ward[1] ; 2. D1-Dustin Keegan[7] ; 3. 88-Dan Roepke Jr.[2] ; 4. 16-Steve Sabo[3] ; 5. 94-John Ivy[5] ; 6. O9-Jeff Wank[9] ; 7. 45-Brian Melnek Jr.[8] ; 8. 3R-Chuck Rolle[4] ; 9. 23M-Brad Mitten[6]
A-Main – (20 Laps)
1. D1-Dustin Keegan[8]; 2. 5JR-Jimmy McGrath Jr.[2]; 3. 88-Dan Roepke Jr.[6]; 4. 18W-Cory Ward[5]; 5. 8KB-Kent Brewer[1]; 6. O1-Art Ball[3]; 7. 5-Jim McGrath Sr.[13]; 8. 99-Art Howey Jr.[12]; 9. 17-Bob Dible[9]; 10. 16-Steve Sabo[7]; 11. 4X-Brian Sorg[18]; 12. 95-Keith Sorg[17]; 13. 99X-Gene Potridge[11]; 14. 115-Ben Good[15]; 15. 3R-Chuck Rolle[16]; 16. 94-John Ivy[4]
Hard Charger: D1-Dustin Keegan[+7]
Photo Gallery