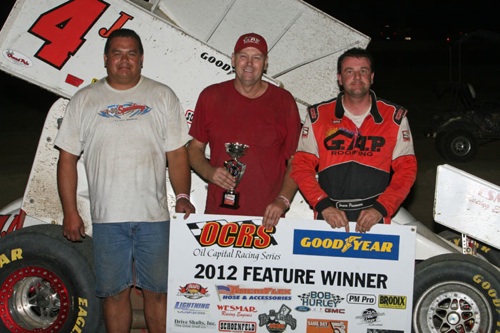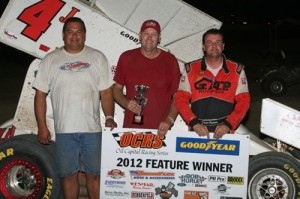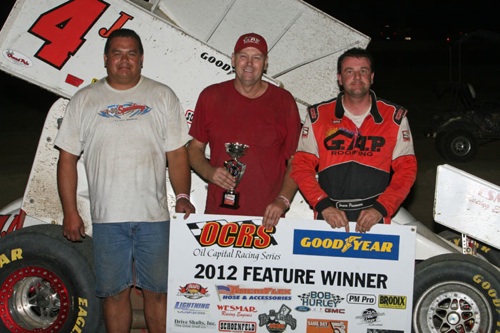 From John Lemon
Muskogee OK — (July 6, 2012) — As they have done three times previously in 2012, Whit "Gasman" Gastineau and "Jammin Jamie" Passmore have started the 25-lap A Feature for the Oil Capital Racing Series sprint cars together on the front row and each have won while doing so. Tonight was another Gastineau / Passmore reunion of sorts as the two sprint combatants would square off in another duel.
Gastineau would pace the duo as he held the pole by virtue of his victory in the five lap "Pole Dash" race contested earlier in the evening. The pilot of the DW's Video / Shell Rapid Lube / Larry Allen Engines / Eagle chassis had darted out into the immediate lead at the start while Passmore followed in his GAP Roofing / Wesmar Engines / Eagle. Kyle Clark, in the Same Day Auto Repair / BMS Engines / XXX chassis and The "Mongoose", Matt Sherrell in the Sherrell Paint & Body / Don Carrens / J&J were next to follow the leaders.
Gastineau and Passmore would provide instant excitement by going at one another wheel-wheel. Coming out of turn four to start lap three, Passmore made a run on the Gasman and had pulled along side of him only to have the Gasman hold the spot at the scorer's line. However, Passmore would find his way around Gastineau coming out of turn four to begin the fifth lap. Just prior to that move, Tim Kent would find his way around both Sherrell and Clark for the third spot. Danny Smith, Clark's teammate, would also begin to pick his way through the field and head forward. By the ninth lap, Passmore already had ten car lengths on Gastineau and the race looked as if would get out of hand.
The tenth lap would see misfortune strike Kent as he blew an engine and at the same time, his cousin Johnny would slow to a crawl on the back straight with mechanical issues of his own. While Tim would be able to get his car off the track, the yellow would fly to remove Johnny's stranded car. Back under green, Smith attacked Clark for the third spot and pulled off a successful take over. Two laps later, Gastineau made a furious attempt to over take Passmore and even pulled up along side of the former champion by shooting to the low end of the track in turn one while Passmore rode the rim. Coming out of turn two and heading down the backstretch, Passmore would out drag Gastineau to retain the lead.
Working lap 22, a yellow would fall again as Casey Wills would spin the Oil & Fleet Express special in turn two. He would restart at the rear. This set up another chance for the Gasman to overtake the top position as Smith would restart third with Clark fourth, Sherrell fifth and Fred Mattox sixth. During the final four laps, Sherrell and Mattox would each find their way by Clark while Passmore held on for his seventh OCRS feature victory of 2012 win with an eight car length advantage. Gastineau took the runner up spot with Smith, Sherrell and Mattox making the top five.
"I was able to move around just enough to find a good line (to keep ahead of Gastineau)" said Passmore in victory lane. "I was lucky to do so and we just got lucky again." About the early battle with Gastineau, Passmore had this comment: "It doesn't matter when it is in the race (early, middle or late), your just trying to do the best you can. With a kid like Whit, you know you can race with him. You know you don't have to worry about him running over you. Its just good clean racing."
"I was working different lines to see what would work for me and what was working for him (Passmore)" said Gastineau. " I was pretty much horrible in (turns) 3 & 4 but much better in one & two. I think I showed him the faster line once. I think he saw me and I guess I should have made it stick a little bit better" said last years points runner up.
From the third place finisher Smith: "We know we can run with them (Passmore & Gastineau), our lap times are almost identical. They started on the front and I started five rows back so it took me a long time to get there (up front). I've said it before, I just can't spot them 5-6 rows and expect to rum with them. By the time we get there, you have rubber laid down and there's no more passing after that."
Sherrell took the win in the M&W Aluminum heat race while Clark took the Bob Hurley Auto Family heat and Wichita's Mike Peters captured the Drive Shafts Inc. Heat. Smith was the AmeriFlex Hose & Accessories hard charger improving his position by seven places.
The OCRS warriors will now load up for the fourth weekend doubleheader of the season. The first stop will be at the Brills Motor Speedway in Meeker Oklahoma on Friday the 13th while the Salina Highbanks Speedway in Pryor is the following night where the "Princess", Shayla Waddell, will return after her fan gratifying victory in May.
Thunderbird Speedway
Race date: July 6, 2012 – Event 11
21 Cars
M&W Aluminum Heat:
1- Matt Sherrell (1), 2- Harli White (2), 3- Jamie Passmore (7), 4- Danny Smith (4), 5- Casey Wills (3), 6- Johnny Kent (6), 7- Beau Gastineau (6)
Bob Hurley Auto Family Heat:
1- Kyle Clark (1), 2- Tim Kent (2), 3- Whit Gastineau (6), 4- Shayla Waddell (4),
5- Alex Sewell (5), 6- Rafe Essary (7), 7- Keith Bolton (3)
Drive Shafts Inc. Heat:
1- Mike Peters (1), 2- Fred Mattox (6), 3- Kenneth Walker (3), 4- Glenn Passmore (2), 5- James Estes (7), 6- Colton Brewer (5), 7- Michael Bookout (4)
Pole Dash:
1- Whit Gastineau (2), 2- Jamie Passmore (6), 3- Kyle Clark (1), 4- Matt Sherrell (3), 5- Fred Mattox (5), 6- Mike Peters (4)
OCRS A Feature:
1- Jamie Passmore (2), 2- Whit Gastineau (1), 3- Danny Smith (10), 4- Matt Sherrell (4), 5- Fred Mattox (5), 6- Kyle Clark (3), 7- Mike Peters (6), 8- Harli white (7), 9- Glen Passmore (12), 10- Alex Sewell (14), 11- Shayla Waddell (11), 12- Beau Gastineau (17), 13- Casey Wills (13), 14- Kenneth Walker (9), 15- Rafe Essary (15), 16- Tim Kent (8), 17- Johnny Kent (16), 18- James Estes (18), 19- Michael Bookout (DNS), 20- Keith Bolton (DNS) 21- Colton Brewer (DNS)
AmeriFlex Hose & Accessories "Hard Charger" – Danny Smith +7
www.ocrsracing.com
Photo Gallery