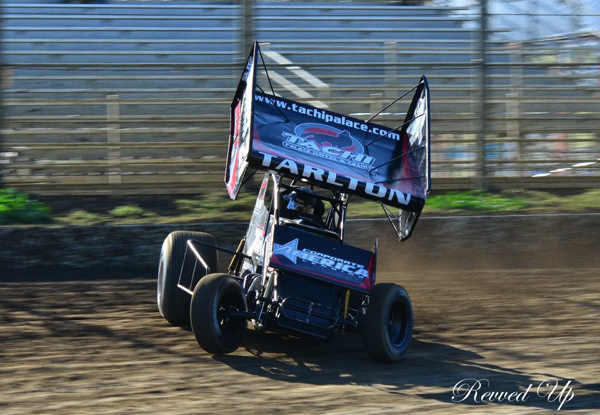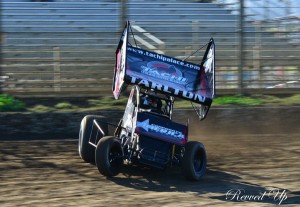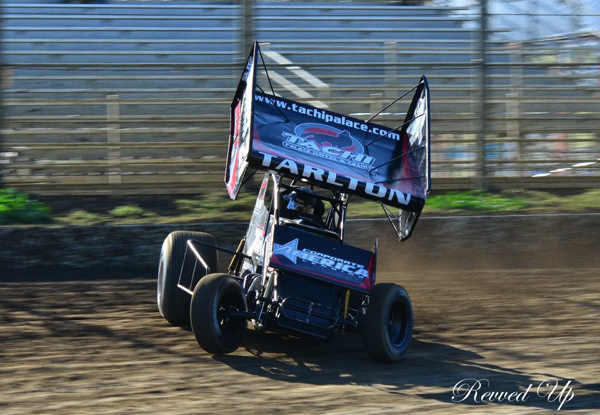 From Steven Blakesley
WATSONVILLE, CALIFORNIA (July 21, 2012) – 2010 Ocean Sprints champion Tommy Tarlton continued his domination of the series as he won his fourth feature of the year in Saturday's Johnny Key Classic Qualifier for the Ocean Sprints presented by Taco Bravo.  Tarlton locked himself into the Key by winning the last qualifier on June 30th, allowing Friday's second place finisher Nick Green into a qualifier spot for the 52nd Johnny Key Classic in August.
"I have to thank Paul Baines again for giving me a good car," Tarlton said.  "Jason Myers was here tonight in the pits and we're going to run him at Knoxville.  But I have to tell you, I love this speedway, I love the fans, I love John Prentice.  I'm just having a blast."
Green took the Johnny Key Classic qualifier spot in a comeback race aboard a brand new #14 All Weld Fabrication ART, after flipping in the USAC show on June 15.
"It's such a huge load off (for the Key) knowing you can just show up and dial in your car and takes so much pressure off of you," Green said.  "I think I'm going to keep the wings on from now on!  This is a brand new car from ART and this is a huge momentum builder going into the ASCS Speedweek coming up."
Tarlton led from the pole position in a race that had numerous yellow and red flags making for a long evening on the quarter-mile dirt track in Watsonville.  The first seven laps went caution-free with Tarlton pulling away to a comfortable lead before hitting lapped traffic.  Joshua Williams of Glendale, AZ brought out the first red flag after a tumble down the front stretch in his #41w entry.
When racing resumed, a torrid battle was underway between Fresno's Dominic Scelzi, points leader Shane Golobic of Fremont, and fast-time qualifier Justin Sanders under a blanket for the third position.
Carson Macedo of Lemoore brought out the next red flag with several end over end flips out of turn two in an incident that also involved "Cowboy" Craig Smith, San Jose's Ryan Rusconi, and Eric Humphries of Chowchilla.  Humphries continued on with minor wing damage and Rusconi had to briefly go to the work area, but Smith and Macedo were done for the night.
The ensuing restart saw a big shakeup when Scelzi got off the line slowly, dropping from third to sixth in one lap before yet another stoppage on lap eight.  Salinas' Carter Train spun in turn three and collected Humphries, with the impact sending Train upside down.  Both drivers were done for the evening, ending Humphries' comeback race after a serious crash a few weeks ago.
Things settled down on the restart with Tarlton leading Green, while Sanders worked the cushion from third.  Sanders swept past Green on lap 14 and looked poised to challenge Tarlton in lapped traffic.  But on lap 18, Sanders slowed dramatically with a mechanical problem in turn two to bring out another caution.
The final restart with 12 to go was all Tarlton as he drove away from Green, while the battling was from third on back.  Bud Kaeding worked his way past Golobic, and Petaluma's Jason Toft continued his hard charge from 15th to pass Stockton's Brad Furr for fifth.
In the end, Tarlton was too strong as he claimed his fourth win of the season by two seconds over Green, Kaeding, Golobic, and Toft.  Furr, second in the points, was sixth on the night while Scelzi managed to bring home the #41 entry in seventh.
Heat race wins went to Sanders, Macedo, and Furr.  The DDNi Hard Charger was won by Jerry Bonnema who finished eighth after starting 21st.  Sanders claimed the Ray Scheid'ts Electric fast-time award after turning an 11.742 second lap in qualifying.
The Ocean Sprints presented by Taco Bravo will return this Friday night, July 27, for another Johnny Key Classic Qualifier.
For more information on the Ocean Sprint Cars presented by Taco Bravo log onto http://www.oceansprints.com and for more on the Ocean Speedway visit http://www.oceanspeedway.com
Ocean Speedway would like to thank Taco Bravo, Digital Delivery Networks, Get Som Sports, Ray Scheidt's Electric, Hoosier Tires West, and Kaeding Performance for their support of the 2012 Ocean Sprints presented by Taco Bravo.
July 20, 2012 Ocean Sprints presented by Taco Bravo – Watsonville, California
RAY SCHEIDT'S ELECTRIC QUALIFYING: OB1 Justin Sanders 11.742
HEAT RACE ONE: OB1 Justin Sanders
HEAT RACE TWO: 21x Carson Macedo
HEAT RACE THREE: 2 Brad Furr
30 LAP FEATURE: 1) 21 Tommy Tarlton, 2) 14 Nick Green, 3) 20 Bud Kaeding, 4) 9J Shane Golobic, 5) 27 Jason Toft, 6) 2 Brad Furr, 7) 41 Dominic Scelzi, 8) 58 Jerry Bonnema, 9) 99 Wayne Katen, 10) 6m Jon Maiwald, 11) 98 Ryan Rusconi, 12) 72W Kurt Nelson, 13) 4 Tim Decarlo, Jr. 14) OB1 Justin Sanders, 15) 25Z Jason Chisum, 16) 2X Carter Train, 17) 15 Eric Humphries, 18) 39 Craig Smith, 19) 21x Carson Macedo, 20) 41W Joshua Williams DNS: 37x Michael Twitchell
LAP LEADERS: 21 Tommy Tarlton 1-30