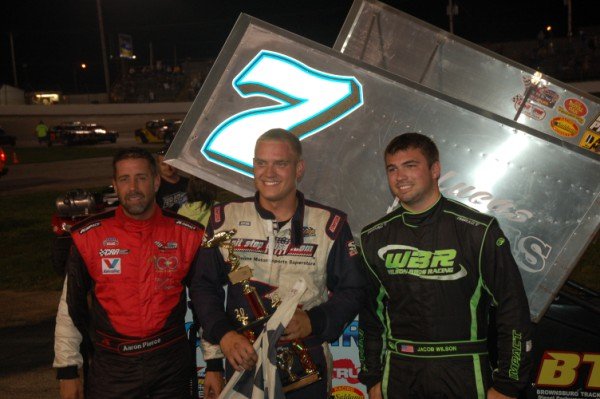 From David Sink
Anderson, IN – (August 18, 2012) – Current TRUFUEL Must See Racing Xtreme Sprint Series (MSRXSS) point leader Jo Jo Helberg captured Saturday's MSRXSS 50 Lap feature at Anderson Speedway. The win was the first MSRXSS win of the year for Helberg in 2012.
Polesitter Jacob Wilson got the jump and lead the first 18 jumps before Helberg made the pass for the lead amid confusion. Helberg ran closely behind Wilson and the two worked lapped traffic nearly every lap from the drop of the green. On the eighteenth go around, Mike Larrison spun exiting turn two and for a brief second, it appeared a caution flag might be displayed. Helberg made the pass for the lead as it appeared Wilson may have hesitated thinking the track might go yellow. No caution was waved and the raced continued without any interruptions. Wilson was now trailing Helberg closely looking for any opportunity to regain the lead. The only caution of the race flew on lap 32 for the spin of Jimmy McCune. When the race resumed, Helberg built up a lead he would never relinquish over Wilson, Aaron Pierce, Brian Gerster, and Jason Cox rounding out the top five.
Heat wins went to Hank Lower, Mike Larrison, and Aaron Pierce. Brain Gerster was the night's fast qualifier with a lap of 10.435 seconds
In victory lane, a happy Helberg talked about his pass for the lead. " Lapped cars were absolutely terrible tonight " explained Helberg. " Coming off of turn two I saw a bunch of smoke going down the backstretch. Him (Wilson) and I thought for sure there was a yellow. Right as I come down the backstretch I glanced up and saw no cars spun out. I thought now is my shot. If I'm gonna get him, now is my time. He went to the top and got crowded by lapped cars. I about ran over Hank Lower and about put it down in the grass. After I got the lead I was trying to be conservative. I knew if I kept a good enough pace, in order for somebody to get by me, they would have to really show me a nose or hit me " concluded Helberg.
Saturday's event was the first of two back-to-back events for the MSRXSS this weekend. Winchester Speedway awaits the series for the second and final event of the weekend with the annual Old Timers Weekend event on tap for Sunday afternoon.
For more info log onto www.mustseeracing.com
Feature Finish-50 Laps
7 Jo Jo Helberg
07 Jacob Wilson
26p Aaron Pierce
50 Brian Gerster
40 Jason Cox
45 Ryan Gillenwater
91 troy DeCaire
41 Brian Olson
64 Geoff Kaiser (-1)
6 Sondi Eden (-1)
88 Jimmy McCune (-2)
10s A.J. Russell (-2)
12 Billy Wease (-2)
18 Jim Sheets (-16)
37 Hank Lower (-20)
26 Jeff Bloom (-21)
51 Mike Larrison (-30)
5r Darren Roberts (-35)
10 Jason Blonde (-36)