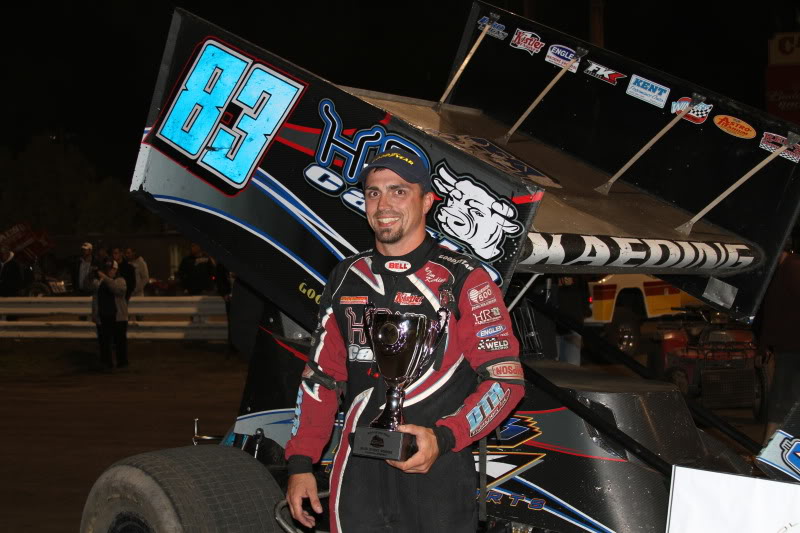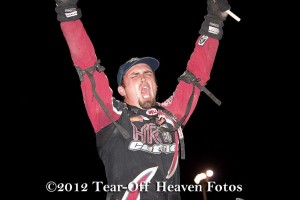 From WSS
Californian driver Tim Kaeding has signed on to be Krikke MotorSport's beast tamer in the 2012/13 Australian Sprintcar season.
Comments and information courtesy of Krikke Motorsport
With Brooke Tatnell unable to commit to racing with the team due to family commitments in the US, KMS had to look for a new driver to fill the driving duties. But that doesn't mean that you won't be seeing Tatnell in the KMS car in the future. He's assured the team that he'll be defending their Australian Sprintcar Title in the KMS hotrod at Brisbane International Raceway in January next year.
"When Brooke announced he was unable to commit to our full race season here, we had to start looking for a driver that would fit in with our guys, be able to drive the wheels off of the hotrod and hopefully be someone who could rack up the wins' said team owner Shane Krikke. 'We've been in discussions with a few Aussies and Americans and have finally locked and loaded Tim Kaeding in for the ride."
Kaeding (34) is a third generation racer who hails from San Jose, California and is known throughout the US Sprintcar scene as 'TK'. His last time out to Australia was back in 05/06 when he raced with the 'Outlaws DownUnder' tour at Parramatta Raceway.
World Series Sprintcars Race Director Shane Collins was thrilled with the announcement.
"It is a great result for the team to get a driver of Tim Keading's ilk to replace multiple-WSS champion Brooke Tatnell, and along with the talent that will assemble at all our WSS rounds we could not be happier with what is looking to be an exciting time in the history of WSS."
He has notched up over 100+ career wins. Ten during the season that he's just completed in the US; four of those during this year's World of Outlaws season and the other six were with the King of the West series. He has twice been Chico Track Champion and is the all-time leading feature race winner there also.
When asked about his thoughts and ambitions for his Aussie racing campaign with KMS, Kaeding had this to say about his appointment to the team
"The Krikke Motorsports team has been the team you hear about in the US for years beating the competition with great equipment and a great driver with Brooke behind the wheel. It is a great opportunity for me to be offered a chance to drive such great equipment and be competing with a top notch team in Australia."
"I'm going to feel like a rookie again travelling to new race tracks which is a good thing at times and I'm hoping to continue the success I had over the 2012 season back home in the States and not only contend for the championship but win a few races in the process. KMS has been a power house race team over the past years and I would like to continue that for them. I would like to thank everyone at KMS for the chance to come over and compete."
This year KMS and 'TK' are planning on running the full World Series Sprintcars, along with other major races including the President's Cup in Avalon, the Warrnambool Classic and of course the Krikke Boy's Shootout at the team's home track in Bunbury.
So now the team finally have all their ducks in a row. They've got new Crew Chief, Brendan Telfer, who's been working hard all off season preparing two new Cool cars and Maxwill Race Engines have been working their magic on preparing the engine program whilst Shane-o Finch will soon be joining Brendan out at the race shop getting ready for the onslaught of life on the road.
"It is actually a really exciting new era for us at KMS yet there is still a tinge of sadness to be honest. Having Pete not being there on the road full time with us after 10 years of running the team will be very different, but Brendan has done such an outstanding job so far. The cars look really trick and the workmanship he has put into everything is nothing short of first class. I can't wait to see them on the track!" Team Principal Shane Krikke went on to say.
"It is going to be really different not having BT up in the truck too but we have always had the understanding that family is the most important thing yet to have someone the caliber of Tim Kaeding come and drive for us is something I am really looking forward to. Tim is a great guy, races hard and can get the job done…he is one of the best in the business after all!. Bring on the summer and the World Series, this is going to be a hell of a year!"
The 26th annual World Series Sprintcars Championship begins on December 26 at Speedway City in South Australia. Stay tuned to worldseriessprintcars.com.au for all of the latest news regarding the series, including the full roster of contracted drivers as they are announced.