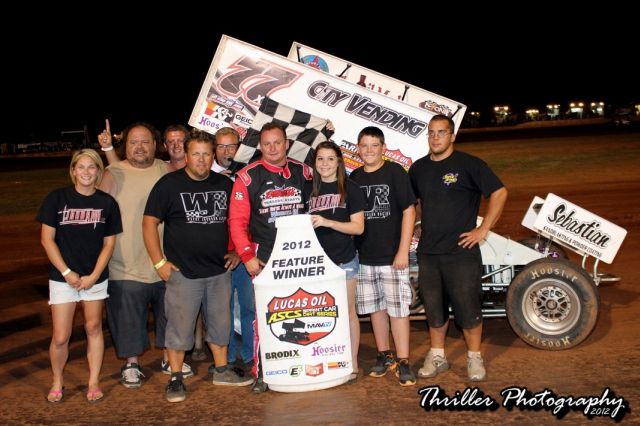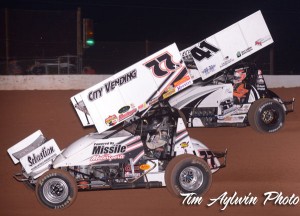 FromBryan Hulbert
Tulsa, OK — (February 14, 2013) — Going into the 2012 season, Wayne Johnson was contending with a bit of the unknown. Being a first year, full time owner/driver with the Lucas Oil American Sprint Car Series presented by MAVTV American Real, the Oklahoma City native turned Knoxville resident found himself with a rookie crew to cover a 60 plus race schedule.
In the end, Wayne's season was a resounding success. Trading the points lead ten times over the course of the Summer with series rival Jason Johnson, "The Iron Man" proved success is earned through hard work, and consistency with 37 top fives' and a series leading 48 top tens'. Included in his record is 21 podium finishes that resulted in 10 wins.
Where most teams spend the off season prepping, and changing, a very confident Wayne Johnson has spent much of his time simply prepping, "Honestly we didn't change anything. We didn't change any manufactures other than we did change wheel manufacture, I guess, so that was a lie" chuckled Johnson.  "We've got back on Weld. Momma Gail's took good care of me, and I kind of got sidetracked there for a little bit and we're back on the bandwagon now."
With cars and team members remaining in place, Johnson hopes to simply build momentum.  Asked what that will take with so many different tracks to take in, Johnson's answer was simple, "Biggest on the whole thing is to just go off the notes that we had last year and build from there, but confidence I think we're fine. Like anything lucks gotta go your way."
Ending on a high note of $10,000 at the Western World Championships at the Canyon Speedway Park in Peoria, Ariz., Wayne looks to carry that momentum into the season opening dates at the Tucson International Raceway before another chance to grab a $10,000 check at the Cocopah Speedway.
Earning a fourth, and fifth place finishes at the Arizona oval in 2012, Wayne reflected on his first time visit with his then new team, "We were decent at Cocopah. It's a big, high speed, slick place and that really fits my driving style quite a bit, but, I felt like we could have been better there last year you know. Early in the season we were still learning as a team, and as a car owner/driver I was still kind of fresh."
Looking over the schedule for the Lucas Oil ASCS presented by MAVTV American Real, Johnson was asked about the addition of events like the Musco Lighting Front Row Challenge presented by Casey's General Store and the Cocopah Cup Challenge and does this signify a coming of age, so to speak,  for 360 Sprint Car racing? Johnson's reply was to the point, "Well it's definitely a step in the right direction. I've been putting some numbers to what it takes to run a 360 team, and what it takes to run a 410 team on a nightly basis. You'd be really shocked that it's not that far off. These bigger paying races are definitely something that a 360 series needs."
With fresh Maxim Chassis' in place, the Williams Motorsports / Powered by Missile Motorsports No. 77x is in the final preparations stages for the 2013 Lucas Oil ASCS presented by MAVT American Real season. Wayne hopes to beat the forecasted Iowa weather and make his way west before the end of the week.
The 2013 Lucas Oil ASCS presented by MAVTV American Real begins at the Tucson International Raceway on Friday, Feb. 22 and Saturday, Feb. 23. The two day event will be preceded by a practice night on Thursday, Feb. 21 starting at 6pm.
The 2013 season marks the twenty-second year of sanctioning Sprint Car racing for the American Sprint Car Series, which brings the best of Sprint Car racing to dozens of different tracks throughout the nation and into Canada. Anchored by the Lucas Oil American Sprint Car Series, ASCS also consists of nine different Regions throughout the nation.
Lucas Oil Products is the title sponsor of the American Sprint Car Series. More information can be found on Lucas Oil Products at www.lucasoil.com. MAVTV is the presenting sponsor of the American Sprint Car Series. Log onto www.mavtv.com for information regarding availability and listings in your area.
Associate sponsors for the Lucas Oil American Sprint Car Series presented by MAVTV include: Hoosier Racing Tire and Brodix
Team Lucas Sponsors for the American Sprint Car Series consist of Protect the Harvest, Geico, E3 Spark Plugs, and General Tire.
Product and Contingency Sponsorship provided by:  K&N Filters, PitstopUSA.com, Engler Machine and Tool, Roush Yates Racing Engines, FSR Radiator and Racing Products, Schoenfeld Headers, Driverwebsites.com, Weld Wheels, Fuel Safe, Saldana Racing Products, SBI Fuel Bladders, Maxwell Industries, Print Place, Xtreme Accu-Tach, Simpson, LeJoie Seating, Ti 22 Performance, Wesmar Racing Engines, Hinchman Indy Racewear, Brown and Miller Racing Solutions, DMI Rear Ends, Rod End Supply, Smiley's Racing Products, Speedway Motors, PitstopUSA.com, and Hilborn Injection Systems.
Additional information regarding the American Sprint Car Series is available at www.ascsracing.com as well as Twitter (@LucasOilASCS) and Facebook. News and information can also be sent to you with the ASCS E-News by texting ASCS to 22828 with any mobile device.