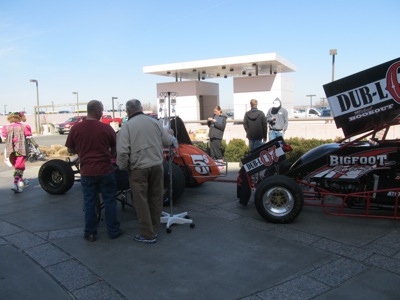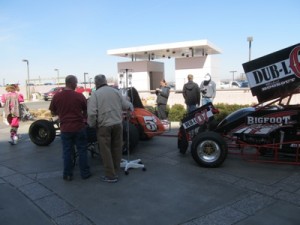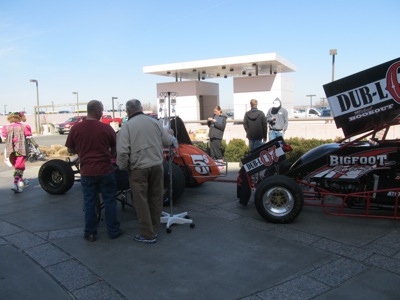 From John Lemon
Tulsa OK —  (March 6, 2013) — Today, the Oil Capital Racing Series was invited to meet the wonderful children of the "St Francis Children's Hospital" in Tulsa. OCRS provided a few sprint cars for display with drivers autographing pictures for the kids. A variety of snacks were passed out and "Gabby The Clown" joined in as well to entertain the children. Several smiles and uplifting moods from the children made for a great day.
OCRS president Barry Grabel had this to say about the event: "To see the children get a break from their issues by showing them racecars and looking at the glow in their eyes is just fantastic. I sincerely appreciate the drivers and their helpers for donating their time as they are. These are special people and it's an honor to have them race with our series," said Grabel.
Drivers in attendance were:
2012 series runner-up Danny Smith and his teammate Kyle Clark, Alex Sewell (2012 Rookie of the Year), Michael Bookout (2012 Rookie of the Year runner-up) Kevin Cummings, Rob Hooper and 2011 OCRS champion, Sean McClelland.
Special thanks goes out to "Gabby" who was a delight for the children to see. OCRS would especially like to thank hospital tour director Chrissy Streeter for the invitation to meet the children and to Tom Cummings, Amanda Cummings & Robert Bookout for their time and efforts.
It was also interesting to see the adult's oooh and ahhhh over the racecars on display. A few nurses passing by even took an opportunity to climb into the cockpit of the cars to see what its like to be in the "office" of the OCRS drivers. In all, it was a great event and the children were the stars of the day.
Remember race fans…. The 2013 OCRS season kicks off on March 30th at the Brill Motor Speedway in Meeker, Oklahoma and the OCRS warriors will do so "non-wing" style.