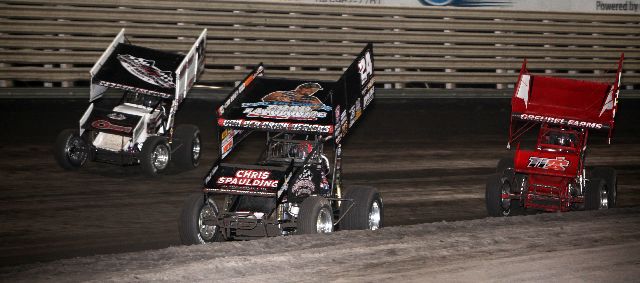 From Bill W
May 21, 2013 – A top five finish at Knoxville Raceway has Terry McCarl sitting third in the Knoxville Championship Cup hunt.  The defending champion ran fifth at Knoxville, and was rained out at Huset's Speedway near Brandon, South Dakota.   He's planning on running two races this weekend.  He'll return to Knoxville on Saturday, and run Monday at Huset's.  He'll skip Huset's Sunday for son Carson's high school graduation in Altoona.
TMAC decided to change some things for Saturday at Knoxville.  "I'm kind of a creature of habit, so I don't mess with my setups much," he says.  "I'd wanted to try a couple things, and Saturday I decided I was going to do it.  I kind of had a totally different setup than what I normally run, and a different shock package."
It is tough to make any drastic changes when you are running for a championship.  "I can't really afford to do anything really radical as far as running for the championship," says TMAC.  "All the guys that are at the top are running really well."
TMAC timed in seventh quick on Saturday.  "We have to get the qualifying down," he says.  "There are no excuses for being seventh quick.  I thought we figured it out at the Outlaw show (where he also qualified seventh amongst 51 cars), but I was trying a new setup."
He would run second in the heat after starting fourth in the TMAC Motorsports #24.  "We were pretty fast the first few laps of the heat," says TMAC.  "We got to second and I was all over Wayne (Johnson).  I just got loose at that point.  When I came in, the left rear had shrunk 1 ½" and I had 13 ½" of stagger, which is a ton for Knoxville.  I didn't know if I was loose because of my new setup or because of the stagger."
The invert of eight would see TMAC start inside row two of the main event.  "I didn't know how much to tighten the car for the feature," he says.  "We started off and the first few laps were great.  I felt like I was right there with Davey (Heskin).  After that, I just got loose."
He would stay in a five-car battle at the front, and ended up fifth at the checkers.  "We're probably lucky we salvaged a top five, but you have to try different things to get better," says TMAC.  "(Son) Austin (McCarl) is my crew chief, which makes it hard when he's racing.  I don't really have anyone to bounce things off.  He really needs the same thing I do…somebody watching him while he's out there.  We're both racing, so that makes it difficult to help each other."
TMAC is looking forward to getting back to Knoxville Saturday.  "I don't feel bad about the finish because I was testing," he says.  "I feel we'll get better.  We'll see how this weekend goes.  We need to get to the consistent point we were in 2009.  I'm excited to go back this week."
He is happy with his new A.R.T. chassis.  "The good thing about this chassis is if you make a little change, it changes the car," says TMAC.  "I can feel it.  When you have a car where you make a change, even a big one, and it doesn't affect it, you have a problem."
To check out opportunities to partner with TMAC Motorsports on a nightly basis, visit www.TerryMcCarl.com or call 515 957-0020!


TMAC Motorsports Welcomes New Partner Rens Trucking!
Rens Trucking is a livestock transport company based out of Maurice, in Northwest Iowa. They have over eight years of experience. Rens Trucking hauls any kind of livestock.  They haul market hogs, isoweans, feeder pigs, sheep, goats, and cattle.  Rens Trucking does both short haul and long haul loads. They are also able to truck out of state.  Call Jeff at 712-470-4221 or look "Rens Trucking" up on facebook!


Websites for the McCarl Gang!
Driverwebsites.com develops the websites for the McCarl boys. Check out www.TerryMcCarl.com, as well as www.AustinMcCarl.com and www.CarsonMcCarl.com!
This Month in TMAC History!
TMAC has won twice on May 19 at Huset's Speedway.  In 1996, he drove Brad Gray's #51 to a win over Steve Beitler, Randy Nygaard, Todd Wessels and Dave Ekern.  In 2002, he drove the #24 to victory ahead of Justin Henderson, Gregg Bakker, Leonard Lee and Jake Peters.


"Tuesdays with TMAC"!


"Tuesdays with TMAC" is an up close and personal look at colorful sprint car veteran Terry McCarl. To receive "Tuesdays with TMAC", send an e-mail to sprntcar@iowatelecom.net with "TMAC" in the subject line.
TMAC Motorsports would like to thank sponsors Country Builders Construction, Rossie Feed and Grain, "Lord I Apologize BBQ Sauce", Deanfield Farms, Bosma Poultry, SnowPlow Snow Pushers – www.TheSnowPlow.com, DeBerg Concrete, Berryhill Racing, Phil and Vivian, SCE Gaskets, Justice Brothers, 212 The Boiling Point Bar & Grill, Vortex Racing, Hoosier Tire, Chris Spaulding – Attorney at Law, Schoenfeld Headers, K&N Filters, Rens Trucking, Pick Farms, NutriShop – Maple Grove, MN, HRP, All Pro Cylinder Heads, Bob and Beulah Elder, Engler Injection, Superflow Technologies, T&P Brothers, Mediacom, Larry Fleck Trucking, Winters, DriverWebsites.com, CM Rock, Jocko's Sprint Parts, Sander, Brown and Miller, Pro Shocks, Ben Cook, Bell Helmets, Burnett's Rock and Landscaping, Van Der Brink Designs, Morgan Strawberry Farms, Aurora Rod Ends, Crow Safety, Justice Brothers, KSE Steering, Strange Performance, Saldana Racing Products, Scribner Plastics, Waterman Fuel Pumps, Weiland Racing, Butlerbuilt, PBS Bushings and Mote Fasteners.