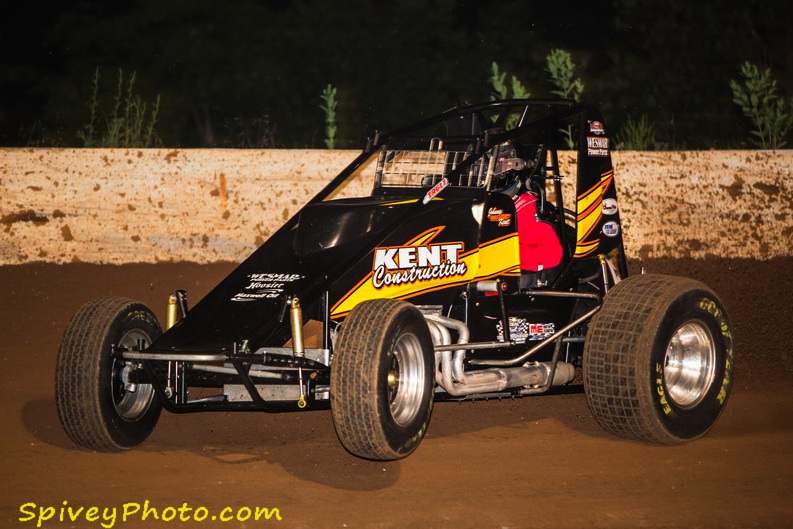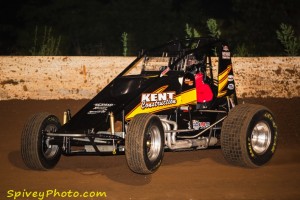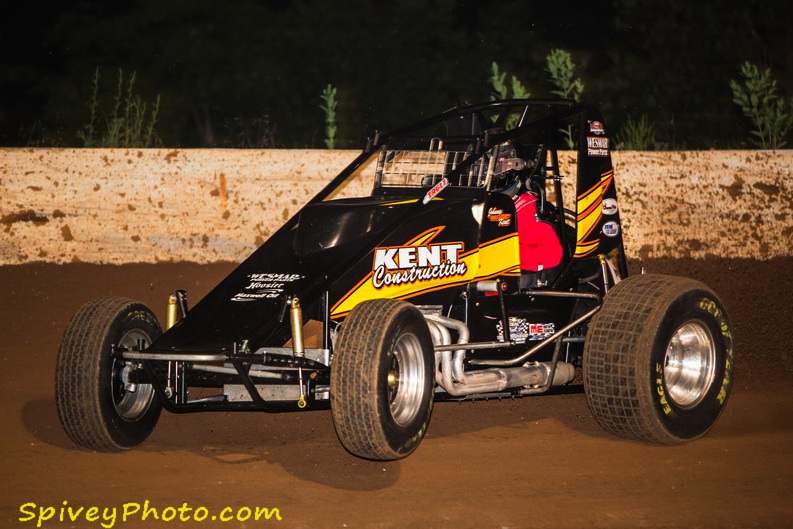 From John Lemon
Tulsa OK — (June 25, 2013) —  A very unique sprint car racing schedule is going to take place this weekend as those wild, brave and thrilling open wheel daredevils of the Oil Capital Racing Series will go wingless and then with wings on back to back nights. Other than a stint in 2008 where OCRS went both ways on the same night, this will be the first time the twelve year old series has had a doubleheader of this making. Two different racetracks will be in play for this special weekend. If you have a hard time picking just one, come see both!
FRIDAY JUNE 28th – BRILL MOTOR SPEEDWAY – MEEKER OKLAHOMA
   Mark and Debbie Brill opened the OCRS season back in March with a "wingless" sprint show and OCRS came busting through the pit gates with a 38-car field. The fans were treated with action of all sorts. Passing for position was as common as a lie out of a politician's mouth, which unlike the latter was an act well accepted by those in attendance. There were crashes galore as well. Not so good for the race teams and for some fans, but for those who find such action a part of the head rush of taking in a racing event, those fans got their money's worth and then some on that groundbreaking night.
Harli White of Lindsay Oklahoma has become the newest star of the series and she took the Brill opener to begin her newfound fame in the racing arena. If you ask Miss White about her view on non-wing racing, you immediately see the sparkle in her eye and a wide smile across her cheeks as she is all to happy to leave the tin roof in the trailer and let the drivers decided who is best. White can run "elbows up" with the best of the best.
The "Lindsay Flash" leads the non-wing point standings by just 14 markers over Oklahoma City shoe Joe Wood Jr (183-169). The non-wing champion will earn a $1,000 bonus for their achievements with positions 2-5 also receiving cash awards at season's end from a group of sponsors that have contributed to the non-wing point fund. Those positions are very tight as Wood Jr's 169 points is just a single marker ahead of Tulsa's Brian McClelland. McClelland is feeling the heat from Broken Arrow Oklahoma's Alex Sewell, as there is just a single point between them as well. Let the math score show 169 points for Wood Jr in second, 168 for B-Mac and 167 points to Sewell's fourth spot. Layne Himebaugh currently holds the final cash award spot with 148 points. Giddy up drivers.
Here are the 2013 sponsors that have contributed to the non-wing point fund:
Eagle Motorsports
Grand Prix Auto Center
Allen Competition Engines
Maxwell Oil
Morton Excavating
Racing Optics
R&M Race Trailers
Shock Doc
Smiley's Racing Products
Superior Auto Salvage
Do remember to support these very sponsors that are assisting in providing you the best entertainment that your dollar can buy.
What: Sprint Cars sanctioned by the Oil Capital Racing Series  – Wingless Style
When: Friday June 28th, 2013
Where: Brill Motor Speedway / Meeker Oklahoma
Time: Gates open 4:30pm / Hot Laps 7:00pm / Racing starts at 7:30pm
(OCRS drivers meeting at 6:30pm)
Grandstand Ticket Prices:
Adults $15 / Ages 12-17 and seniors are $12
Kids 6-11 are 2 bucks / Pit pass $30
For information call: (405) 769-6927
Track website: www.brillmotorspeedway.com
Track Address for GPS users: 343250 E. 1000 Road Meeker, OK 74855
SATURDAY JUNE 29th – LAWTON SPEEDWAY – LAWTON OKLAHOMA
The OCRS warriors will don the aluminum wings when the series travels 125 miles southwest from Meeker to Lawton when National Sprint Car Hall of Fame member Lanny Edwards and staff host the return of the OCRS sprint car series after a short one-year hiatus. Whit "The Gasman" Gastineau won the initial OCRS event ever held at "Lanny's House" in June of 2010.  "The Caretaker" Danny Smith scored a win later that summer while Choctaw's Kyle Cobb took both Lawton dates in 2011.
To win at Lawton is much like winning a horse race at Santa Anita Park. The best sprint car drivers of all time have spiked the checkered flag into victory lane soil and when you have victory hardware with Lawton Speedway on it, you have a memento keepsake for the ages. Another strong suit Lawton Speedway possesses is their fan base. The fans of the Lawton market are as knowledgeable and as excited to see sprint car racing action as most any fan base found anywhere in the nation. Known for their reddish clay ¼ mile oval bullring, look for some excellent racing action at the famed facility.
In the overall point standings, as with the non-wing standings, Harli White has control of the gang of warriors with an 800-729 advantage over Danny Smith. Just 13 points behind Smith is Brian (B-Mac) McClelland with 716 points followed by Brodix  / PM Pro rookie of the year contender Kade Morton with 667 points and Johnny 'Hotrod' Kent with his 600 poker chips.
What: Sprint Cars sanctioned by the Oil Capital Racing Series  – Winged Style
When: Saturday June 29th, 2013
Where: Lawton Speedway  / Lawton Oklahoma
Time: Gates open 6:00pm / Hot Laps 8:00pm / Racing starts at 8:30pm
(OCRS drivers meeting at 7:30pm)
Grandstand Ticket Prices:
Adults $15 / student 12-15 years and seniors are $10
Children 6-11 are $2 with 5 and under free. Pit Passes are $25.
For information call: (580) 355-6417 
Track website: www.lawtonspeedway.com 
Track directions:
Take Interstate 44 to Lee Blvd.  Go west onto Lee Blvd to Sheridan Road. Then turn south and go 1 1/2 miles to the track.
From the south of Lawton: Exit Highway 36 and take the Faxon exit. Go north onto Sheridan Road. Track will be approx 5 miles.
OCRS has a loyal dedicated group of sponsors that make up the support of the series all season long. These sponsors are invaluable to OCRS and to you, the sprint car fan. Do business with the ones that do for us! These sponsors include:
Smiley's Racing Products
Hoosier Tire Southwest
AmeriFlex Hose and Accessories
Bob Hurley Auto Family
Drive Shaft Inc.
Car & Fleet Parts
Wesmar Racing Engines
Dyno Services of Oklahoma
Brodix Cylinder Heads
PM-PRO
Grand Prix Auto Parts
Lightning Wings
M&W Aluminum Products
Same Day Auto Repair
Schoenfeld Headers
WHO WILL WIN THIS WEEKEND? CURRENT HISTORY SAYS: "DRAW A NAME"
There have been 8 different feature winners in 10 OCRS events thus far in 2013. Miss White is the only repeat winner and she has 3 trips to victory lane. Going into this weekends events, there has not been a repeat winner in the last five outings. This is one of the most balanced fields in OCRS history. One would have just as good of a shot in predicing a winner by drawing a name form a hat as with any other method. Fans can enter the gates knowing it's a "free for all" as to who will be standing tall and spiking that checkered flag at the end of the night. Come join us for two nights of highly unpredictable sprint car racing for a weekend of  thrilling entertainment. Will your favorite driver be in victory lane? Ladies and gentlemen, unsettling sounds are beginning to rumble in the distance…..……….