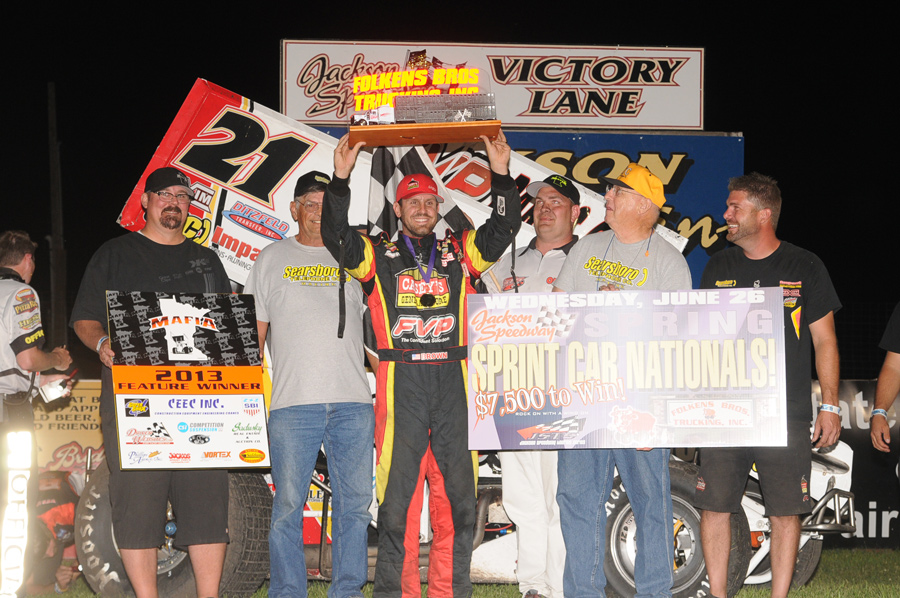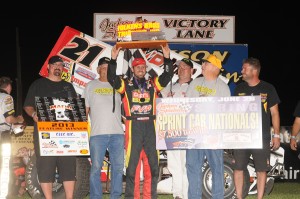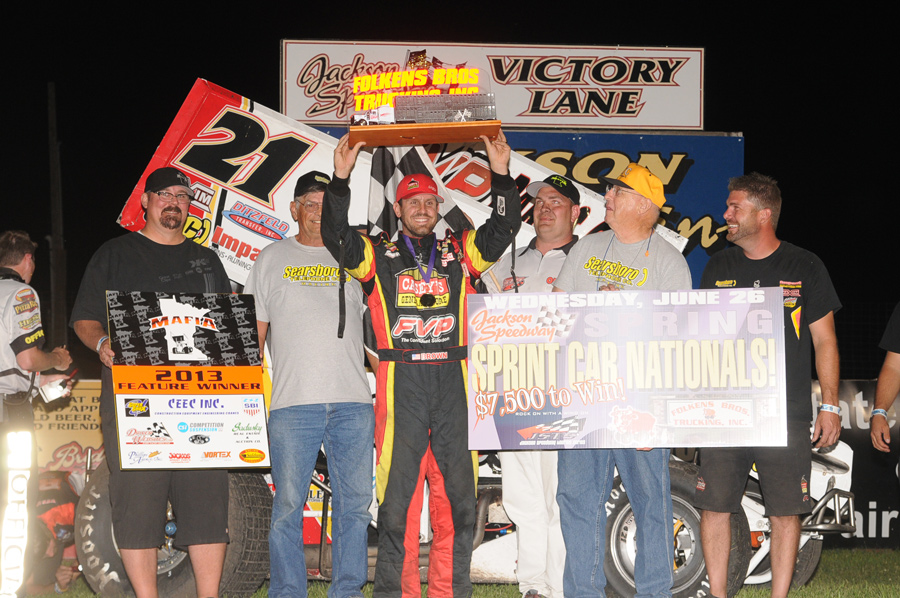 From Bill W
June 27, 2013 – For the second year in a row, Brian Brown and the Casey's Gerneal Stores/FVP #21 team were able to take the Folken Brothers Trucking Spring Sprint Nationals at the Jackson Speedway in Minnesota on Wednesday night.  The win paid the Grain Valley, Missouri driver $7,500 and certainly gives the team momentum heading into three events with the World of Outlaws Friday, Saturday and Sunday.
I know you enjoy racing at Jackson, and you had to feel some confidence having won this event last year.
This Jackson Spring Nationals is not just a race anymore, it's an event.  With Folkens Brothers Trucking putting up the money and a ton of contingency stuff, it's a really cool event that we want to be a part of every year.
The draw treated you well this time around. 
Travis (Marsch) drew us a good number and we started on the pole of the heat.  If you draw well, you have to take advantage.  We had Wayne (Johnson) and Jason (Johnson) behind us, and we knew we had to get going.  We were able to do that, and our times looked good, so we had confidence going into the Dash.
Things also went well in the Dash.
We were able to draw a one there too.  We were able to set sail and win that too.  We put a new car together this week to try some different things, and it seems to be working really well.  We had a Jaymie Moyle motor in there and it ran well all night long.
You started up front, and things seemed like they were working really well in the feature.
We were able to get the lead there.  I saw Jason out of the corner of my eye in turn two, but as the race went on, we just kept getting better and better.  We were able to lead all 25 laps, and I believe we lapped up to seventh or eighth.  There was a caution with about seven laps to go, and we were still able to win by a straightaway.
This has to give you some confidence heading into this weekend's racing with the Outlaws.
To be able to come and win an event like this for the second year in a row is pretty cool.  We haven't been where we need to be speed-wise lately.  To come out and take advantage of some good draws like you should…that's what you have to do win races.  The team's been giving us really good cars, and for once, the driver didn't screw it up.
Follow Brian on the Web, Twitter and Facebook!
Follow Brian at his website located at www.BrianBrownRacing.com!
Also keep up with FVP, Casey's and Brian on Facebook and Twitter at the following links…
Twitter Links – @BrianBrown21, @FVPRacing, @CaseysGenStores
Facebook Links
Brian Brown Racing – www.facebook.com/pages/Brian-Brown-Racing/200630163294222
Casey's General Stores – www.facebook.com/pages/Caseys-General-Stores/112073528804354
FVP Racing –  http://www.facebook.com/FVPRacing?ref=ts&fref=ts
Other Web site info
Casey's: www.caseys.com
FVP: www.fvpparts.com
Brown's Bits
Brian won the Jackson Nationals title in 2010 without winning a feature.  It was based on points and he finished second both nights (August 20 and 21).