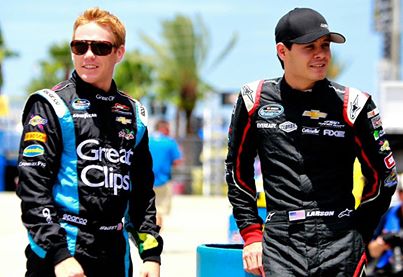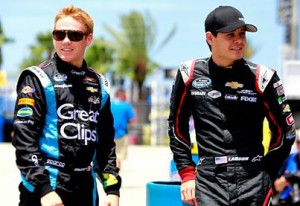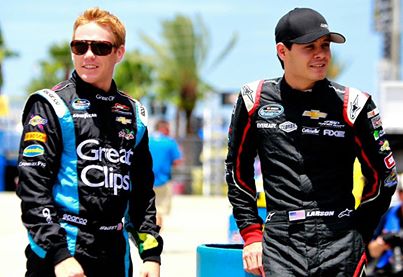 From Troy Hennig
Chico, CA — (July 26, 2013) — The 60th Annual Gold Cup Race of Champions is less than seven weeks away.  This year's historic event will offer many amenities including a 60 year, limited quantity, souvenir program retrospect of every Gold Cup from years past, a Gold Cup Museum, featuring cars from yester-year and former winners of the Gold Cup signing autographs, unprecedented low ticket prices and the best sprint car drivers in the world.  Yet, for two of the driver, the 60th Annual Gold Cup will serve as a homecoming.
Elk Grove's Kyle Larson and Grass Valley's Brad Sweet are both entered to run with the World of Outlaws at the Gold Cup.  Sweet will run both Friday and Saturday night, while Larson is only able to attend Saturday night's event because of a NASCAR Nationwide event on that Friday night.  Larson has won the past two Gold Cup Saturday night main events and if he can win the 40-lap finale on Saturday September 7th, it would put him in a historical place that only Steve Kinser has visited.  Kinser won three Gold Cups in a row during a stretch from 1986-1988.  Larson is currently racing the entire NACAR Nationwide schedule in 2013 where currently he sits 7th in points driving for Turner Scott Motorsports.  At the Gold Cup, Larson will once again team up with championship car owner Paul Silva and race the Jeff Gordon Kick-It for Cancer #57.  "To have a chance to put my name in the Gold Cup record book next to Steve Kinser would be one of the biggest accomplishments of my life," said Larson, who turns 21 years old on July 31st.  "Winning the Gold Cup was a dream of mine and now with the chance to win three in a row is something that really is unbelievable."
Sweet is coming into this year's Gold Cup with the most confidence he has ever had.  The 27 year-old Sweet shares driving duties for the Great Clips #5 Chevrolet with Kasey Kahne for JR Motorsports in the NASCAR Nationwide Series.  For the World of Outlaw races at Gold Cup he will pilot the Ollie's Bargain Outlet #49 Kasey Kahne Racing sprint car.  This is the same sprint car that he just won the Kings Royal with at the famed Eldora Speedway in Ohio.  Sweet led all 40-laps to beat the World of Outlaws and pocket the handsome $50,000 winner's share.  "I've won a lot of races but so far nothing has compared to winning the Kings Royal," said Sweet.  "However, growing up in Northern California and attending every Gold Cup since I was a kid puts the Gold Cup up there on a high pedestal.  I want to win the 60th Gold Cup main event and have my name listed as a Gold Cup Champion forever."
The 60th Annual Gold Cup Race of Champions begins its four day assault on September 4th through September 7th.  Four day tickets and camping spots are available for purchase by calling (530) 350-7275.  Wednesday night will feature the 360 Civil War sprints and Joe Hunt Magneto's Wingless Sprint Shootout Series with general admission tickets starting at just $10.00!  Thursday is billed as the Cavalcade of Gold Cup Memories and general admission tickets starting at just $15.00.  Kids are FREE to attend on both Wednesday and Thursday nights.  Friday and Saturday night will feature the greatest show on dirt, the World of Outlaws.  In the next few weeks we will provide important information about general admission tickets for single day events.
Please visit www.goldcup.silverdollarspeedway.com/ for all things related to the 60th Annual Gold Cup Race of Champions.