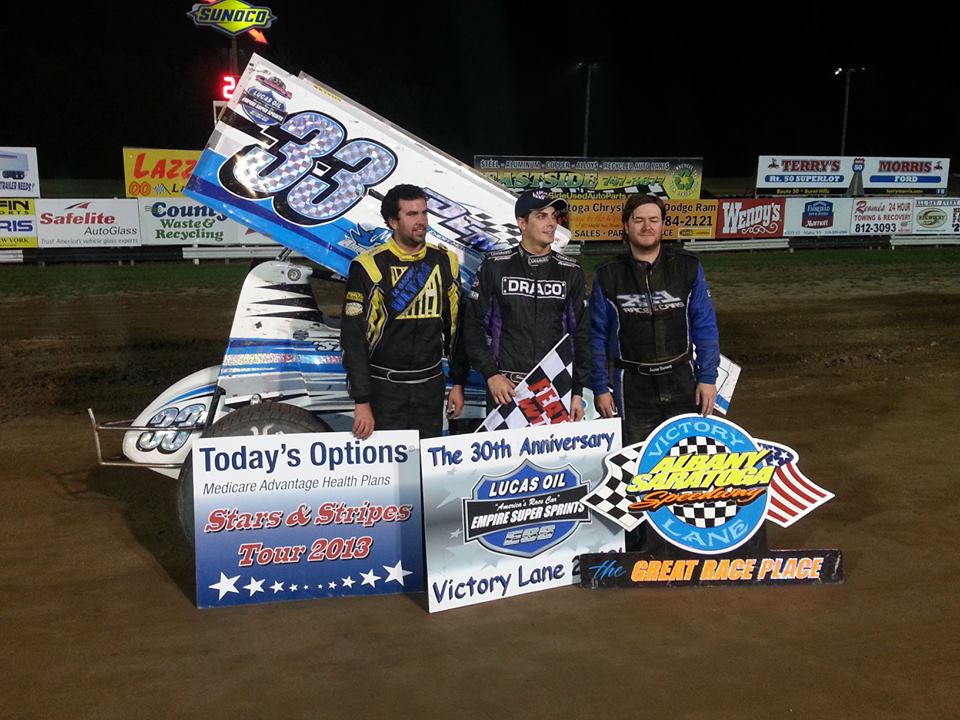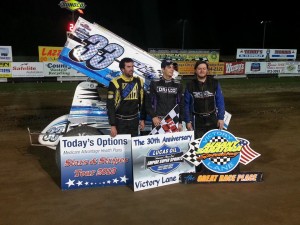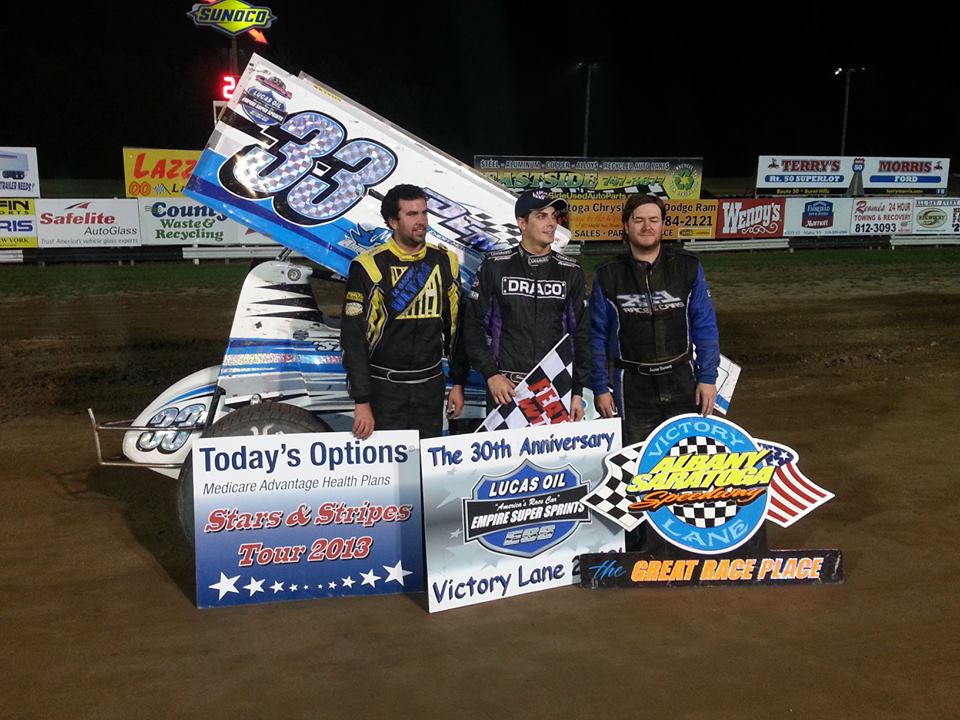 Malta, N.Y. — (August 2, 2013) — Even with luck going against him, Stewart Friesen managed to capture the 25-lap Lucas Oil Empire Super Sprint event at the Albany-Saratoga Speedway. He started last in his heat race and made the redraw with a second place finish. That didn't help him much as he then pulled the worst staring position for the feature of all the redraw cars. Even though he started 12th, Friesen overcame all of that for his second series win of 2013 in an event that went green to checkers
Friesen took home $2,200 for the win in the event which was sponsored by the "Friends of Albany-Saratoga." and Camara Slate Friesen's other victory came earlier in the year at the Brewerton Speedway as part of CNY Speedweek. Along with being a point event for the overall series title, it also paid points toward the Today's Options Stars and Stripes Tour.
"What a race car," stated Friesen. "I got to thank Doug Emery and Barb Patterson for giving me the opportunity to wheel this thing. We've been super fast every where we've went this year."
Jason Barney started on the pole with Josh Pieniazek flanking him on the outside. Barney quickly bolted out in front on the bottom of the track with Michael Parent taking second before two laps were complete.
Barney and Parent raced at the front while Friesen was busy making his way to the forward aboard his Doug Emery owned No. 33 machine. By lap five Barney had a comfortable advantage over Parent with Friesen just outside the top five.
Traffic became an issue for Barney by lap seven forcing him to start moving around to look for a quicker line on the speedway. Barney negotiated traffic as Friesen worked his way by Steve Poirier to get into fifth.
At the halfway point of the feature Barney led by about a half-straightaway in traffic over Friesen and Parent. From there Friesen quickly started reeling in Barney.
Friesen made his move in traffic on the outside of turns one and two as Barney bobbled getting in. Friesen went three wide with a slower car in the middle securing the race lead down the backstretch with his Donath Motor Worx powered Eagle on lap 16.
"I just tried to go as hard as I could in the beginning after starting 12th," stated Friesen. "These things have a tendency to get strung out. As soon as I saw Jason (Barney) in traffic we were able to chip away and get in some clean air and keep the wheels on the ground. It was a lot of fun"
Now the leader, Friesen navigated traffic making several quick moves to put as many cars between himself and Barney. Barney made a charge with five laps to go getting to within a car length of Friesen.
With three laps remaining Friesen made an impressive inside move exiting the fourth turn to pass three slower cars thus ending any hopes for Barney of getting the win.
"Those guys just slipped up off the bottom," commented Friesen about the slower cars. "The Modified experience definitely helps at these tracks. I was to put the left rear down in the brown and not hang it out real bad."
Friesen took the checkers at his home track while Barney, of Brewerton, N.Y., had to settle yet again for a runner-up finish. It was his second consecutive runner-up finish in his X-1 Race Cars No. 87.
"I'm happy with my race car and my guys." said Barney. "I'm a little disappointed in myself. I was begging for the front row start and when I got it I was a little too timid. I knew I was good in one and two but I didn't know where I wanted to be in three and four. I tried the top and then the middle but never went to the bottom. Once I saw the cameras start flashing I knew we were in trouble."
Barney gave it all he could but ultimately he was unable to navigate traffic like Friesen in the final laps.
"The last few laps I felt like once I simmered down and changed my entry into three and started coming off four a little better I was catching him a little bit," stated Barney. "I thought maybe if he got hung up there on the outside we were going to be alright. He got through that last group, it just closed up and there wasn't any room for us."
Parent outlasted Poirier for third after having a tough afternoon. Parent's hauler broke an axle on the way to the speedway causing the team to arrive just before hot laps hit the speedway.
"The day started off pretty rough with a trailer issue," commented Parent. "We are happy with a third place. Stewy (Friesen) is fast and he has a lot of laps here. I knew he would be tough to beat. We ran third and Steve (Poirier) ran fourth so we gained some points. It was a good night."
Poirier finished in fourth keeping the gap between himself and Parent close as they race for the 2013 championship while Jessica Zemken just beat out Danny Varin for fifth.
Varin was sixth with Matt Tanner, Lance Yonge, Pieniazek and Patrick Vigneault completing the top ten.
ESS/Albany-Saratoga Notes – A nice field of 26 sprints in ESS' return to Albany-Saratoga after six years and they played host to an absolute SRO crowd…Making first ever ESS starts were Parker Evans and Bob Gray with Dan Douville and Curtis Bradshaw making first starts of 2013…Cory Sparks was a flip victim in his heat event, he was fine but was out for the night…Next up for the Lucas Oil Tour will be the Canandaigua Motorsports Park where the ESS will have Tony Stewart in the field.
"Friends of Albany Saratoga"/Camara Slate A-Main – Stewart Friesen ($2,200), Jason Barney, Michael Parent, Steve Poirier, Jessica Zemken, Danny Varin, Matt Tanner, Lance Yonge, Josh Pieniazek, Patrick Vigneault, Paul Kinney, Joe Trenca, Kevin Ward Jr., Etienne Girard, Dylan Swiernik, James Hanson, Jordan Thomas, Jared Fink, Jeff Cook, Russ Bennett, Parker Evans, Dan Douville.
Did Not Qualify – Warren Alexson, Curtis Bradshaw, Cory Sparks, Bob Gray
Lap Leaders – Barney 1-16, Friesen 17-25
PC Repair Center/Car Mate Custom Built Trailers Heat 1 – Yonge, Tanner, Barney, Kinney, Hanson, Cook
PC Repair Center/Car Mate Custom Built Trailers Heat 2 – Pieniazek, Friesen, Varin, Trenca, Fink, Bennett
PC Repair Center/Car Mate Custom Built Trailers Heat 3 – Poirier, Parent, Zemken, Girard, Vigneault, Evans
PC Repair Center /Cobra Coaches Dash – Parent
Lacaillade Masonry B-Main – Ward Jr., Swiernik, Thomas, Douville
Bonuses:
Westward Painting Company Halfway – Barney $100
Ohsweken Speedway Winners Bonus – Friesen $100
Fondations 4 Saisons Hard Charger – Friesen (12 pos.) $50
Fondations 55 Pick 5 – Zemken $50
North Eastern Pool and Spa Power Pick – Friesen, $50
Lacaillade Masonry B-Main – Ward Jr. $50
PC Repair Center/Car Mate Custom Built Trailers – Yonge, Pieniazek, Poirier $125
Go Nuclear Go Fast Award – $25
JImmy D's Speed and Machine Fast Time – $25