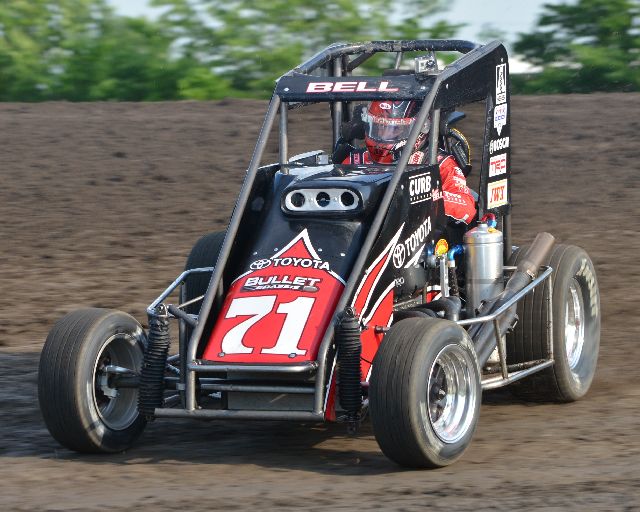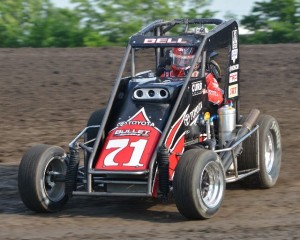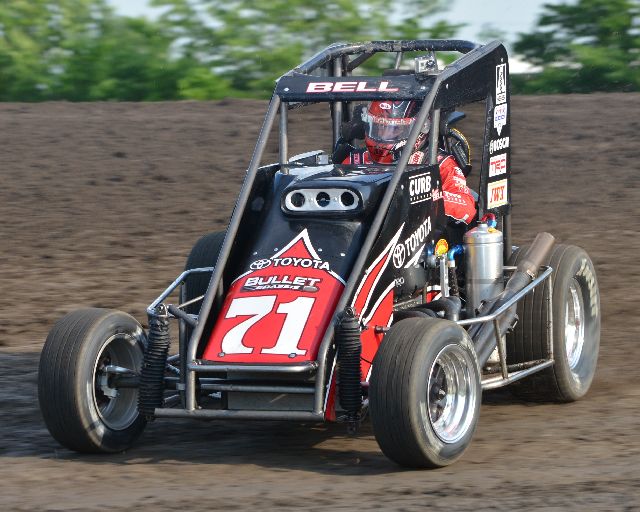 From Tim Tuttle
Pontoon Beach, IL — (October 6, 2013) — Chris Bell drove to a runaway victory to earn $10,000 in the fifth annual DuPont Gold Crown Midget Nationals in a 50-lap feature co-sanctioned by the POWRi Lucas Oil National Midget Series and the Honda USAC National Dirt Midget Series on Sunday at three-eights mile Tri-City Speedway.
The fifth-starting Bell passed Bryan Clauson for the lead on the 10th lap and wasn't challenged to the checkered flag. The 18-year-old from Norman, Okla., led by half a lap twice before cautions and he won by half the distance of the front stretch over runner-up Danny Stratton of Brownsburg, Ind., in his Toyota-powered Bullet for Keith Kunz/Curb-Agajanian Motorsports.
"He was in a world of his own," Kunz said.
It was Bell's fourth POWRi and fifth USAC triumph in national midgets this season. He's running for the USAC championship and the win boosted his lead over Clauson to 103 points, 899-793.
"It was a matter of getting to the top as quickly as I could," Bell explained. "I have to thank Keith Kunz. That car was on a rail and all I had to do was not make a mistake. The car wasn't that good in the dash and it came to life in the feature."
Bell had been one of six drivers based on points from the Gold Crown features on Thursday, won by Rico Abreu, and Friday, won by Clauson, to race in an eight-lap dash to determine the starting order of the front three rows. Clauson won and Abreu was second in the dash.
Bell climbed to third on the opening lap and passed teammate Abreu on the fourth lap for second. He began attacking Clauson's Curb Records Spike-Esslinger with slide jobs on the eighth lap and passed him in turns one and two on the ninth.
"I slid him (Clauson) the first time and he crossed me," Bell said. "The second time I slid him, we went side-by-side on the front stretch and I drove around him (on the outside) in turns one and two."
Once in the lead, Bell built huge leads, going through traffic with a steady diet of slide jobs. The race stayed green for 28 straight laps before caution. With 25 of the 27 starters running, there were only 11 on the lead lap for the lap 30 restart.
Bell had five lapped cars between him and the second-running Abreu and bolted away. Abreu was exiting turn four when teammate Tanner Thorson spun directly in front of him and they made contact. Abreu's Bullet-Toyota flipped into the center of the track and Jake Blackhurst's DRC-Esslinger couldn't avoid the crash and flipped, too.
It brought out the red flag. Abreu went to the work area and was able to restart after repairs. He was running 11th, but at the back of the 24 cars still running. Blackhurst, a lap down, was also able to restart.
Bell opened up a half-lap lead over second-running Jerry Coons Jr., in seven laps following the restart. When the lapped Triple X-Esslinger of Tyler Thomas jumped the cushion in turn three, Coons' Spike-Esslinger was collected to bring out the caution on the 43rd lap. Bell lost another half-lap lead. Coons was able to restart.
Seven laps remained following the final restart. Chris Windom's Beast-Esslinger was lined up directly behind Bell, who pulled away. Stratton had charged to third from 14th on the grid in Shane Hmiel Racing's Beast-Esslinger and he took second with a slide job on Windom with six laps to go.
"I don't know if I was near getting lapped at the yellow (at lap 30), but I thought I'd better get going," Stratton said. "We did some adjustments under the red and they were the right ones. I found a unique line that worked best for my car. I was diamonding turn one and the track had taken rubber from turn two down the back stretch and I was sliding in turns three and four. It took me from eighth to second.
"Second doesn't go on resumes but it was my first race with Shane's team and it was pretty good. It's a good group to work with and Levi Jones (former USAC National Sprint Car champ who retired in June) is a heck of a crew chief and Mark Gerard, Shane's regular crew chief, is very good, too."
Windom was disqualified in post-race inspection. Abreu finished third.
"I came back out after the red in 11th, but had to start at the rear of the field," Abreu said. "I got some momentum going and ran the top. I'm not disappointed at all with third. We really have the best cars and the best crew chiefs. I'm just thankful to be driving for this team."
It was the 20th victory of the season for the Kunz team. They celebrated with birthday cake for crew chief Pete Willoughby.
"It's a big win for us, it's Pete Willoughby's birthday and I'm happy to win on it," Bell said.
Aaron Andruskevitch passed Jason Harms in the final 10 yards to win the 15-lap feature by less than a foot in the POWRi Speedway Motors 600cc Outlaw Micro Series. It was Andruskevitch's fourth career victory and denied Harms his first.
Harms of Riverton, Ill., had led the opening 14 laps.
"I had the car dialed in, but on the last lap, I missed my line, slid up and knew Aaron would have just enough to beat me," Harms said.
It was the final event of the season for POWRi's Midgets and Micros. Zach Daum finished fourth in Sunday's midget feature, his third straight fourth in the Gold Crown. He clinched the midget championship on Friday.
POWRi Lucas Oil National Midget Series feature results (50 laps): 1. Chris Bell, 2. Danny Stratton, 3. Rico Abreu, 4. Zach Daum, 5. Alex Bright, 6. Brady Bacon, 7. Jonathan Beason, 8. Jerry Coons Jr., 9. Darren Hagen, 10. Dave Darland, 11. Parker Price-Miller, 12. Brad Kuhn, 13. Andrew Felker, 14. Caleb Armstrong, 15. Tim Buckwalter, 16. Jake Blackhurst, 17. Tracy Hines, 18. Billy Wease, 19. Dalton Armstrong, 20. Branden Bright, 21. Austin Brown, 22. Tyler Thomas, 23. Kevin Thomas, 24. Tanner Thorson, 25. Shane Cottle, 26. Bryan Clauson, 27. Chris Windom.
POWRi Speedway Motors 600cc Outlaw Micro Series (15 laps): 1. Aaron Andruskevitch, 2. Jason Harms, 3 Joey Wirth, 4. Joe B. Miller, 5. Jacob Patton, 6. Matt Ponder, 7. Max Pozsgai, 8. Derek Schuett, 9. Shelby Bosie, 10. Steve Finn, 11. Jake Neuman, 12. Jeremy Camp, 13. Kyle Schuett, 14. Chad DeSpain, 15. Kevin Horcher.
For more information, go to www.powri.com.