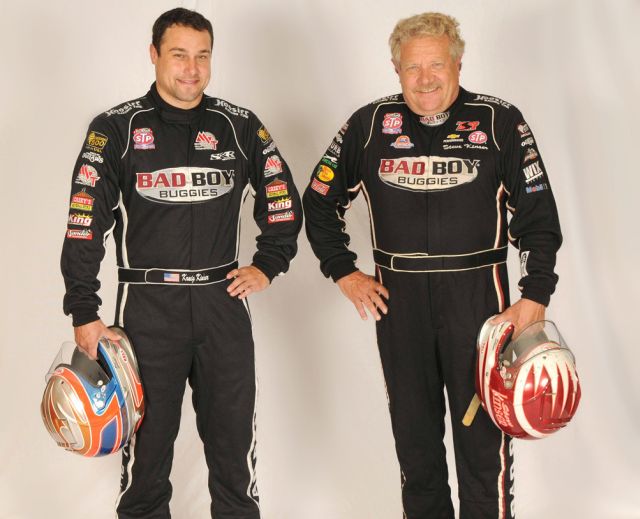 By Bill Klingbeil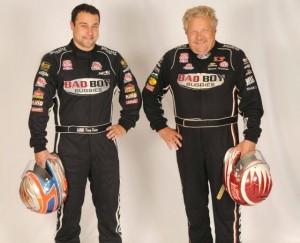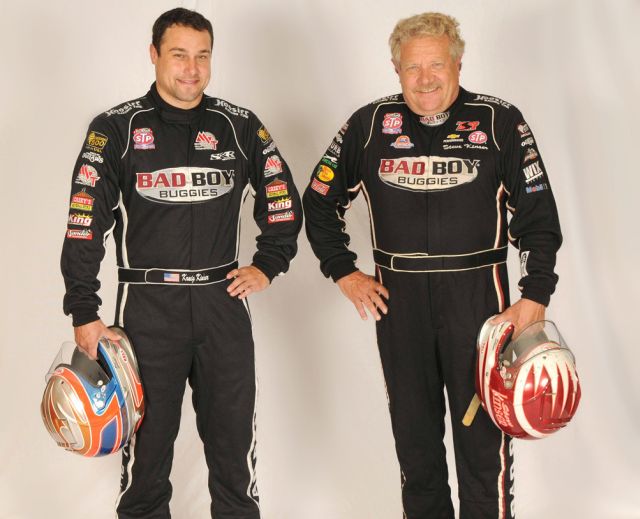 INDIANAPOLIS (April 9, 2014) – For the first of two times in the next month, Tony Stewart Racing's (TSR) Steve Kinser and his son Kraig will be both be driving Bad Boy Buggies-backed racing machines in World of Outlaws (WoO) STP Sprint Car Series action. The father-son tandem will be looking to close the Outlaws' five-week California Spring Break Tour with strong performances — Friday at Kings Speedway in Hanford and Saturday at Perris Auto Speedway.
This weekend's schedule continues the World of Outlaws "Salute to the King Tour" as Steve Kinser makes his final run at his 21st WoO championship. The 20-time champion will pilot the TSR No. 11 Bad Boy Buggies/J.D. Byrider/Chevrolet Performance Maxim with sights set on his 578th career WoO A-Feature triumph. Kraig Kinser will drive the No. 11K Bad Boy Buggies/Mesilla Valley Transportation/Casey's General Stores Maxim of Steve Kinser Racing.
This weekend marks the third time the Kinsers will share Bad Boy Buggies. In last year's FVP Knoxville (Iowa) Nationals, Kraig Kinser had a strong beginning before being snake-bit by bad luck, and Steve Kimser came home ninth in the 50-lap finale. In the 2013 season-ending World Finals, both drivers finished in the top-five.
Steve Kinser leads all drivers with seven career WoO A-Feature victories at Kings Speedway. "The King of the Outlaws" won A-Features at the 3/8-mile, dirt oval in the fall of 1986, 1987 and 1988 before sweeping both WoO races at the track in 1990. He put together consecutive wins in 1998 and 1999, as well. Last April, he qualified fifth, raced to second in both his heat and the dash before suffering a flat tire in the main event. He raced his way back to finish 10th.
Kraig Kinser made an impressive debut last year at Kings Speedway, racing from 12th to fifth in the 35-lap A-Feature.
Neither driver has been able to conquer Perris Auto Speedway. Steve Kinser has competed in all 14 WoO races at the half-mile, dirt oval. His best finish was a runner-up in the 2002 race and his third-place result in 2012 earned him his eighth career top-five at the track. He finished 12th last April. Kraig Kinser has made three starts at Perris, finishing eighth in his debut back in 2004 during his World of Outlaws Kevin Gobrecht Rookie of the Year campaign. He was fourth in 2012 and 16th last season.
The Kinsers spent the majority of last weekend's A-Features at Calistoga battling one another for position. They are looking to do the same this weekend, but hoping they'll be a little closer to the front.
With 12 races of 2014 in the books, Steve Kinser ranks seventh in the standings with 1,606 points, trailing his TSR teammate Donny Schatz, who leads the standings by 82 points. Kraig Kinser is 202 markers out of first and ranks 10th.
Friday at Kings Speedway, the grandstands open at 5 p.m. PDT. Racing is scheduled to begin at 7 p.m. For Saturday's race in Perris, the grandstands open at 4 p.m. Racing is scheduled to begin at 7 p.m. For tickets and more information, visit dirtcar.ticketforce.com/ordertickets.asp?p=447, or call (877) 395-8606.
Race fans unable to attend this weekend's races can catch all of the action on DIRTVision.com. Fans can listen live as Johnny Gibson, "Voice of the Outlaws," calls the action as he does at all WoO Sprint Series events on the DIRTVision.com cybercast, as well as on the DIRT Radio Network. Go to www.DIRTVision.com for more information on all the site features, including updated results from each night of racing, as well as a chat room to interact with other race fans.
Steve Kinser, Driver of the No. 11 TSR/Bad Boy Buggies/J.D. Byrider/Chevrolet Performance Maxim:
You've been very successful at Kings Speedway during your career. How much would it mean to you to win Friday's race?
"It would mean a lot to win, for sure. We worked so hard over the winter to be as prepared as we could to be competitive this year. Winning down in Florida gave us a lot of confidence, and then, running up front at Las Vegas and Tucson kept that going, but we haven't quite been as good here in California. I've always enjoyed going to Hanford and racing. We won a lot of races there over the years and that part of California has some tremendous racing. Last year, we had a really good night going up until the feature, so that gives us some confidence that we'll have a good starting point. Like I said, this has been a tough six races for us and we need to get back to where we're battling right up front. These guys are tough on this Bad Boy Buggies team and they're doing everything they can to give me a car capable of getting the job done. Going back to Hanford may be just what we need to get back up front."
This weekend you and Kraig will have the chance to both be running Bad Boy Buggies cars. How special is it to not only be competing with your son on the track, but sharing a sponsor?
"Racing has always been such a big part of my family's life. It's all I've known for so long. That probably makes this year the toughest, not knowing for sure what's next, but it's been great these years to have Kraig on the Outlaw tour racing with us. They've had some really good runs and our teams kind of work together. We've been racing each other a little bit for position here, lately, but it would be nice to be racing for wins rather than top-10s. I'm so pleased to be associated with Bad Boy Buggies and happy they are going to be back on Kraig's car a couple of times this year. Last year, we had a heck of a battle down there in Charlotte together and, like I said, hopefully we can get a one-two finish for Bad Boy Buggies this weekend."
Kraig Kinser, Driver of the Steve Kinser Racing No. 11k Bad Boy Buggies/Mesilla Valley Transportation/Casey's General Stores/Maxim:
This weekend, you will be back running the Bad Boy Buggies brand and are a teammate to your dad. It has to be special for you to help celebrate your dad's final full year with the Outlaws?
"It's great to fly the Bad Boy Buggies colors this weekend. This is a special year for my dad, obviously, and to be able share a little part of that from time to time, such as this weekend, is pretty neat. We ran the Bad Boy Buggies car a few times last year and it was always fun. Hopefully, we'll be up front this weekend and have both cars contending for wins."
You haven't raced at Kings Speedway or Perris Auto Speedway much during your career. How would you characterize each facility?
"Hanford is a track that we are still learning, since we've only raced one main event there and part of another show. We had a really strong car late in the feature last year and I was able to pass quite a few cars. We only have a couple of races left in California and we really want to end it on a strong note. We know there will be a tough field of cars, just like when we were at Tulare (Thunderbowl Raceway) a few weeks ago. Perris is definitely a fast track. Just like last weekend at Calistoga, time trials will be very important, especially with the new format. We'll give our all as we always do and hopefully the chips fall in the right place."
About Bad Boy Buggies

Bad Boy Buggies is a leader in off-road utility vehicles for hunting and outdoor lifestyles. Bad Boy Buggies pioneered the category of electrically powered 4×4 vehicles, ideal for hunting and outdoor recreation due to their silent, odorless operation and environmentally friendly, emissions-free drivetrains.
Today, the Bad Boy Buggies product line ranges from four-wheel-drive electric hunting machines such as the Recoil, a fully electric, 4WD vehicle with an innovative, highly efficient 72-volt AC electric drivetrain, to the Work Series of diesel and gas-powered utility vehicles, including the Bad Boy Buggies XD, a versatile 4WD, diesel-powered utility vehicle with a total capacity of 1,600 pounds. In 2010, the Bad Boy Buggies brand and product line were acquired by E-Z-GO, a business unit of Textron Inc.
For more information, please visit www.badboybuggies.com.