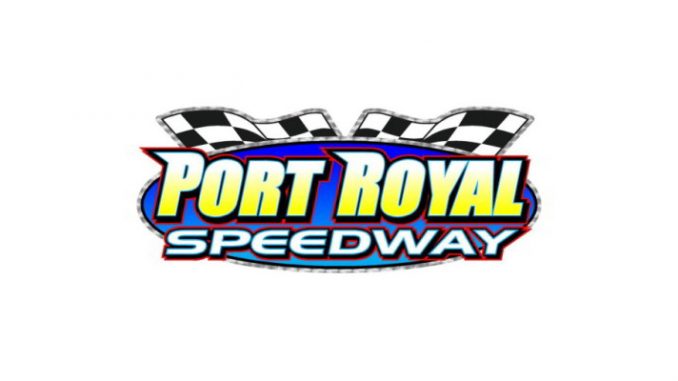 From Port Royal Speedway
Port Royal, PA — (May 30, 2015) — Kevin Nouse won the 410 sprint car feature Saturday night at Port Royal Speedway.
Joey Hershey led only the first lap of the 410 sprint main before fourth starter Nouse took the lead to begin his jaunt for the win.
Logan Wagner motored into second with five laps away and began his track-down of Nouse while 11th starter Brent Marks was thrilling the crowd with his brazen moves through the pack.
Marks went three wide in the second corner to get around Greg Hodnett in the early stages and just knifed his way through the front of the field, drawing to their inside and outside at will to zoom into third on the seventh circuit.
The leaders entered the rear of the field on the eighth lap as they skated around the thinning topside cushion with Marks pulling a slide job on Wagner for second with 11 laps down.
At the same time, ninth starter Hodnett began coming to the front and for the last 10 laps of the non-stop event the front four cars rim rode around the oval, flirting with the outside wall, all within the total distance of only one turn.
Hodnett began dropping off the cushion for short stints with seven laps to go in an effort to gain ground at the front and he got by Wagner for third before using the same high-speed tactic to secure second on just the final tour.
He then tracked down Nouse by the finish to come up just .446 seconds shy of his third win of the year at Port Royal.
Nouse screamed for joy in victory lane after recently becoming a regular at the track aboard the Will Rose-owned No. 21A machine.
"This is the nicest facility I've been at in Pennsylvania right now." Nouse commented of the revived and refurbished historic oval.
He said he never dreamed he'd win this early with the team.
Brent Marks finished a happy third followed by Wagner and Dylan Cisney.
Sixth through 10th went to Hershey, Lucas Wolfe, Dave Ely, Davey Sammons and Ryan Taylor.
Heats went to Dave Hahn, Hodnett and Sammons.
Summary:
Heat Race #1:
1. 2H – Dave Hahn
2. 21A – Kevin Nouse
3. 5 – Dylan Cisney
4. 56 – Nate Snyder
5. 0 – Rick Lafferty
6. 36D – Wayne Dadetto
7. 15 – Vince Snyder
8. 3J – Jack Thornton
DNF. 17B – Steve Buckwalter
Heat Race #2:
1. 27 – Greg Hodnett
2. 44 – Joey Hershey
3. 7W – Logan Wagner
4. 19M – Brent Marks
5. 1 – Lucas Wolfe
6. 33 – Curt Stroup
7. 7 – Ed Aiken
8. 91 – Anthony Fiore
DNF. 7 – Doug Esh
Heat Race #3:
1. 747 – Davey Sammons
2. 3 – Dave Ely
3. 20 – Ryan Taylor
4. 33W – Mike Walter
5. 98 – Tyler Bear
6. 55 – Mike Wagner
7. 8S – Trenton Sheaffer
8. 30 – Daryl Stimeling
B-Main:
1. 15 – Vince Snyder
2. 7 – Ed Aiken
3. 91 – Anthony Fiore
4. 8S – Trenton Sheaffer
5. 17B – Steve Buckwalter
6. 3J – Jack Thornton
7. 7 – Doug Esh
8. 30 – Daryl Stimeling
Feature:
1. 21A – Kevin Nouse
2. 27 – Greg Hodnett
3. 19M – Brent Marks
4. 7W – Logan Wagner
5. 5 – Dylan Cisney
6. 44 – Joey Hershey
7. 1 – Lucas Wolfe
8. 3 – Dave Ely
9. 747 – Davey Sammons
10. 20 – Ryan Taylor
11. 2H – Dave Hahn
12. 33 – Curt Stroup
13. 17B – Steve Buckwalter
14. 56 – Nate Snyder
15. 0 – Rick Lafferty
16. 55 – Mike Wagner
17. 91 – Anthony Fiore
18. 36D – Wayne Dadetto
19. 98 – Tyler Bear
20. 33W – Mike Walter
21. 15 – Vince Snyder
22. 8S – Trenton Sheaffer
23. 7 – Ed Aiken
24. 3J – Jack Thornton
DNS. 7 – Doug Esh
DNS. 30 – Daryl Stimeling