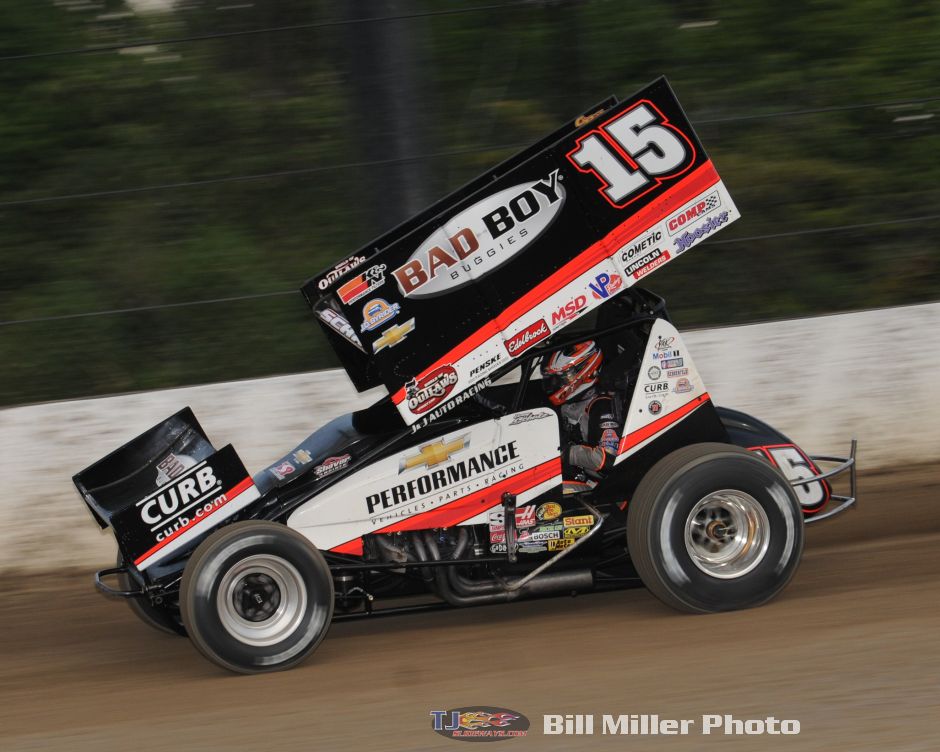 From Bob Baker
Knoxville, IA — (January 15, 2016) — For the eighth time in his career, Donny Schatz of Fargo, North Dakota, was voted the "Driver of the Year" by the North American 410 Sprint Car Poll voting panel of media members, promoters, sanctioning officials and manufacturers. The 2015 Knoxville Nationals winner, Chico Gold Cup Race of Champions winner and World of Outlaws (WoO) champion, earned all twenty-five (25) first-place ballots cast in the year-end poll.
Tony Stewart, owner of the Donny Schatz sprint car, earned his eighth "Team of the Year" honors, though three of those have come from the North American Non-Winged Sprint Car Poll.
Those drivers ranked second through fifth, respectively, are 2015 Kings Royal winner Shane Stewart of Oklahoma, All Star Circuit of Champions (ASCoC) champion Dale Blaney of Ohio, Brad Sweet of California, and Knoxville Raceway and National Sprint League (NSL) champion Danny Lasoski of Missouri. Rounding out the 'top ten' for the season, respectively, are Daryn Pittman, 2015 Central Pennsylvania Sprint Cars and Williams Grove Speedway champion Greg Hodnett, Joey Saldana, Williams Grove National Open winner and Pennsylvania Speed Week champion Stevie Smith, and Kerry Madsen.
Rico Abreu of California will again receive the "Wild Card Award" for his exciting '410' sprint car performances in 2015. Chase Dietz of Pennsylvania, the top rookie at the Lincoln Speedway this past season, has earned the "Rookie of the Year" award in the '410' division of the North American Sprint Car Poll. Tod Quiring of the new National Sprint League (NSL) has captured the "Promoter of the Year" honors. Jack & Bonnie Elam of J&J Auto Racing will earn the "Builder/Manufacturer of the Year" honors for the '410' poll. The "Media Member of the Year" award will go to Kendra Jacobs and Steve Post of the MAV-TV/MRN "Winged Nation" show.
The North American 410 Sprint Car Poll is an annual awards program of the National Sprint Car Hall of Fame & Museum. All awards will be distributed in 2016 at tracks throughout North America. The awards were announced on the fourth day of the 2016 Lucas Oil Chili Bowl Midget Nationals in Tulsa, Oklahoma.
Final 2015 North American 410 Sprint Car Poll
rank, driver (first place votes), hometown, state/province, points
1., Donny Schatz (25), Fargo, ND, 2400
2., Shane Stewart, Bixby, OK, 1170
3., Dale Blaney, Fowler, OH, 751
4., Brad Sweet, Grass Valley, CA, 523
5., Danny Lasoski, Dover, MO, 485
6., Daryn Pittman, Owasso, OK, 478
7., Greg Hodnett, Memphis, TN, 425
8., Joey Saldana, Brownsburg, IN, 358
9., Stevie Smith, New Oxford, PA, 331
10., Kerry Madsen, St. Marys, NSW, AUS, 251
11., Danny Dietrich, Aspers, PA, 159
12., Paul McMahan, Elk Grove, CA, 134
13., Terry McCarl, Altoona, IA, 111
14., Rico Abreu, St. Helena, CA, 87
15., Cody Darrah, Red Lion, PA, 65.5
16., Justin Henderson, Tea, SD, 45
17., Brian Montieth, Phoenixville, PA, 38
18., Ian Madsen, St. Marys, NSW, AUS, 26
tie, Sammy Swindell, Memphis, TN, 26
20., Brian Brown, Grain Valley, MO, 23.5
21., Dusty Zomer, Sioux Falls, SD, 22
22., Billy Balog, Fairbanks, AK, 19
23., Greg Wilson, Benton Ridge, OH, 18
24., Sheldon Haudenschild, Wooster, OH, 14
25., Lucas Wolfe, Mechanicsburg, PA, 13
Also receiving multiple votes: Bryan Clauson, David Gravel, Brandon "Bud" Kaeding, Tim Kaeding, Chad Kemenah, Carson Macedo, Bill Rose.