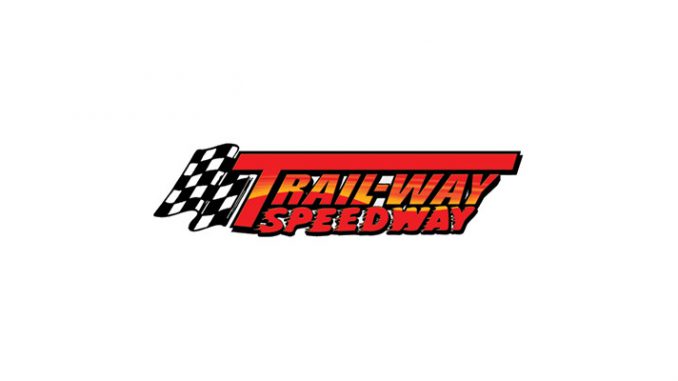 From Kalida Landis
Hanover, PA — (June 24, 2016) — "Where's the full moon?"
So asked Abbottstown's Mike Bittinger after scoring his first win of the year in the 25-lap "358" sprint car feature at Trail-Way Speedway Friday night.
Bittinger started on the outside of the front row, outran polesitter Seth Kearchner to the first turn, and led every lap of the event.
"I don't really like running up front. I'd rather have someone to chase," said Bittinger after exiting his Apple Automotive/Boulder Pools/Big Mike's Crabhouse/Newman's Racing Engines #12 in victory lane, "But I'm glad we started up there tonight because I'm not sure we would have passed anyone. We spun out lining up for the feature last time!"
Red flags marred the first two attempts to start the race. The first was for Dwight Leppo, who flipped in turn two, and the second was for David Holbrook, who turned over in turn three. Both drivers were uninjured, as was Isaac Sneeringer, who flipped hard into the second turn catch fence on lap 15.
"I put the wing back at the start and that was a mistake," said Bittinger, "So I pushed it back up."
Crossing second 1.34 seconds behind the winner was Kearchner, with hard charger Doug Hamaker (who came from seventh starting spot), Jeff Halligan, and Cody Fletcher rounding out the top five. Sixth through eighth were Zach Euculano, Kody Hartlaub, and Dalton Dietrich. Brandon Noel and Sneeringer were credited with ninth and tenth.
Qualifiers for the 15 "358" sprinters were won by Leppo and Fletcher.
Brian Walls came from tenth starting spot to win in his first appearance of the year in the 20-lap street stock feature.
Walls took the lead from outside front row starter and race-long leader Zach Myers when Myers got out of shape in turns three and four of lap 12 and drove away to a 1.44-second win.
Second through fifth were Mike Goodwin, ninth-starting Jeremy Stremmel, Doug Bennett, and 13th-starting Matt Wampler.
FEATURE (25 Laps) – 1. 12-Mike Bittinger; 2. 30-Seth Kearchner; 3. 66-Doug Hammaker; 4. 41-Jeff Halligan; 5. 66A-Cody Fletcher; 6. 10-Zach Euculano; 7. 11D-Kody Hartlaub; 8. 9-Dalton Dietrich; 9. 10B-Brandon Noel (DNF); 10. 19Z-Isaac Sneeringer (DNF); 11. 64-Randy Whisler (DNF); 12. 77K-Steven Kisamore (DNF); 13. 4R-Tyler Walton (DNF); 14. 77-David Holbrook (DNF); 15. 4-Dwight Leppo (DNF). No time.
Lap Leaders: Mike Bittinger (1-25)
358 Sprint Heat 1 Finish (10 Laps/All Qualify) – 1. 4-Dwight Leppo; 2. 12-Mike Bittinger; 3. 41-Jeff Halligan; 4. 66-Doug Hammaker; 5. 77-David Holbrook; 6. 10B-Brandon Noel; 7. 11D-Kody Hartlaub; 8. 19Z-Isaac Sneeringer (DNF). Time – 2:20.22
358 Sprint Heat 2 Finish (10 Laps/All Qualify) – 1. 66A-Cody Fletcher; 2. 30-Seth Kearchner; 3. 77K-Steven Kisamore; 4. 9-Dalton Dietrich; 5. 4R-Tyler Walton; 6. 10-Zach Euculano; 7. 64-Randy Whisler. Time – 2:27.22