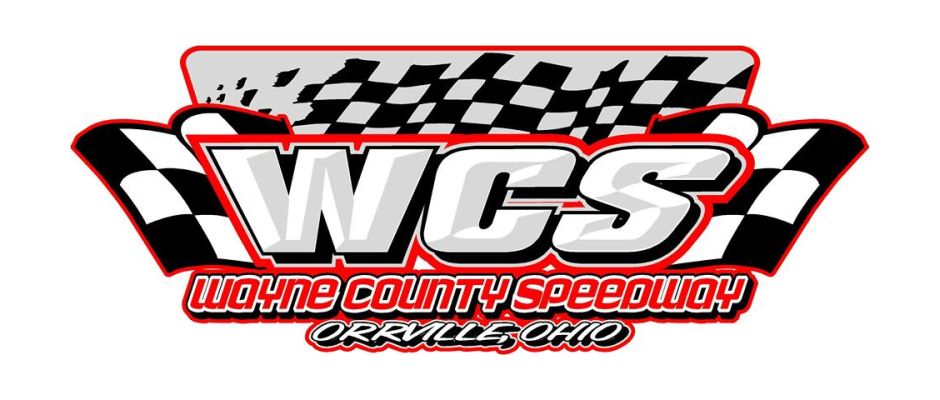 From Mike Swanger
ORRVILLE, Ohio (August 6, 2016) — As the last month of the regular season starts up at NAPA Wayne County Speedway, the points battle for the championships are close and the racing Saturday night continues that way also. On Twin State Auto Racing club night, the Fisher Performance Sprints kicked off the action with Jordan Ryan taking his pole position starting spot and grabbing the lead but a red flag for outside front row starter Shawn Hubler on the start of lap two stopped the action. On the restart, Ryan would quickly open up a gap from Jason Dolick and Newark's Mitch Harble with Harble taking second on lap four and slowly reel in Ryan. A caution on lap 15 grouped the field together and as the green flag waved again, Harble and the Kempthorn Auto Mall, Fire & Ice Pub and Simpson & Ham Signs #38k, used the high side of the track and powered past Ryan coming out of turn two on the 18th circuit and sped away for his second win of the season. Jamie Myers made a late charge to overtake Ryan for second with three laps to go as Danny Mumaw picked his way through the field to claim fourth from his 14th starting spot. Dolick would fend off Nick Patterson for fifth. Heat winners were Harble and Myers.
Last weeks winner and points leader Brad Malcuit would outrace fellow heat winner and pole sitter Doug Drown, of Wooster, into turn one on the start of the Harriger Towing Super Late Model feature and led the way for the first 8 laps when Drown motored by coming out turn four to take the point on lap 9 and the Hall's Auto Sales, Kar Connection and Wooster Glass # 240 would drive away for his fifth win of the year at NAPA WCS. The uninterrupted feature finished with Ryan Markham in third followed by JR Gentry and Cody Scott.
Eric Eicholtz started on the pole of the Action Auto Body Super Stock Main and lead the first lap but the front end of his car broke before he started lap two ending his race. Bob Daugherty would inherit the top spot with Cliff Staley and Canton's Paul Holmes in tow. With the green flag out again, Holmes wasted no time as he went to the high side of turn one and two and leapfrogged over Staley and Daugherty for the top spot. Points leader Tyler Thompson would also get by Staley, who would cause a caution on the third lap as Tyler Nicely would take over fourth. Daugherty was looking at every angle to try to reclaim the lead from Holmes and was able to pull alongside going down the backstretch on the white flag lap but the yellow waved to negate that move. The final lap would see Holmes and his #68 machine hold off Daugherty's last charge as Holmes collected his 4th win this season. Gary Hensel Jr. came from his 15th starting position and came up short of taking third from Thompson as Jordan James pocketed fifth. Staley, Holmes and Daugherty scored the heat wins.
The Kar Connection Rush Late Model feature was a nail biter of a race as the top five were all within three car lengths of each other for the majority of the race with Alan Dellinger leading the opening two laps when first time visitor Jason Fosnaught took over for a lap before Millersburg's Charlie Duncan took over for a lap before Fosnaught reclaimed the point. Dellinger, points leader Justin Chance and Matt Aber joined the two front runners as they swapped positions every lap. Duncan and his Hall's Auto Sales, Kar Connection and Auto Pro #240 would keep harassing Fosnaught by using the low groove and finally grabbed the lead on lap 14. Aber was charging hard in third place but on lap 16 made contact with Fosnaught and sent him spinning to bring out the caution as Aber was sent to the tail. The double file restart would have both Dellinger and Chance slipping past Fosnaught with Duncan pulling away with the lead. Dellinger kept Chance at bay on the last lap to finish in the runner up position as Aber charged back to take fifth behind Fosnaught. Heat wins went to Aber and Dellinger.
The last race of the night was the 'Summer Series' race presented by All American Excavating for the WQKT Mini Stocks. Killbuck's Chris Priebe would lead every lap for his first win but it was highly contested all race long. Moose Workman was the first to make the challenge for the lead as he gave way to points leader Brad Hensel. His run at the lead only lasted one lap as he went off the back straight away into the retaining tire to end his night while Workman pulled off before the race went back to green. A caution flag with two laps to go put the field in double file alignment and as the race restarted a lot of contact was made between the front runners but everyone kept going with Doug Hensel and Rod Daugherty momentarily getting past Priebe but he regrouped and shot by those to coming out of turn two and recapture the lead and grab the checker flag. Daugherty edged out Doug Hensel for second as Mitch Reichard and Wes Staley filled out the top five. Priebe, Brad Hensel and Daugherty notched the heat wins.
The Contingency Connection Racer Rewards worth over $100,000 for the year and the drivers were also competing for the weekly amount of awards again last night at NAPA WCS.
Next Saturday night, August 13 will see a double header of Sprint Car action as the Fisher Performance Sprints and the BOSS Wingless Sprints will be in action along with a 'Summer Series' race for the Kar Connection Rush Late Models and the Action Auto Body Super Stocks on the racing card. The Harriger Towing Super Late Models and the WQKT Mini Stock have the night off.
Go to www.waynecountyspeedway.com for the latest news and upcoming events at the speedway.
NAPA WAYNE COUNTY SPEEDWAY RESULTS
Saturday, August 6, 2016
FISHER PERFORMANCE SPRINTS
Heat 1 Mitch Harble, Shawn Hubler, Nick Patterson, Tyler Dunn, Aaron Middaugh, Rick Holley, Jeremy Duposki, Dylan Kingan
Heat 2 Jamie Myers, Jordan Ryan, Jason Dolick, Jim Taddeo, Troy Kingan, Shawn Minor, Danny Mumaw, Kris Davis dns
Feature Mitch Harble, Jamie Myers, Jordan Ryan, Danny Mumaw, Jason Dolick, Nick Patterson, Aaron Middaugh, Jim Taddeo, Tyler Dunn, Troy Kingan, Jeremy Duposki, Kris Davis, Shawn Minor, Dylan Kingan, Rick Holley, Shawn Hubler
HARRIGER TOWING SUPER LATE MODELS
Heat 1 Doug Drown, Jim Nicely, Jerry Aber, Kirk Baker, Blaine Aber, Jason Skelly
Heat 2 Brad Malcuit, JR Gentry, Ryan Markham, Cody Scott, Larry Bellman, Rick Bond
Feature Doug Drown, Brad Malcuit, Ryan Markham, JR Gentry, Cody Scott, Rick Bond, Jerry Aber, Blaine Aber, Larry Bellman, Kirk Baker, Jim Nicely, Jason Skelly
ACTION AUTO BODY SUPER STOCKS
Heat 1 Cliff Staley, Tyler Nicely, Jordan James, Don Rutt, Dustin Daugherty, Gary Hensel Jr.
Heat 2 Paul Holmes, Eric Eicholtz, Jim Nicely, Tod Beviloqua, Bubba Smith, Chris
Albright
Heat 3 Bob Daugherty, Chase Alexander, Tyler Thompson, Todd Sherwin, Brandon Craver, Ryan Leathers dns
Feature Paul Holmes, Bob Daugherty, Tyler Thompson, Gary Hensel Jr., Jordan James, Brandon Craver, Bubba Smith, Todd Sherwin, Chris Albright, Tyler Nicely, Tod Beviloqua, Cliff Staley, Jim Nicely, Ryan Leathers, Don Rutt, Eric Eicholtz, Dustin Daugherty dns
KAR CONNECTION RUSH LATE MODELS
Heat 1 Matt Aber, Charlie Duncan, Justin Chance, Greg Beach, Mike Swansiger, Bob Fry
Heat 2 Alan Dellinger, Jason Fosnaught, Mitch Basich, Scott Delaney, Josh Stoica
Feature Charlie Duncan, Alan Dellinger, Justin Chance, Jason Fosnaught, Matt Aber, Greg Beach, Bob Fry, Scott Delaney, Mike Swansiger, Josh Stoica, Mitch Basich
WQKT SPORTS COUNTRY 104.5 MINI STOCKS
Heat 1 Chris Priebe, Moose Workman, Doug Hensel, Braden Wert, Briana Hensel, Rick Bays
Heat 2 Brad Hensel, Mitch Reichard, Wes Staley, Corey Staley, Jess Hensel, Brian Tomblin
Heat 3 Rod Daugherty, Stephen Crowe, Ken Steele, Jim Burns, Colton Priebe, Richard Retton
Feature Chris Priebe, Rod Daugherty, Doug Hensel, Mitch Reichard, Wes Staley, Stephen Crowe, Braden Wert, Briana Hensel, Jess Hensel, Jim Burns, Ken Steele, Corey Staley, Rick Bays, Moose Workman, Brad Hensel, Richard Retton, Brian Tomblin, Colton Priebe dns