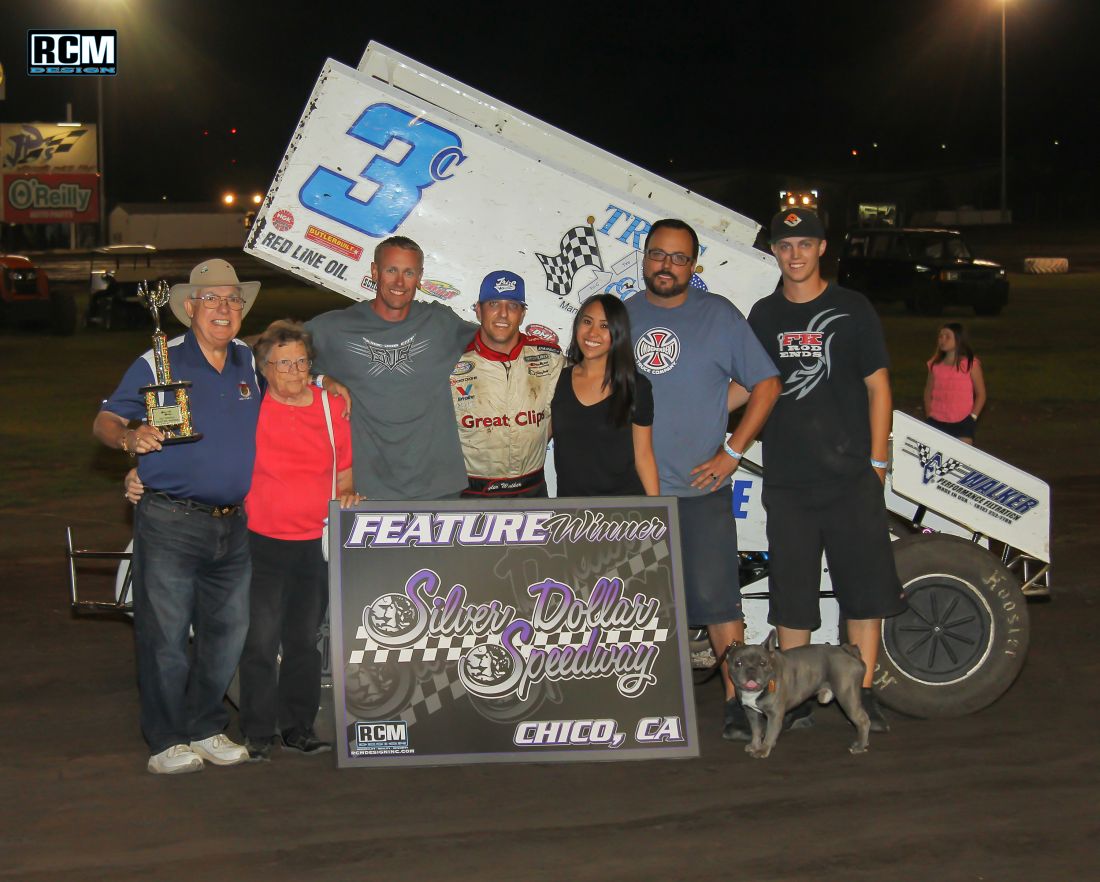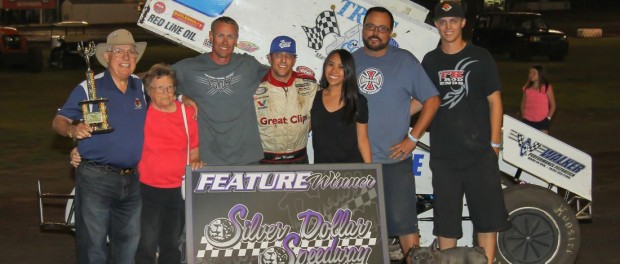 From Troy Hennig
Chico, CA — (August 5, 2016) — Los Angeles driver Tyler Walker thrilled the fans at Silver Dollar Speedway with a triumphant win during the 25-lap winged sprint car 360 main event on Friday night. Walker, making his first start at Chico driving the famed Tri-C #3c, was up on the wheel all night and served notice that this team could be finally gelling at the right time. Walker relentlessly pounded the top of the track and passed the likes of Sean Becker and Andy Forsberg on his way to the win.
Justyn Cox was the driver to beat for the first part of the main event. Cox powered around front row starting Kirt Organ and comfortably extended his lead over the rest of the field. Unfortunately for Cox his night went south while going into turn three on lap 16 resulted in his car getting up and over the cushion and he drifted helplessly off the race track. Cox came to a stop out by the water truck. During Cox's misfortune, Brian Boswell and Eddie Lewis crashed; sending Boswell upside and a red flag was needed.
The ensuing restart saw Organ pacing the field to the green flag. Walker restarted in fourth but wouldn't stay there long. He motored around the top three by using the high side to his liking. By the next lap Walker had taken the lead. Becker was able to pass Organ for second and as the laps winded down, he closed on Walker for the lead. Slower cars played a factor in Walker's inability to extend his lead. The final lap was exciting as Becker made a last ditch effort to clear a slower car while racing Walker for the win. At the finish line Walker barely beat Becker for the win. Forsberg was solid all night and finished third. Organ has continues to impress and picked up a fourth place finish. Rookie Kalib Henry rounded out the top five.
Becker earned the fast time award by posting an 11.821. Gary Paulson was a pleasant surprise and won the opening eight lap heat race. Walker and Forsberg were victorious in the second and third heat races. A total of 21 sprint cars attended the race.
Silver Dollar Speedway
Chico, CA
Friday August 15, 2016
Feature:
1. 3C – Tyler Walker
2. 75 – Sean Becker
3. 92 – Andy Forsberg
4. 5 – Kirt Organ
5. M21 – Kalib Henry
6. 7N – Zach Lynskey
7. 7K – Kenny Allen
8. 2 – Brian McGahan Jr.
9. 5V – Seth Nunes
10. 51 – Gary Paulson
11. 11S – Robert Stice
12. 49 – Mike Monahan
13. 69 – Ron Laplant
14. 8 – Jim Richardson
15. 31C – Justyn Cox
16. 14H – Heath Hall
17. 5X – Brian Boswell
18. 7X – Eddy Lewis
19. 4X – Raquel Hall
20. 42 – Chase Majdic
21. 7H – Jake Haulot