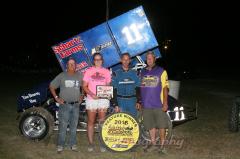 From URSS
The United Rebel Sprint Series made their debut at the historic Rooks County Speedway Friday night and set the ½ mile oval a fire as the track came to life once again with winged Sprint Cars. Eleven teams made the trek to the paper clipped shaped oval, long straightaways and tight corners made for some set-up wizardry. Cimarron Kansas driver Keefe Hemel scored his first win of the 2016 season in convincing fashion mastering the tricky monster half mile.
Timken Kansas's Craig Jecha brought the field to the green flag with Hemel bolting to the lead from his outside pole position with the "Hill City Hot Shoe" Jeff Radcliffe  grabbing the runner up spot with John Webster, Darren Berry and Brian Herbert rounding out the top five at the end of lap one. Soon Herbert would close the gap between himself and Berry to take over the fourth spot.
Radcliffe would pressure Hemel lap after lap for the first half of the race as they would race side by side down the back straight for many laps.
Kansas point leader Luke Cranston started his run towards the front from his eighth starting spot with second place points Zach Blurton in his tire tracks. The pair locked in a tight point battle in both the Kansas Region and National points as Cranston holds the top spot in both with Blurton holding down the runner up spot. The two drivers were locked in a three way battle for the fifth, sixth and seventh positions with Berry most of the twenty lap feature as the trio worked their way around the oval swapping spots gaining ground only to lose it a lap later.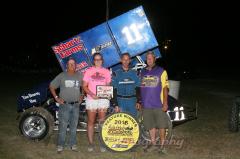 At the half way point Hemel still held the point with Radcliffe, Webster, Cranston and Herbert comprising the top five. Cranston would give back his spot to Herbert a lap later as Berry and Blurton closed the gap. As the leaders started to get into lapped traffic it was crucial to get around them as cleanly as possible. Hemel wove his way through it masterfully as he started to pull away slightly.
Back in the pack Jed Werner was making his way towards the front from his eleventh starting position. Werner had made his way up to the eighth spot by lap twelve and had caught the trio of Cranston, Berry and Blurton. The quartet of drivers were dicing for position each lap with Blurton and Cranston duking it out and behind them Berry and Werner. Werner made quick work of Berry taking the seventh position for good on lap seventeen.
With the laps were winding down, Blurton caught Cranston as the white flag lap flew to take away the fifth spot. The pass was short lived as Cranston powered his way around the top to retake the spot in turns three and four.  As the checkered flag fell it was Hemel picking up the win with Radcliffe, Webster Herbert and Cranston rounding out the top five.
The Keizer Aluminum Wheels Hard Charger Award went to Jed Werner, moving up 4 spots after starting eleventh to finish seventh. Heat Race Winners were Luke Cranston and Brian Herbert
Rooks CountyFairground – Stockton Ks.
Feature Results
1 Keefe Hemel
2 Jeff Radcliffe
3 John Webster
4 Brian Herbert
5 Luke Cranston
6 Zach Blurton
7 Jed Werner
8 Darren Berry
9 Craig Jecha
10 Aaron Ploussard
11 Howard Van Dyke DNF