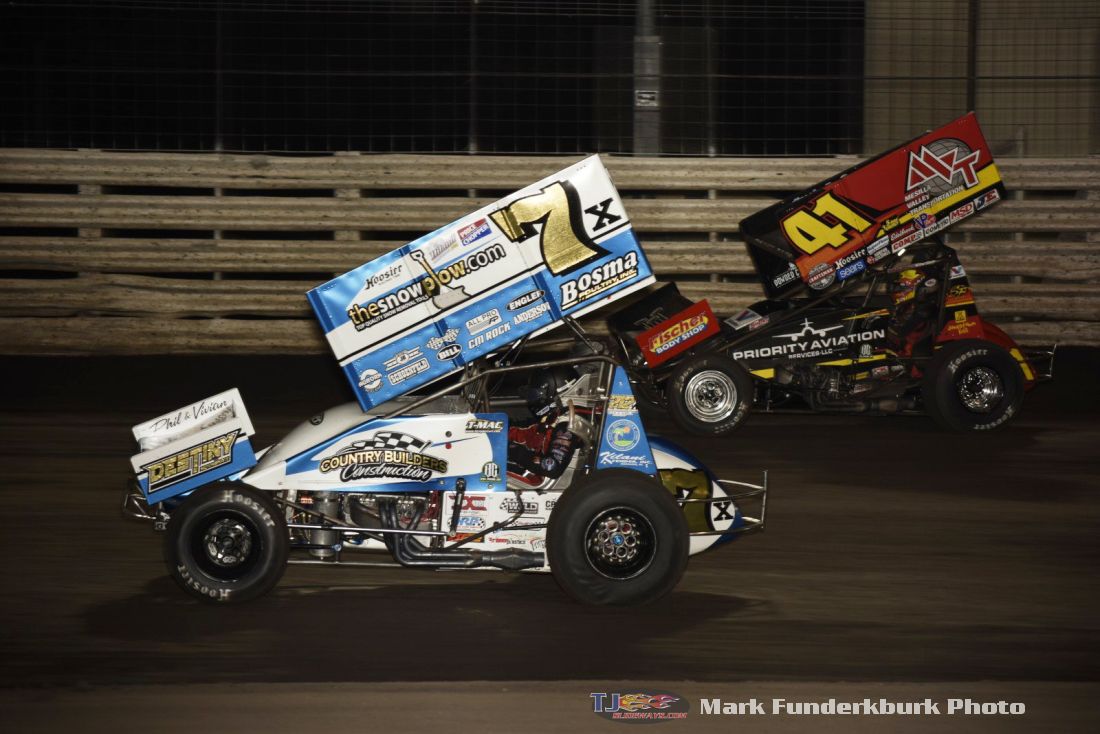 By Bill W
August 16, 2016 – Terry McCarl and the TMAC Motorsports team celebrated the memory of Lenard McCarl's #7x with a great run at the 56th Knoxville Nationals last week. A podium finish on Thursday night locked TMAC into Saturday's championship event. The Altoona, Iowa driver/promoter also pulled off one of the best Front Row Challenge events in history on August 8 making for a great week. This Sunday, he'll be competing in the ASCS National High Roller Classic at the Missouri State Fair Speedway in Sedalia.
After finishing fourth in the 360 Nationals, TMAC, his wife Lori and the rest of the TMAC Promotions team had a successful Front Row Challenge at the Southern Iowa Speedway in Oskaloosa. Passing in the feature was at a premium this year. "Oskaloosa went great," says TMAC. "I think that's one of the best wing races we've had there in a long time. Kerry Madsen was amazing to watch. Daryn (Pittman) was good up front, but it was amazing watching the battles between second and tenth. There was a lot of three-wide action."
With his father Lenard passing away earlier this year, TMAC sported a 1973-74 version of his father's #7x. "I was very excited to have the old #7x back," he says. "It turned out amazing. My painter, Tony Sposato did a heck of a job. My Dad always used pearl white and candy apple blue, and he nailed it. Octane Ink did a great job on the vinyl. To put it on the podium on the qualifying night was amazing."
Despite drawing a late ill (46th car out), he timed in 11th quick. That lined him up sixth to start his heat. "We had a great run in the heat race," says TMAC. "I think we had a shot at running second from sixth, but we hurt a valve. After that, we had to go out and change our motor, and that kind of threw us off a bit the rest of the night."
The team made the change outside the track and came back, starting sixth in the feature and running third. "I was happy about how we ran, especially with the change," says TMAC. "We got by Jason (Johnson) there late in the show, and I think we were really good late. Early in the feature, I was just trying to figure the car out. We hadn't had any time to work on it and that threw us off our routine. Maybe we could have been better, maybe not, it was a very good car. It was a fun night and good to have a good one with Price Chopper, Hiland Dairy and our regular partners."
TMAC's run at the Grand Annual Classic in Warrnambool, Victoria, Australia last January made him eligible for the World Challenge Friday. "We went back to our other car," he says. "It was probably a mistake. Our car was really good Thursday and we didn't want to hurt it for Saturday. The car was horrible. We did end up eighth, but we weren't good."
He would start tenth in Saturday's championship 50-lapper. "The track is always tricky on Saturday," says TMAC. "People don't understand that the Nationals isn't a real advantage to the locals, because it's a track we never see. The Outlaws don't see it either. A lot of times it's a 'wet slick'. I went out to hot lap and the car didn't feel right. I think we were twelfth quick, and I probably should have left it alone."
Unfortunately, he would finish seventeenth at the checkers. "I took some advice from a good friend and tried a new setup, and it was horrible," says TMAC. "We were hanging on for dear life. It was unfortunate, but it's part of the deal. It wasn't anyone's fault but mine. I make all the final decisions. It was my decision to try something different and that wasn't the time to do it. It was disappointing in the end, but looking back, to do what we did with the #7x made for a pretty great week."
McCarl Family Websites!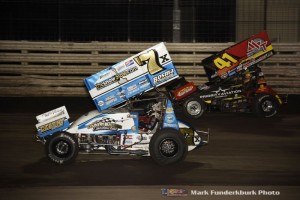 Driverwebsites.com develops the websites for the McCarl boys. Check out www.TerryMcCarl.com, as well as www.AustinMcCarl.com and www.CarsonMcCarl.com!
This Month in TMAC History!
On August 19, 2006, TMAC defeated the WoO at the Nodak Speedway in Minot, North Dakota. After dueling with Craig Dollansky and then Donny Schatz much of the way, he was able to drive a smart race that required tire conservation to win. He also was second quick, and finished second in the dash. Brooke Tatnell was second, followed by Joey Saldana, Daryn Pittman and Chad Kemenah.
"Tuesdays with TMAC"!
"Tuesdays with TMAC" is an up close and personal look at colorful sprint car veteran Terry McCarl. To receive "Tuesdays with TMAC", send an e-mail to sprntcar@hotmail.com with "TMAC" in the subject line.
TMAC Motorsports would like to thank sponsors SnowPlow Snow Pushers – www.TheSnowPlow.com, Country Builders Construction, Rossie Feed and Grain, Bosma Poultry, Destiny Motorsports, Searsboro Telephone Company, Elk Grove Ford, A.R.T. Speed Equipment, Berryhill Racing, Phil and Vivian, Justice Brothers/Gillund Enterprises, Vortex Racing, Hoosier Tire, Chris Spaulding – Attorney at Law, SuperFlow, Schoenfeld Headers, Rens Trucking, NutriShop – Maple Grove, MN, HRP, All Pro Cylinder Heads, Maxim Chassis, Bob and Beulah Elder, Engler Injection, Snap On Tools, Sposato Paint, Winters, Kilani Fender, Inc., DriverWebsites.com, CM Rock, Brown and Miller, Pro Shocks, Ben Cook, Bell Helmets, Burnett's Rock and Landscaping, Octane Ink, Morgan Strawberry Farms, Dynasty Stucco, Aurora Rod Ends, Crow Safety, KSE Steering, Snyder Lawn & Landscaping, Strange Performance, Saldana Racing Products, Scribner Plastics, Waterman Fuel Pumps, Butlerbuilt and Mote Fasteners.