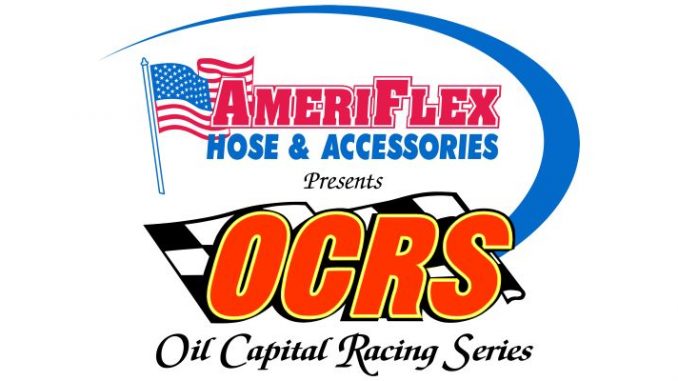 Tulsa Okla. (September 6, 2016) – With a 3-way battle for the 2016 Ameri-Flex / OCRS sprint car championship in a feverish pitch, now comes the 10th Annual Oklahoma State Championship race this Saturday night at the Oklahoma Sports Park in Ada, OK. The 'OSC' race is one of the most prestigious events that dots the Ameri-Flex / OCRS schedule.
Whit Gastineau of Moore Oklahoma took the OSC race for the third time in his career last year as he also scored wins in 2010 & 2012. Gastineau is the only 3-time winner of the race that is paying $2000 to win. Gastineau will be looking for his second consecutive win at Oklahoma Sports Park this season as he won an Ameri-Flex / OCRS event on July 23.
Pauls Valley pilot Gary Owens won the OSC contest in 2011 and he is expected to compete for another on Saturday. Owens did score a win at the Lawton Speedway on July 30th which makes him a series winner for four consecutive years. Norman resident Sheldon Barksdale was the victor last May at Oklahoma Sports Park in the 8th Annual Harold Leep Jr. Memorial and has five victories this season. He will be looking for another conquest on the 4/10-mile oval on Saturday.
Mustang Oklahoma's Robert Sellers enters the competition with a scant six point lead over Gastineau who once held the top spot. Another previous point leader, Zach Chappell of Talala, sits just 31 points behind Sellers. With a maximum of 105 points available for the night, all three of these positions are capable of switching around.
NUTZ n' BOLTZ
Defying The Odds:
Sean McClelland won $5000 in the Ameri-Flex Challenge Saturday at the Caney Valley Speedway. McClelland was a sponsor selection and while he and Andrew Deal (another sponsor selection) were chosen to be in the race, by rule, they had to draw their starting numbers last. The odds to get a number to start near the front of the 14 car field were slim with 12 drivers drawing ahead of them. McClelland lucked out when those before him drew most of the high numbers leaving him the number 3 to place him in the second row. He would pass Cameron Hagin on the last lap to cash in.
Mirrors Would Have Helped:
Danny Smith won the 30-Lap Ameri-Flex Hose & Accessories A-Feature at Caney Valley. It was Smith's first win in 2 years with the series. "The Caretaker" started in the fifth row and worked a higher line than practically all of those in front of him. Smith would pick off cars (some with ease) as the feature wore on. Had his competition seen how Smith's line was working, they would have changed their tactics. As it turned out, it was Smith's tactics that proved superior.
Darn Near Doubled Up:
Sean McClelland wasnt resting on his keester from winning $5000 earlier in the night. McClelland was making hay in working to obtain the lead in the 30 lapper when he spun to a stop in turn 2. McClelland would restart at the tail end of the field and power his way back to the front of the pack. He had Smith in his sights when he ran out of laps. They say second is the first loser but it's doubtful he left the racetrack in sorrow for his nights work.
The Odds On Favorite:
Cameron Hagin has cemented himself as the odds-on favorite to be the next driver to win his first Ameri-Flex / OCRS feature. Hagin was one turn away at the Longdale Speedway to getting that first win and he was 2/3 of a lap away from making a $5000 to win race his first checkered flag conquest. Dont bet against Hagin as the driver who gets his next membership to the winners club.
Winning Cash Thanks To A Motor Loan:
While Whit Gastineau earned $500 for finishing fourth in the Ameri-Flex Challenge, he won $500 for Tim & Loretta Colley. Loretta is Whit's aunt and the Colley's were participants of the "Drivers Sponsor Challenge" which paid $500 to the sponsor that had their driver either win or be the highest finishing 'sponsored driver'. With the top three finishing drivers not being selected, Gastineau's fourth place finish netted the Colley's the 500 bucks. The Colley's can thank car owner Travis 'Hollywood' Jenkins as Jenkins loaned Gastineau the motor out of Mike Goodman's car for Whit to compete Saturday night after Gastineau recently had motor woes.
Dedication To The Sport Appreciated:
On Saturday, there was the 3rd Annual Gary's Garage Car Show & BBQ for one and all in Caney Valley. Ameri-Flex / OCRS drivers Shayla Waddell and Joseph Miller each left their respective homes long before most of us fell out of bed that morning to be there in time to display their sprint cars for all to see. Zach Chappell and his team would eventually join them. These are examples of what fine people there are to assist in promoting the very sport we all come to admire and enjoy. Thank you all for you time and effort. The appreciation for each of you is enormous.
The 10th Annual Oklahoma State Championship Itinerary:
WHAT: 10th Annual Oklahoma State Championship Sprint Car Race
WHERE: Oklahoma Sports Park / Ada Oklahoma
WHEN: Saturday September 10, 2016
TIME: Gates open 5pm / Hot laps 7pm / Racing 7:30pm (Ameri-Flex / OCRS drivers meeting at 6:30pm)
Track Phone: 580-332-5535 / Promoters Phone: 580-332-5383
Website: http://www.oklahomasportspark.com
Oklahoma Sports Park is home to a 4/10-mile clay oval track and is located just 10 miles northwest of Ada, Oklahoma on state highway 3W.
About the Ameri-Flex / OCRS Series –
Established in 2002, the Tulsa OK based Ameri-Flex / OCRS series sanctions dirt track sprint car racing in the southern region of the central plains. Fan appeal and quality race teams, combined with our solid core of supporting sponsors are the nucleus of the series. Thrilling competition providing the ultimate quality family entertainment is the essence of what the Ameri-Flex / OCRS series is all about.
Website: www.ocrsracing.com
Facebook: www.facebook.com/oil.series
About AmeriFlex Hose & Accessories-
Located in Tulsa OK, AmeriFlex Hose & Accessories is a family owned and operated company. From food grade hose to hoses for the petroleum industry, AmeriFlex will strive to fill your needs. AmeriFlex can build a hose to your specifications or we will assist you in creating what you have designed while you wait. AmeriFlex has several hard to find items that some vendors can't get or find. Product can be shipped quickly and efficiently. If we do not have what you are looking for, we will direct you on where to find it. Give us a try, after all…………..
AmeriFlex Has The Stuff That Keeps You Going!
Website:http://www.ameriflexhose.com
Pictured:
Points leader Robert Sellers will look to add the Oklahoma State Championship event to his impressive resume Saturday.