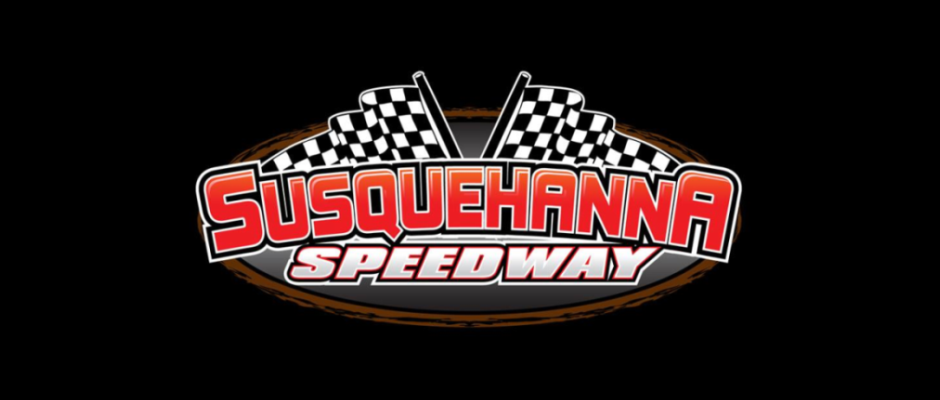 From Brad Vores for Susquehanna Speedway
YORK HAVEN, Penn. (September 10, 2016) — It was nearly pure domination for Scott Dellinger Saturday night at Susquehanna Speedway.
The Lewisberry, PA driver led all but two laps of the 42nd annual Credit Connection Auto Sales Gary Wolford Sportsman 100 to score his first win of the season in the biggest race of the year for the Super Sportsman. He became the 10th different winner in Credit Connection Auto Sales Super Sportsman competition this season.
Dellinger also set quick time over the 28-car field in time trials with a lap of 16.906 seasons.
The Gary Wolford "100" win was worth $4,000 to Dellinger while he also earned the $500 quick time award from Hessiron.com/Emory Transmissions and a $400 gift certificate to Brown & Miller Racing Solutions.
By virtue of a zero draw invert, Dellinger led the field to the green flag and would dominate the event through the first 60 laps. Several yellows slowed the pace before the fuel stop with the red flag being displayed for Gregg Foster on lap 38. He was not injured.
Just past the fuel stop, a four car crash would slow Dellinger's pace while eighth starter and track point leader Russ Mitten had worked his way into the runner-up spot.
Mitten wrestled the lead from Dellinger on lap 85 but Dellinger drove back by Mitten two laps later and went onto score the win aboard his Reesers Soft Ice Cream, AAI Recycling, Dellingers Auto Body No. 30.
Mitten finished in the runner-up spot and took home a $2,000 payday with Doug Dodson coming from 14th to finish third. Tony Jackson finished fourth while Jay Fannasy earned the Hard Charger award, finishing fifth after starting 22nd. Fannasy won a $400 gift certificate from Brown & Miller Racing Solutions.
Sixth through 10th were Steve Fannasy, Mike Enders, Justin Foster, Chad Smith and Bruce Buckwalter, Jr.
Two heats were won by Rick Barr and Dodson. Both won $50 gift certificates from Saldana Racing Products.
Justin Wagaman led all 15 laps to pick up his first Road Warrior win of the season, defeating Tyler Knaub, Robbie Carroll, Ricky Weaver and Tim O'Sheehan. Wagaman was the sixth different division winner in 2016.
Kyle Emig added his name to the list of feature winners this season in Xtreme Stock action as he used a final lap pass to score this first victory. He also became the sixth different Xtreme stock winner.
Emig's win came over Alex Updegraff, John Frye, Ronnie Buck and Brian Rehbein.
Susquehanna Speedway returns to action Saturday night, September 17th with the return of the PASS/IMCA 305 Sprints joined by the ARDC Midgets, Xtreme Stocks, Road Warriors and Mini Vans. Pits open at 4PM, Grandstands at 5PM and Racing at 7PM.
There will be another Test & Tune on Wednesday night, September 14th beginning at 6PM.
Fans are reminded to check out www.susquehannaspeedway.net for the latest news and results and follow Susquehanna Speedway on Twitter and Facebook.
SUSQUEHANNA SPEEDWAY RACE RESULTS 9/10/16
CREDIT CONNECTION AUTO SALES GARY WOLFORD SPORTSMAN 100 (100 LAPS)
1. Scott Dellinger, 2. Russ Mitten, 3. Doug Dodson, 4. Tony Jackson, 5. Jay Fannasy, 6. Steve Fannasy, 7. Mike Enders, 8. Justin Foster, 9. Chad Smith, 10. Bruce Buckwalter, Jr., 11. Paul Miller, 12. Nate Young, 13. Ted Thomas, 14. Timmie Barrick, 15. Troy Hockenberry, 16. Rick Barr, 17. Kenny Edkin, 18. Devin Beidel, 19. Scott Geesey, 20. Steve Wilbur, 21. Frankie Herr, 22. Gregg Foster, 23. Rich Eichelberger, 24. Russ Lebo.
Did Not Qualify: Austin Lorah, Lanny Hake, John Stoll, Jr., Davey Walsh.
XTREME STOCKS (20 LAPS)
1. Kyle Emig, 2. Alex Updegraff, 3. John Frye, 4. Ronnie Buck, 5. Brian Rehbein, 6. Michael Smith, 7. Jeff Waltz, 8. Jerry Blauch, 9. Tonya Lance, 10. Malloy Duvall
Did Not Start: Johnny Palm
ROAD WARRIORS (15 LAPS)
1. Justin Wagaman, 2. Tyler Knaub, 3. Robbie Carroll, 4. Rick Weaver, 5. Tim O'Sheehan, 6. Daryl Sipe, 7. Travis Brown, 8. Lee Redman, 9. Brandon Hedstrom, 10. Thomas Thompson, 11. Mike Hedstrom, 12. Ken Boose, 13. Robert Wellman, 14. Dennis Dorosz, 15. Ryan Underkoffler
Did Not Start: Don Fortini.