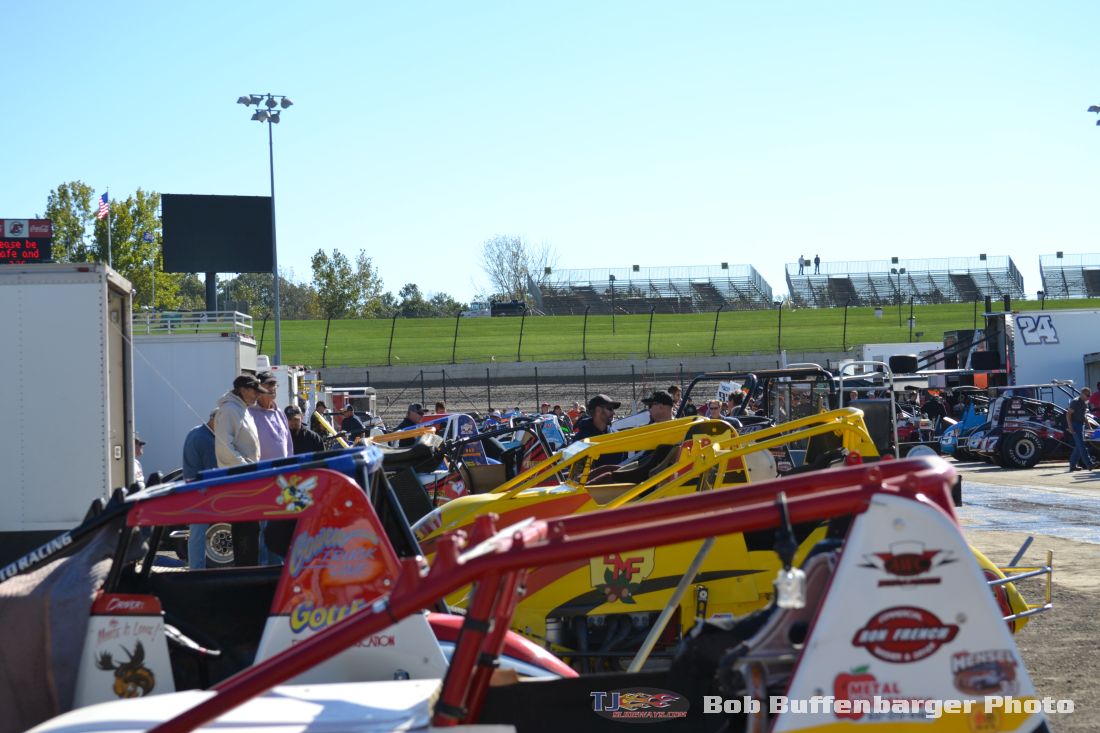 By T.J. Buffenbarger
Traditionally racing in the area winds downin October as National touring series depart for warming climates to finish their season. This year rain outs and some bold scheduling have expanded fans with more choices for the third weekend in October.
The World of Outlaws Craftsman Sprint Car Series expands their Pennsylvania weekend due with the makeup date for the Williams Grove National Open at Williams Grove Speedway. This leads into the series final appearance in Posse country for 2016 at Port Royal Speedway on Saturday.
Indiana sprint car fans can take in two of the most renowned sprint car venues this weekend.
Friday night Kokomo Speedway features non-wing sprint cars and the USAC Indiana Midget Car Series for the Kokomo Klash. The Klash has become one of the most popular late season events featuring open wheel divisions on Friday and stock cars on Saturday. Normally a Sunday venue, the Klash is a great opportunity to see why Kokomo is such a popular venue if you haven't been able to make it there on a normal race night.
The United States Auto Club Amsoil National Sprint Car Series joins the Outlaws with making up races from earlier in the year with a stop at the Terre Haute Action Track for the Saturday. Brady Bacon takes a 45 point lead into the weekend over Chase Stockon for the USAC National Sprint Car Series title. The past four USAC National Sprint Car Races have seen four different drivers in victory lane (Kevin Thomas Jr, Kyle Cummins, Justin Grant, and Josh Hodges). Thomas has been on a late season roll wining three of the last seven events with the series.
Millstream Speedway is another venue that normally runs Sunday night events taking advantage of the late season to expose people to their facility on a Saturday. Winged and non-wing 410 sprint cars along with 305 sprint cars on the docket Talking with promoters Randy and Lisa Hammer racing is set to begin around 6:30 p.m. EST.
Notebook:
The news of Knoxville Raceway, Jackson Motorplex, and Badlands Motor Speedway cooperating on major events in 2016 for 410 sprint cars is great news from the sprint car community. Being almost five hours apart I never understood some of the angst from fans, teams, and some officials on both sides of the situation with both Knoxville and Badlands racing on Saturday nights. Fans at all three venues should be able to see each track's premier events next season. The move of the Rock and Roll Gold Cup at Badlands before the Knoxville Nationals instead of after is a wise move and should increase enthusiasm for that event.
Hall of Fame sprint car announcer Windy McDonald passed away this week. McDonald was a staple of sprint car racing, widely known for his work at Manzanita Speedway. Our thoughts and prayers are with McDonald's family and friends.
Schedules are already starting to appear for 2017. Badlands and Knoxville already have schedules released with several other series and tracks indicating we may see schedule releases before the PRI Show in November.