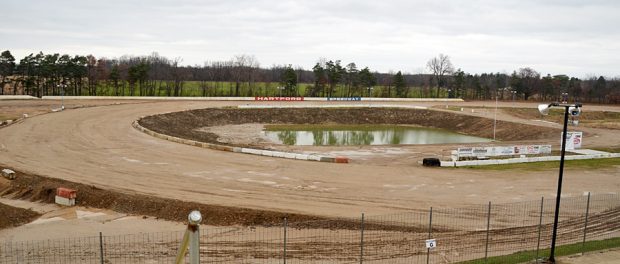 From TW Photographics
HARTFORD, Mich. (December 2, 2016) — With the completion of the 2016 racing season, Hartford Speedway owners Tim and Leah Dibble sat down with a vision to add to the excitement for the 2017 season.
"As an entertainment facility we needed to look at all our options to attract new customers. While our car counts have slowly increased, we feel the new design will welcome cars from all over the country, while giving our die hard fans some of the speed they are used to seeing" stated Tim Dibble.
The track was turned from a half mile into a non-symmetrical 3/8 which should prove to be challenging and fast also, as it maintains the track width that everyone was accustomed to. To get this accomplished, the former turns three and four of the half mile were moved toward turns one and two. This project would prove to be a huge undertaking, as a tremendous amount of fill and labor hours would be needed in order to complete the project. Two weeks into the project, Tim and Leah's son Timmy would be diagnosed with a health issue. Tim stated "I was ready to scrap the project immediately so we could focus on our son, but Mark pushed thru the project and made it happen". Mark from Puhrman Excavating worked day in and day out for 6 plus weeks to keep the project moving forward, while Tim would stop in to help, when he could.
While the project was in the works, a few drivers ventured to the facility to have a peek at the work that had taken place, with nearly everyone saying "wow, we can't wait". I asked Tim about the people who really liked the ½ mile and what he would say to those who didn't like the move to switch track sizes.
"For the long term sustainability of Hartford Speedway, I feel we needed to make this move, and I would rather grow as a 3/8 mile versus dying off as a 1/2 mile". Dibble went on to say "For those who don't initially embrace the change, I think people will enjoy the excitement of the new layout, and I would ask them to give it a chance with cars on it".
Hartford Speedway would like to take a second to thank the fans, drivers and track sponsors for your support during the 2016 season, and we hope to have your continued support in 2017.
The current schedule is being worked on, and the 2017 weekly classes of cars will be the UMP Modifieds, UMP Stock Cars, Cyber Stocks and Mini Wedges, with special events to be announced.