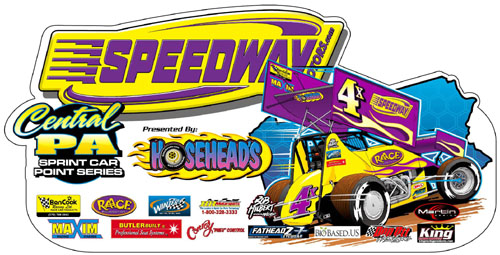 From Alan Holland
Blake and Brock Robertson with BR Motorsports have come on board as co-title sponsors with Champion Racing Oil for the 2017 Central PA Sprint Cars points title. BR Motorsports is based out of Visalia CA and they are celebrating their 24th year in business. BR Motorsports is the world's largest supplier of sprint car & midget products with over 250,000 parts in stock with same day shipping. They have also been a supporter of Hoseheads for almost 20 years and now they are behind Central PA Sprint Car racing. Champion Racing Oil out of Clinton MO is an industry leader in development of synthetic motor oils for motorsports and racing. They are in their 5th year as co-title sponsor of the Central PA Sprint Car Series. Both companies are huge supporters of sprint car racing all over the country. You see there name on sprint cars from East to West and will be the names at the top of the Central PA Sprint Car Series for 2017.
The 2016 season ran for ten months starting on February 28th at Lincoln Speedway and ending in November at Susquehanna Speedway. Teenager Matt Campbell claimed the 2016 Rookie of the Year title. He received product certificates from Shaver Wesmar Gear Drives, Zemco Speed Equipment, Kreitz Oval Track Parts and a $500 apparel discount from Bob Hilbert Sportswear. The top 10 in final points all received checks from the $23,000 point fund with champion Greg Hodnett getting $6,000 back to 10th place Ryan Smith receiving $1,000. Speedway Motors, Champion Racing Oil, Hoseheads.com, CnB Chubby, ButlerBuilt Seats, Conroy "Pneu" Control, Hoosier Tire Mid-Atlantic, Maxim Chassis, RAACE, Eagle Motorsports Inc., Winters Performance Products, Capitol Renegade and Fast Tees all contributed to the 2016 point fund.
All of the above sponsors are staying with the series for the 2017 season. Speedway Motors will be moving to a $1,000 associate sponsor creating a 2017 point fund of $24,000 to be sent out to the top 10 drivers in December.
Drivers also received an assortment of product certificates from Panchos Racing Products, Kreitz Oval Track Parts, Keizer Aluminum Wheels, Rod End Supply, Zemco Speed Equipment and ATL Fuel Cells.
Champion Greg Hodnett received a 50% off product certificate from Triple X Chassis and a jacket from Infinity Designs. 2nd place Danny Dietrich received a $500 product discount from Maxim Racing.