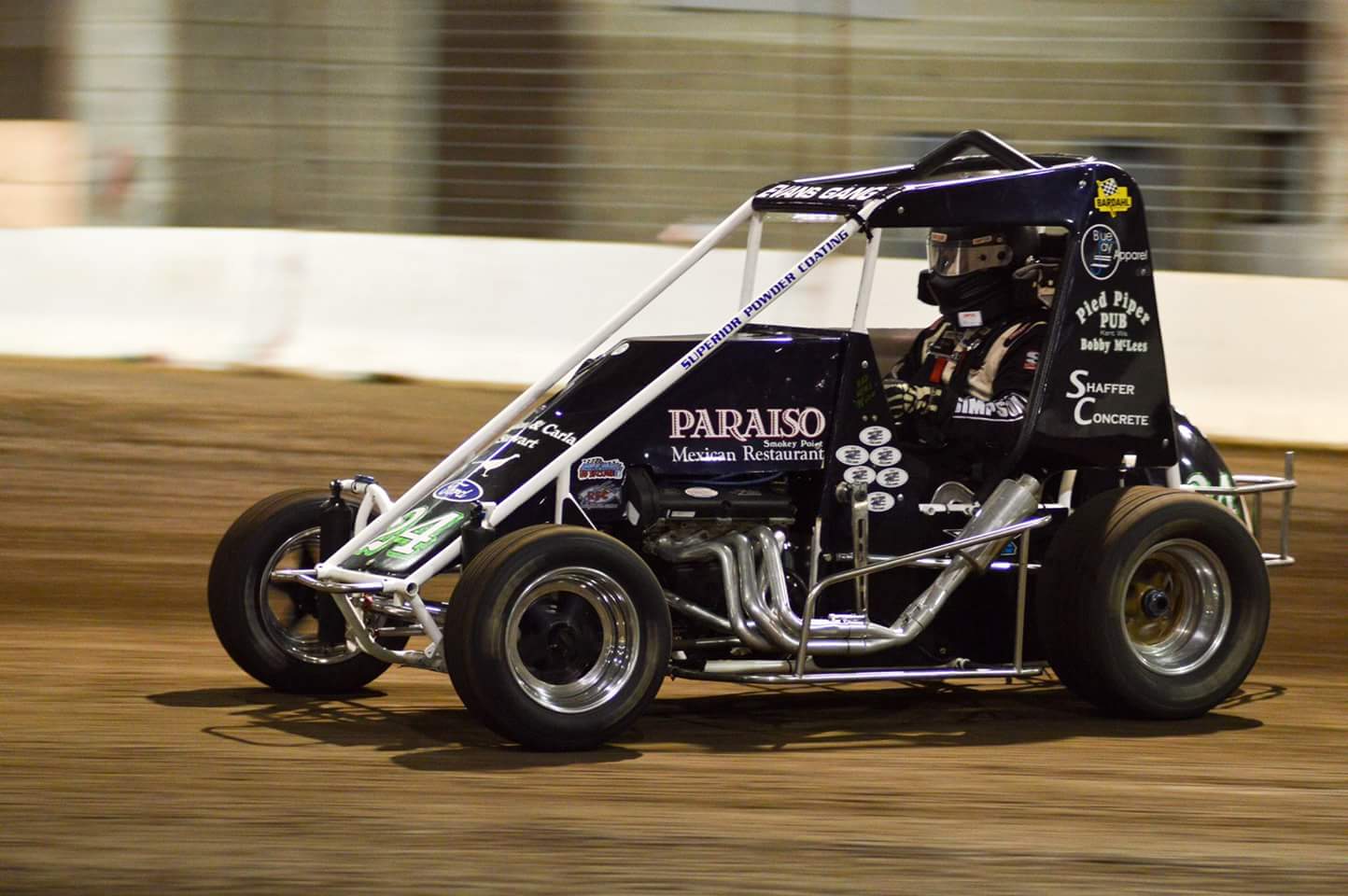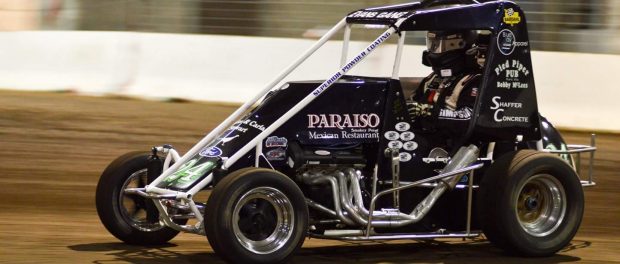 From Ben Deatherage
GRANITE FALLS, Wa. (January 31, 2017) – 2016 was quite the season for Nick Evans, especially with the Northwest Focus Midget Series. Not only would Evans capture six victories with the tour but he also would finish amongst the top five on sixteen occasions in nineteen starts on his was to being crowned the series champion. But it didn't stop there as Nick would claim the 2016 Skagit Speedway Midget title and grabbed the checkers at the inaugural Fall Classic at Salem Indoor Speedway in November. Quite impressive considering it was just the second season that the Granite Falls pilot had been in the cockpit of the Gary Kallicott Landscape Service/Wirth Brothers/Paraiso Mexican Restaurant/Pied Piper Pub/Shaffer Concrete/Blue Jay Apparel/Bardahl Lubricants & Additives/Highline Performance #24 Stealth.
"The first year back I was getting the cobwebs out and last year everything just seemed to click," stated Evans.
Of the six triumphs with the Northwest Focus Midget Series they were all evenly divided among three tracks, all in his native state of Washington. Grays Harbor Raceway, Skagit Speedway, and Deming Speedway would see Evans grace victory lane two times at each facility. The 2017 series schedule will feature some new places which are sure to be an interesting twist.
"The schedule is a little different this year but I'm still going to try and make all twenty-six shows. We'll have to see what happens but I'm really excited to go back to Oregon and hopefully get a win. We're also going to Chico (Silver Dollar Speedway late in the year) and I've always wanted to go there to race so it looks like I'll finally get my chance. Our goal is to go for another series championship."
Nick Evans is a third-generation driver, following in the footsteps of his father Mike as well as his grandfather Chuck, and was the winner of the 2004 Northern Sprint Tour Rookie of the Year award. He would continue to race Sprint Cars until 2008 before taking a seven-year hiatus and returning in 2015 with the Northwest Focus Midget Series.
"I feel privileged to be a champion of what Carla and Gaylon have put together. Their hearts are in it and they care about the drivers and make it fair for everybody. I've been around racing a long time and have never been a part of something like the Northwest Focus Midgets."
For all the latest news and info regarding the Northwest Focus Midget Series visit http://www.northwestfocusmidgets.com/ You can also get information via your favorite mobile device by checking out the Northwest Focus Midget Series page on Facebook or on Twitter @NW_focus. If you can't make it to the races you can watch LIVE on the RacingBoys Broadcast Network at http://www.racinboys.com
2017 Northwest Focus Midget Series Schedule:
Friday, April 14th-Deming Speedway-Deming, Washington
Saturday, April 29th-Grays Harbor Raceway-Elma, Washington
Friday, May 5th-Deming Speedway-Deming, Washington (NWFMS Round 1)
Saturday, May 6th-Skagit Speedway-Alger, Washington
Saturday, May 20th-Grays Harbor Raceway-Elma, Washington
Saturday, May 27th-Southern Oregon Speedway-White City, Oregon (NWFMS Round 2)
Friday, June 2nd-Deming Speedway-Deming, Washington
Saturday, June 3rd-Skagit Speedway-Alger, Washington
Saturday, June 10th-Grays Harbor Raceway-Elma, Washington (NWFMS Round 3)
Friday, June 16th-Deming Speedway-Deming, Washington
Thursday, June 22nd-Skagit Speedway-Alger, Washington
Friday, June 23rd-Skagit Speedway-Alger, Washington
Friday, June 30th-Grays Harbor Raceway-Elma, Washington
Saturday, July 1st-Grays Harbor Raceway-Elma, Washington
Friday, July 7th-Deming Speedway-Deming, Washington (NWFMS Round 4)
Saturday, July 22nd-Sunset Speedway Park-Banks, Oregon (NWFMS Round 5)
Friday, July 28th-Deming Speedway-Deming, Washington
Saturday, July 29th-Skagit Speedway-Alger, Washington (NWFMS Round 6)
Saturday, August 5th-Grays Harbor Raceway-Elma, Washington
Friday, August 11th-Deming Speedway-Deming, Washington
Saturday, August 26th-Skagit Speedway-Alger, Washington (NWFMS Round 7)
Friday, September 1st-Skagit Speedway-Alger, Washington
Sunday, September 3rd-Grays Harbor Raceway-Elma, Washington (NWFMS Round 8)
Friday, September 8th-Deming Speedway-Deming, Washington
Friday, September 29th-Silver Dollar Speedway-Chico, California (NWFMS Round 9)
Saturday, September 30th-Silver Dollar Speedway-Chico, California (NWFMS Round 10)
Former Northwest Focus Midget Series Champions
2015- Tristan Thomas
2016- Nick Evans