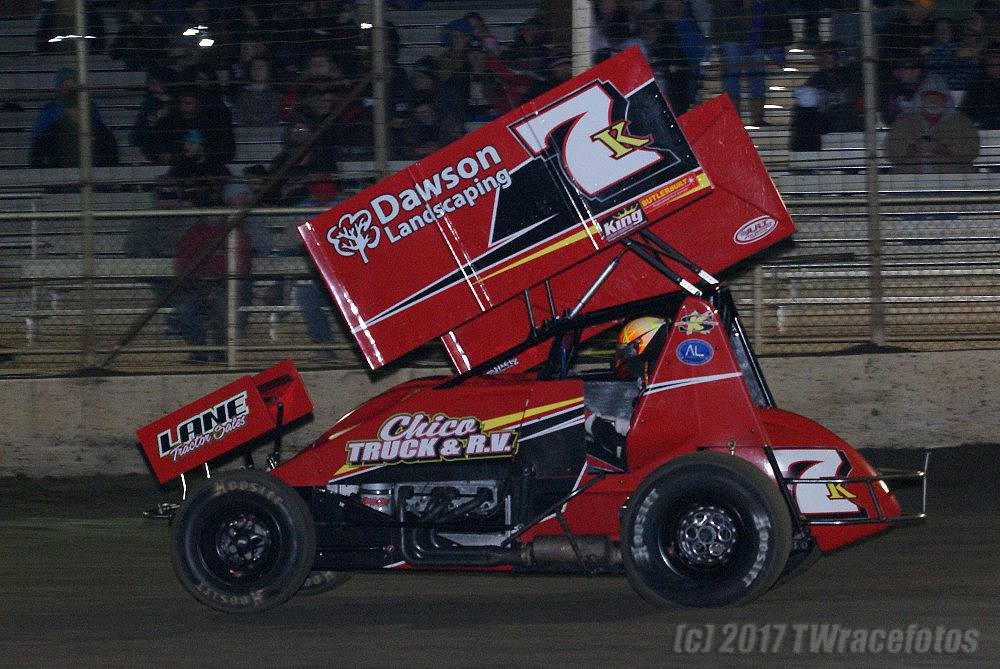 From Petersen Media
Taking advantage of an early season race at Marysville Raceway on Saturday night, Kenny Allen overcame some early bugs to pick up a fifth place finish.
"It was an okay night for us," Kenny Allen said. "We had some speed, but I wasn't too happy with how I performed personally."
Kicking his night off with a great lap during qualifying time trials, Allen timed the Chico Truck and RV/Dawson Landscaping/Lane Tractor sales backed No. 7k entry in third fastest overall.
Lining up in the second row of his heat race, the Chico, CA driver would hold the position as he was a little too tight for his liking on an extremely rough and hooked up Marysville Raceway surface.
With a good qualifying time putting him in the nightly redraw, Allen would pull the five pill which placed him in the third row for the first feature event of the 2017 season.
As the track continued to get more rough as the night moved along, Allen would have his hands full on the tricky surface like many of the other drivers on this night. Able to pick up a few spots in the early goings of the race, Allen would see a couple of cars get by him in the waning laps as he tripped over some extremely treacherous ruts.
When the checkered flag flew on the Sherm and Loree Toller Memorial, Allen crossed the finish line with a fifth place finish.
"Richard Brown, my dad, and my crew had the car pretty good, but I just made some mistakes trying to navigate a tricky track," Allen said. "I know I didn't have the car to beat Netto (race winner), but if I eliminate my mistakes we have a better finish."
Kenny Allen would like to thank Chico Truck and RV, Dawson Landscaping, and Lane Tractor Sales for their support in 2017.