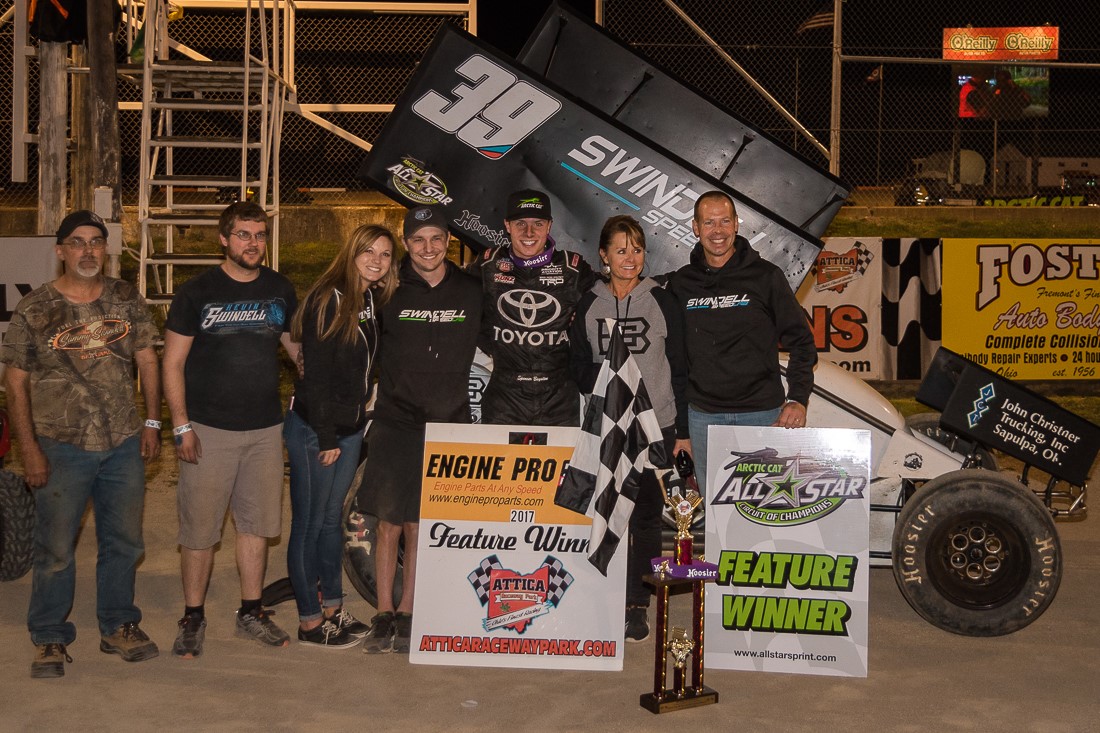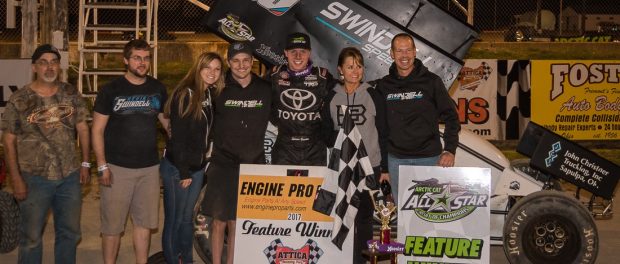 From Brian Liskai
ATTICA, Ohio (April 15, 2017) – In just his 15th time behind the wheel of a winged sprint car and only his second night – the first was Friday – racing at Attica Raceway Park, Lebanon, Indiana's Spencer Bayston scored his first ever Arctic Cat All Star Circuit of Champions win. Bayston's $5,000 win closed out a perfect weekend of racing for the 28th Annual HD Supply Spring Nationals presented by Merrill Lynch Financial Services and Fisher Performance.
Bayston became the third consecutive driver to record his first career win at Attica, following Caleb Helms and Friday night's winner D.J. Foos. His win came on the 113th appearance of the All Stars at the track.
Bayston, 18, has primarily raced midgets so far in his young driving career, including finishing runner-up in the USAC National Midget standings in 2016. Last year he hooked up with Kevin and Jordan Swindell to run a few sprint car races.
"Thank you so much Kevin and Jordan…they built this program. It's unbelievable what they can do to get me comfortable. We ran a hand full of races last year just because Kevin bought a frame and then he bought this and he bought that and we borrowed a trailer and went and ran as many races as we could. Then we came out this year and they put some serious time and effort into this thing and I cannot thank them enough. It's going to be a fun year," said Bayston beside his Premier Trucking, Walker Filters, Swindell Speed Lab, John Christner Trucking back #39.
Bayston had built a four second lead late in the race but a caution with eight laps to go put Cole Duncan and Tim Shaffer right on his rear bumper. Bayston hit his marks perfectly and pulled away for the win.
"There in traffic we were getting through I thought pretty clean. I wasn't sure who was behind me. I was just trying to conserve my tires until I could start to feel the rubber build. But holy crap we're in victory lane at Attica. I didn't even know where to go. I went on the front stretch like I guess that's where to go. This place is packed. Thank you to all of you who came out," Bayston said.
Lockborne, Ohio's Cole Duncan, who led the first eight laps, would hold off Tim Shaffer for a second place run.
"Spencer was too good all weekend. He was probably the best car all weekend. Congrats to those guys. They are going to be fun to race with this year. They are going to be a hand full obviously," Duncan said.
"We were really bad in the heat race and just kind of hung on. My guys went to work. I can't thank Jamie and my dad and the rest of my crew enough. We threw everything but kitchen sink at it for the dash and made a big stride. We were pretty good in the feature and were probably a third place car…Macedo (Carson) was pretty good too. We did all we could," added Duncan beside his Helm's Construction, Motorcity Auto Transport; EcoMend, Wolfden Products backed #22.
Four time All Star champion Tim Shaffer battled in the top four the entire 40-lap feature and settled for a third place finish.
"The guys are just working really hard. It's fun to be competitive again. With Cody Jacobs on board I don't have to think any more…I just have to drive. The Rudzik and Demyan guys are just giving us great equipment and are behind us 100 percent," said Shaffer of his Rudzik Excavating, Triple X Chassis, VRP Shocks, FK Rod Ends, Scoville Designs backed #49.
Mike Bores celebrated his birthday in style, winning his third career late model feature at Attica. It wasn't easy for the Bellevue, Ohio driver as he waged a terrific battle with Ryan Markham, Eric Spangler and Devin Shiels.
"That white flag came and I was like 'don't mess your marks up because the guys will rip my butt when I get back to the trailer. This is the best birthday gift I've ever had. I have to thank Underground Utilities, Accu-force, Burns Electric, Cam-Tec, Hawk's Auto Reconditioning and all my guys who worked their butts off this morning," Bores said.
Gibsonburg, Ohio's Nate Dussel grabbed the lead when Chase Dunham slipped off the track on lap 10 and then nursed home a smoking engine to claim his 15th career Attica win in the Fremont Fence 305 Sprints.
"I'm pretty sure we toasted a two-race-old motor. That puts a damper on it. It will be a fun little Easter Sunday cleaning up all this oil and ripping a motor out. I thought with eight to go it was at 260 (degrees) but I heard Scott Gressman (engine builder) saying if you pull in I'll punch you. I guess we'll just pay the price. I had to figure Bobby Clark was on the move if he was second and honestly if he would have passed me I would have pulled off. He wasn't showing his nose so I wasn't going to pull off even though I was getting covered in fluid," Dussel said.
"I can't thank everyone enough who's on the side of this. We have a beautiful race car and it's because of all their help. Al Davis of Al Davis Carpet and Tracy with Industrial Movers…his son is here tonight. Have to thank Bill Berrier and Real Geese and Scott Gressman and Donnie Atkinson and Wurtec," added Dussel.
In the 40-lap All Star feature Duncan and Macedo brought the field to green with Duncan gaining the advantage over Shawn Dancer, Macedo, Jordan Ryan and Tim Shaffer. Jac Haudenschild would suffer front damage to bring out the caution. Another caution flew with three laps scored with the running order Duncan, Macedo, Dancer, Schaffer, Bayston, Chris Andrews and Chad Kemenah.
Once the green flew again the battle up front was entertaining with Duncan trying to hold off Macedo while Dancer, Shaffer, Bayston, Ryan and Kemenah battled. By the eighth circuit Duncan and Macedo were trading "sliders" for the lead with Bayston closing.
Macedo used heavy lapped traffic on the ninth lap to grab the lead while Bayston took the runner-up spot on lap 11. Dancer's good run came to an abrupt halt on lap 13 as he spun off the track. The restart order was Macedo, Bayston, Shaffer, Duncan, Kemenah, Ryan, Byron Reed (from 17th) and Dale Blaney (from 14th).
Macedo's run at the front came to an end a lap later as his mount lost power, handing the lead to Bayston. When the green flew so did Bayston, driving to a nearly three second lead as he raced into lapped traffic. Meanwhile Duncan and Shaffer were locked in a good battle for second while Ryan and Kemenah raced hard for fourth with Travis Philo and Blaney staying close.
Now the car on the move was Ryan Smith who took a provisional and started 25th and by lap 22 had worked his way to eighth.
Bayston's lead grew to four second when the caution flew for Ryan who spun while battling for fourth with eight laps to go. Bayston got a great restart and drove to the win while Duncan held off Shaffer for the runner-up spot. Rounding out the top five were Blaney and current All Star point leader Kemenah.
Rounding out the top 10 were Philo, Smith, Caleb Armstrong, Andrews and Brian Lay.
The 25-lap Summit Racing Equipment UMP Late Model feature got off to a slow start with a couple of multi-car crashes. Once things settled down it was a barn-burner.
Ryan Markham jumped into the early lead but he had company in the form of Cody Scott, Shiels, Spangler, Bores and Friday night's winner Doug Drown. Markham led by a nose lap after lap while the runner-up spot changed hands nearly every lap.
At the half-way point Markham led Spangler, Bores, Shiels, Drown, Scott and Brian Ruhlman. Bores, using the extreme low groove, took second on lap 15 and challenged Markham while Spangler often made it three wide for the lead.
After 18 green flag laps the caution flew just after Bores had taken the lead. Bores would hit his marks the final seven laps, though he made contact on several occasions with the infield tractor tires, and drove to the win over Shiels, Spangler, Matt Irey and Markham.
Kevin Mingus and Chase Dunham brought the field to green for the 25 lap 305 sprint main with Mingus gaining the slight advantage. Dunham grabbed the lead on the second circuit with Mingus hanging tough while Dussel, Ricky Peterson, John Ivy and Steve Rando giving chase.
Following a lap three caution, Dunham continued to lead Dussel, Mingus, Peterson, Bobby Clark and Ivy. Mingus would spin while battling for third on lap four. When the green reappeared Dunham drove away from the field while Dussel held off Clark and Peterson for second.
Dunham got over the turn two banking on lap 10, handing the lead to Dussel with Clark and Peterson taking second and third. Dussel hit heavy lapped traffic on lap 14 allowing Clark and Peterson to close while Rando and John Ivy battling for fourth.
A caution with nine laps to go gave Dussel a clear track over Clark, Peterson and Rando. However, as the green came back out and the laps ticked off, smoke began billowing from under the hood of Dussel's mount.
Dussel dropped down and began nursing his ailing sprint car as Clark and Rando closed. Dussel was able to hang on for the win over Clark, Rando, Peterson and Jamie Miller.
Attica Raceway Park will be back in action Friday, April 21 on Bazell Race Fuels Night with the late models, 305 sprints and dirt trucks in action.
For more information go to www.atticaracewaypark.com or follow the track on Twitter @atticaracewyprk or on Facebook at www.facebook.com/atticaracewaypark and Instagram at attica_raceway_park.
Attica Raceway Park
HD Supply Spring Nationals
Arctic Cat All Star Circuit of Champions
Starting position [*]
Qualifying
1.35-Tyler Esh, 12.635; 2.10H-Chad Kemenah, 12.694; 3.45L-Brian Lay, 12.701; 4.39-Spencer Bayston, 12.768; 5.22C-Cole Duncan, 12.830; 6.49x-Tim Shaffer, 12.847; 7.3G-Carson Macedo, 12.891; 8.49-Shawn Dancer, 12.900; 9.5R-Byron Reed, 12.909; 10.22B-Ryan Broughton, 12.979; 11.23-DJ Foos, 13.018; 12.17-Caleb Helms, 13.056; 13.16-Chris Andrews, 13.084; 14.9Z-Duane Zablocki, 13.106; 15.3J-Trey Jacobs, 13.151; 16.5T-Travis Philo, 13.172; 17.9M-Jordan Ryan, 13.183; 18.33M-Max Stambaugh, 13.195; 19.81-Lee Jacobs, 13.225; 20.95-Hunter Mackison, 13.257; 21.22-Brandon Spithaler, 13.267; 22.8M-TJ Michael, 13.283; 23.11N-Dale Blaney, 13.312; 24.7-Shawn Valenti, 13.327; 25.60-Jody Keegan, 13.356; 26.5-Jordan Harble, 13.370; 27.7C-Caleb Armstrong, 13.375; 28.8J-Jess Stiger, 13.380; 29.5K-Adam Kekich, 13.381; 30.8-Dean Jacobs, 13.429; 31.35s-Stuart Brubaker, 13.442; 32.13-Brandon Matus, 13.456; 33.59-Ryan Smith, 13.481; 34.6M-Jac Haudenschild, 13.499; 35.9C-Roger Campbell, 13.505; 36.9X-Thomas Meseraull, 13.626; 37.60K-Kory Crabtree, 13.670; 38.4H-Tracy Hines, 13.700; 39.15H-Mitch Harble, 13.712; 40.4-Brian Smith, 13.739; 41.1080-Jordan Mackison, 13.754; 42.59N-Bryan Nuckles, 13.865; 43.9-Ryan Linder, 13.888; 44.22M-Dan McCarron, 14.034; 45.51-John Garvin, 14.580; 46.49H-Bradley Howard, 14.741; 47.33-Brent Matus, 14.863;
Heat 1, Group A – (10 Laps, top 5 to A)
1. 49-Shawn Dancer[3] ; 2. 45L-Brian Lay[4] ; 3. 6M-Jac Haudenschild[8] ; 4. 35s-Stuart Brubaker[7] ; 5. 9Z-Duane Zablocki[2] ; 6. 8M-TJ Michael[5] ; 7. 4H-Tracy Hines[10] ; 8. 9-Ryan Linder[11] ; 9. 9C-Roger Campbell[9] ; 10. 49H-Bradley Howard[12] ; 11. 33M-Max Stambaugh[1] ; 12. 60-Jody Keegan[6]
Heat 2, Group B – (10 Laps, top 5 to A)
1. 39-Spencer Bayston[2] ; 2. 10H-Chad Kemenah[3] ; 3. 3G-Carson Macedo[5] ; 4. 22C-Cole Duncan[1] ; 5. 22B-Ryan Broughton[6] ; 6. 35-Tyler Esh[4] ; 7. 17-Caleb Helms[7] ; 8. 8-Dean Jacobs[10] ; 9. 8J-Jess Stiger[9] ; 10. 1080-Jordan Mackison[12] ; 11. 3J-Trey Jacobs[8] ; 12. 15H-Mitch Harble[11]
Heat 3, Group C – (10 Laps, top 5 to A)
1. 9M-Jordan Ryan[1] ; 2. 49x-Tim Shaffer[4] ; 3. 23-DJ Foos[2] ; 4. 11N-Dale Blaney[6] ; 5. 5R-Byron Reed[3] ; 6. 81-Lee Jacobs[5] ; 7. 59-Ryan Smith[9] ; 8. 13-Brandon Matus[8] ; 9. 4-Brian Smith[10] ; 10. 22M-Dan McCarron[11] ; 11. 51-John Garvin[12] ; 12. 5-Jordan Harble[7]
Heat 4, Group D – (10 Laps, top 5 to A)
1. 16-Chris Andrews[4] ; 2. 22-Brandon Spithaler[1] ; 3. 5T-Travis Philo[3] ; 4. 7C-Caleb Armstrong[6] ; 5. 9X-Thomas Meseraull[8] ; 6. 95-Hunter Mackison[2] ; 7. 7-Shawn Valenti[5] ; 8. 5K-Adam Kekich[7] ; 9. 59N-Bryan Nuckles[10] ; 10. 33-Brent Matus[11] ; 11. 60K-Kory Crabtree[9]
Dash 1 – (4 Laps, determines inside line up for feature)
1. 22C-Cole Duncan[2] ; 2. 9M-Jordan Ryan[3] ; 3. 49x-Tim Shaffer[4] ; 4. 39-Spencer Bayston[5] ; 5. 10H-Chad Kemenah[1]
Dash 2 – (4 Laps, determines outside line up for feature)
1. 3G-Carson Macedo[2] ; 2. 49-Shawn Dancer[4] ; 3. 16-Chris Andrews[1] ; 4. 45L-Brian Lay[3] ; 5. 22-Brandon Spithaler[5]
C-Main 1 – (10 Laps, top 2 to B)
1. 60K-Kory Crabtree[2] ; 2. 22M-Dan McCarron[9] ; 3. 4H-Tracy Hines[3] ; 4. 51-John Garvin[10] ; 5. 9C-Roger Campbell[1] ; 6. 49H-Bradley Howard[11] ; 7. 33-Brent Matus[12] ; 8. 9-Ryan Linder[8] ; 9. 4-Brian Smith[5] ; 10. 15H-Mitch Harble[4] ; 11. 59N-Bryan Nuckles[7] ; 12. 1080-Jordan Mackison[6] ; 13. 3J-Trey Jacobs[13]
B-Main 1 – (12 Laps, top 4 to A)
1. 17-Caleb Helms[2] ; 2. 81-Lee Jacobs[4] ; 3. 33M-Max Stambaugh[3] ; 4. 8M-TJ Michael[6] ; 5. 60-Jody Keegan[8] ; 6. 35-Tyler Esh[1] ; 7. 7-Shawn Valenti[7] ; 8. 60K-Kory Crabtree[15] ; 9. 5K-Adam Kekich[11] ; 10. 59-Ryan Smith[14] ; 11. 5-Jordan Harble[9] ; 12. 95-Hunter Mackison[5] ; 13. 22M-Dan McCarron[16] ; 14. 8-Dean Jacobs[12] ; 15. 13-Brandon Matus[13] ; 16. 8J-Jess Stiger[10]
A-Main 1 – (40 Laps)
1. 39-Spencer Bayston[7] ; 2. 22C-Cole Duncan[1] ; 3. 49x-Tim Shaffer[5] ; 4. 11N-Dale Blaney[14] ; 5. 10H-Chad Kemenah[9] ; 6. 5T-Travis Philo[12] ; 7. 59-Ryan Smith[25] ; 8. 7C-Caleb Armstrong[15] ; 9. 16-Chris Andrews[6] ; 10. 45L-Brian Lay[8] ; 11. 9X-Thomas Meseraull[20] ; 12. 5R-Byron Reed[17] ; 13. 17-Caleb Helms[21] ; 14. 9M-Jordan Ryan[3] ; 15. 33M-Max Stambaugh[23] ; 16. 35s-Stuart Brubaker[16] ; 17. 22B-Ryan Broughton[18] ; 18. 8M-TJ Michael[24] ; 19. 49-Shawn Dancer[4] ; 20. 9-Ryan Linder[26] ; 21. 9Z-Duane Zablocki[19] ; 22. 3G-Carson Macedo[2] ; 23. 23-DJ Foos[11] ; 24. 22-Brandon Spithaler[10] ; 25. 6M-Jac Haudenschild[13] ; 26. 81-Lee Jacobs[22]
Hard Charger: 59-Ryan Smith +18
Fremont Fence
305 Sprints –
Heat 1 – (8 Laps, top 5 to A)
1. 1-Nate Dussel[1] ; 2. 66-Jamie Miller[2] ; 3. 2-Ricky Peterson[3] ; 4. 12-Kyle Capodice[4] ; 5. 11X-Jordan Ryan[7] ; 6. 5JR-Jimmy McGrath[6] ; 7. 26-Ryan French[5] ; 8. 09-Justin Adams[9] ; 9. 14-Luke Daugherty[8]
Heat 2 – (8 Laps, top 5 to A)
1. 77I-John Ivy[2] ; 2. 94K-Kevin Mingus[1] ; 3. 66D-Chase Dunham[4] ; 4. 8-Bobby Clark[3] ; 5. 36-Seth Schneider[7] ; 6. 20I-Kelsey Ivy[6] ; 7. 25-Jason Keckler[8] ; 8. 3X-Brad Keckler[5] ; 9. 13-Jeremy Duposki[9]
Heat 3 – (8 Laps, top 5 to A)
1. 1W-Paul Weaver[6] ; 2. 2L-Landon LaLonde[2] ; 3. 19R-Steve Rando[8] ; 4. 23-Chase Baker[1] ; 5. 47-Matt Lucius[3] ; 6. 41-Thomas Schinderle[7] ; 7. 1X-Tyler Street[4] ; 8. 11XE-George Englert[5]
B-Main 1 – (10 Laps, top 5 to A)
1. 41-Thomas Schinderle[3] ; 2. 5JR-Jimmy McGrath[1] ; 3. 20I-Kelsey Ivy[2] ; 4. 3X-Brad Keckler[8] ; 5. 1X-Tyler Street[6] ; 6. 25-Jason Keckler[5] ; 7. 13-Jeremy Duposki[11] ; 8. 11XE-George Englert[9] ; 9. 14-Luke Daugherty[10] ; 10. 09-Justin Adams[7] ; 11. 26-Ryan French[4]
A-Main 1 – (25 Laps)
1. 1-Nate Dussel[3] ; 2. 8-Bobby Clark[8] ; 3. 19R-Steve Rando[7] ; 4. 2-Ricky Peterson[6] ; 5. 66-Jamie Miller[10] ; 6. 77I-John Ivy[4] ; 7. 36-Seth Schneider[14] ; 8. 12-Kyle Capodice[11] ; 9. 11X-Jordan Ryan[13] ; 10. 2L-Landon LaLonde[9] ; 11. 41-Thomas Schinderle[16] ; 12. 23-Chase Baker[12] ; 13. 5JR-Jimmy McGrath[17] ; 14. 1X-Tyler Street[20] ; 15. 47-Matt Lucius[15] ; 16. 94K-Kevin Mingus[1] ; 17. 3X-Brad Keckler[19] ; 18. 20I-Kelsey Ivy[18] ; 19. 66D-Chase Dunham[2]
Hard Charger: 36-Seth Schneider +7
Summit Equipment UMP Late Models –
Heat 1 – (8 Laps, top 5 to A)
1. 15B-Mike Bores[2] ; 2. 8-Rob Anderzack[3] ; 3. 19-Cody Scott[5] ; 4. 36-Matt Irey[7] ; 5. 06-Jake Rendel[1] ; 6. 17X-Dustin Keegan[8] ; 7. RH21-Gregg Haskell[4] ; 8. 28K-Tate O'Leary[6] ; 9. 0-Brian O'Brian[9]
Heat 2 – (8 Laps, top 5 to A)
1. 27S-Eric Spangler[1] ; 2. 240-Doug Drown[3] ; 3. 49-Brian Ruhlman[2] ; 4. 240X-Charlie Duncan[6] ; 5. 97-Brett Miller[7] ; 6. 006-Jarrett Rendel[5] ; 7. 42*-Bob Mayer[4] ; 8. P3-Truck Robertson[8]
Heat 3 – (8 Laps, top 5 to A)
1. 5M-Ryan Markham[2] ; 2. 51-Devin Shiels[1] ; 3. 03-Jim Gingery[3] ; 4. 69-Jeff Warnick[4] ; 5. 1-Ben Mott[6] ; 6. 34-Ky Harper[7] ; 7. 44-Matt Shipley[5] ; 8. P33-Josh Robertson[8]
B-Main 1 – (10 Laps, top 5 to A)
1. 34-Ky Harper[3] ; 2. RH21-Gregg Haskell[4] ; 3. 44-Matt Shipley[6] ; 4. 17X-Dustin Keegan[1] ; 5. 006-Jarrett Rendel[2] ; 6. 42*-Bob Mayer[5] ; 7. P33-Josh Robertson[9] ; 8. P3-Truck Robertson[8] ; 9. 0-Brian O'Brian[10] ; 10. 28K-Tate O'Leary[7]
A-Main 1 – (25 Laps)
1. 15B-Mike Bores[7] ; 2. 51-Devin Shiels[4] ; 3. 27S-Eric Spangler[5] ; 4. 36-Matt Irey[9] ; 5. 5M-Ryan Markham[2] ; 6. 49-Brian Ruhlman[12] ; 7. 240-Doug Drown[10] ; 8. 19-Cody Scott[1] ; 9. 97-Brett Miller[14] ; 10. 44-Matt Shipley[18] ; 11. 8-Rob Anderzack[6] ; 12. 03-Jim Gingery[8] ; 13. 006-Jarrett Rendel[20] ; 14. RH21-Gregg Haskell[17] ; 15. 17X-Dustin Keegan[19] ; 16. 69-Jeff Warnick[3] ; 17. 240X-Charlie Duncan[11] ; 18. 06-Jake Rendel[13] ; 19. 34-Ky Harper[16] ; 20. 1-Ben Mott[15]
Hard Charger: 44-Matt Shipley +8