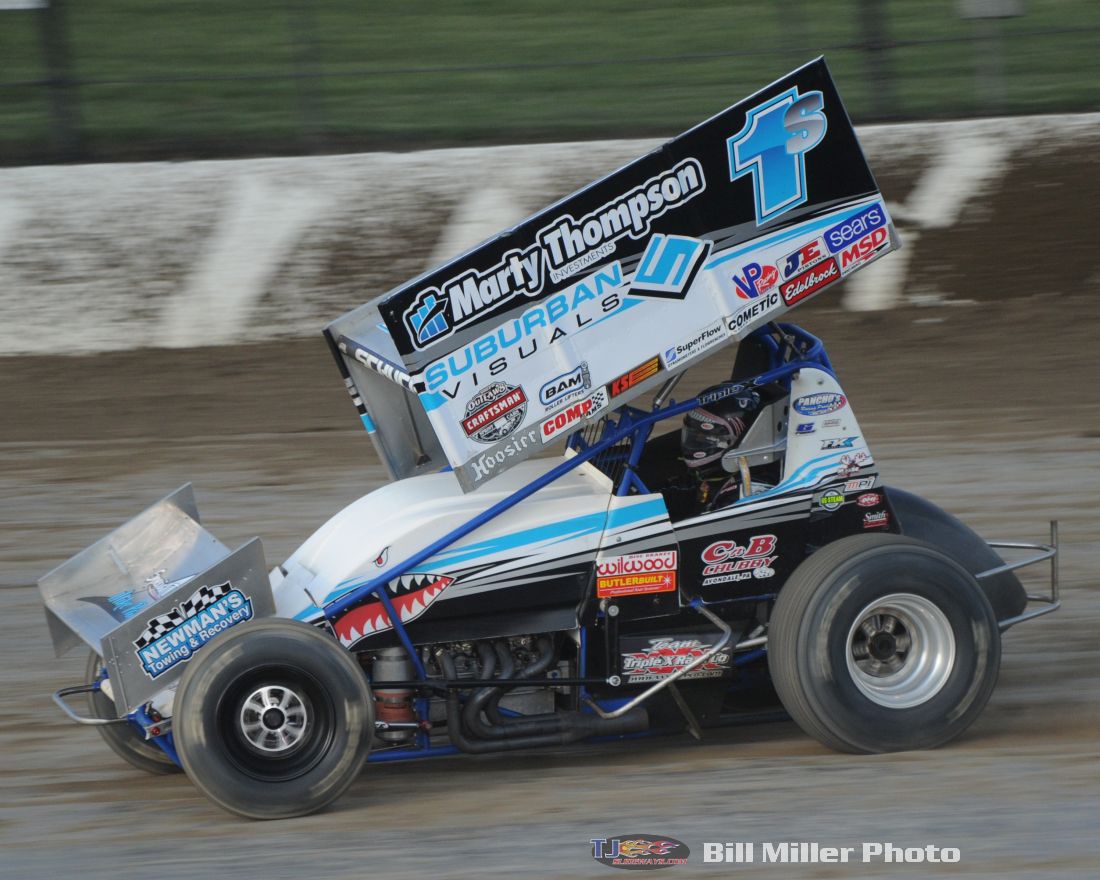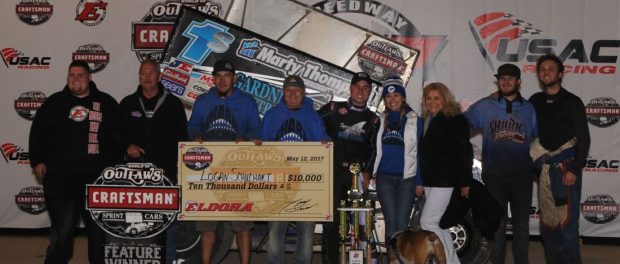 From Christina Cordova
ROSSBURG, Ohio (May 12, 2017) – Logan Schuchart scored his first-ever Eldora Speedway win Friday night during the #LetsRaceTwo opener, battling Eldora veteran Shane Stewart for the lead from laps eight through 12, after which Schuchart retained it for the remaining 18 laps to secure his fourth career World of Outlaws win and second win this season.
"It's the place you always want to win at," said the Shark Racing 1s driver about Eldora after his win. "As a little kid I dreamt about being a World of Outlaws driver. Eldora, with all the history behind it, it's really cool. My grandfather won the first Outlaw race here in '78, so being able to win this race with him by my side is really cool. I hope it means something for July. My grandfather won the Knoxville Nationals. He won the Williams Grove National Open. But nobody won the Kings Royal, so that's a race I really want to run well in, and this is where you get your notes and stuff. To win tonight, hopefully that means something for the next couple races in the next couple months."
Schuchart's win emerged from a field of 35 cars, a third of them Ohio natives. But the night went to the Outlaws. Following Schuchart into Victory Lane were fellow Outlaws Stewart and Brad Sweet. Quicktime went to Outlaw Jason Sides, the very first driver to qualify. Three of the four heat races went to Outlaws – the fourth going to Aliquippa, PA-native Tim Shaffer. The Dash went to Outlaw Jason Johnson. And all four that transfered from the Last Chance Showdown were Outlaws as well, with Kraig Kinser in the lead.
Meanwhile, Alvada, OH-native Chad Kemenah, who came in second on both nights of last year's #LetsRaceTwo, failed to make the Feature. And last year's winner, Kerry Madsen, was noticeably absent.
Initally, it was looking like a pretty good day for Jason Johnson, who started the Feature on the pole after winning the Craftsman Club Dash, which he also started on the pole after a full-field inversion stemming from a Dash draw of eight. But Stewart managed to steal Johnson's lead in lap seven, after which Johnson fell back and was overtaken by Sweet and points leader Donny Schatz, who had worked their way up from positions nine and seven respectively.
After qualifying in third and winning Heat 3, Schuchart started the Feature in the third row (fifth position) and jumped to third at the onset of the race. But when Stewart stole the lead from Johnson, the battle between Stewart and Schuchart was on. In lap nine, Schuchart finally took the lead from the JJR-Marshall 41, only to lose it again on a restart after a red flag on Ohio natives Trevor Philo and Jac Haudenschild, who collided outside turn one when Philo bounced off the wall. Three laps later, Schuchart took back his lead and held it through the checkers.
It was a night of celebration for Shark Racing, but not so much for Philo and J Haudenschild, who were both transported to a local hospital for further examination. Haudenschild, an Eldora veteran with six World of Outlaws wins and five USAC wins at the track, was there with his son and rookie Outlaw, Sheldon. According to a tweet from Haudenschild Racing, "Sheldon spoke to Jac, he's ready to leave the hospital and is insistent on racing tomorrow."
The World of Outlaws Craftsman Sprint Car Series returns to Eldora Speedway again on Saturday, May 13 for night two of #LetsRaceTwo.
World of Outlaws Craftsman Sprint Car Series
Eldora Speedway
Rossburg, OH
Friday May 12, 2017
Qualifying: 1. 7S-Jason Sides, 13.843; 2. 15-Donny Schatz, 14.065; 3. 1S-Logan Schuchart, 14.24; 4. 1A-Jacob Allen, 14.299; 5. 93-Sheldon Haudenschild, 14.319; 6. 44-Trey Starks, 14.376; 7. 48-Danny Dietrich, 14.401; 8. 49X-Tim Shaffer, 14.427; 9. 2-Shane Stewart, 14.443; 10. 24-Rico Abreu, 14.476; 11. 9-Daryn Pittman, 14.536; 12. 41-Jason Johnson, 14.593; 13. A67-Brandon Wimmer, 14.607; 14. 5-David Gravel, 14.624; 15. 11K-Kraig Kinser, 14.635; 16. W20-Greg Wilson, 14.636; 17. 49-Brad Sweet, 14.655; 18. 12N-Cole Duncan, 14.71; 19. 11N-Dale Blaney, 14.733; 20. 6M-Jac Haudenschild, 14.753; 21. 17-Joey Saldana, 14.844; 22. 49D-Shawn Dancer, 14.854; 23. 5T-Travis Philo, 14.865; 24. 20N-Hunter Schuerenberg, 14.867; 25. 45L-Brian Lay, 14.869; 26. 17X-Caleb Helms, 14.912; 27. 7C-Caleb Armstrong, 14.941; 28. 4-Paul McMahan, 14.982; 29. 19-Brent Marks, 14.998; 30. 10H-Chad Kemenah, 15; 31. 7J-Joe Swanson, 15.148; 32. 13-Clyde Knipp, 15.247; 33. 45-Trevor Baker, 15.264; 34. 99-Brady Bacon, 15.376; 35. 83X-Adam Cruea, NT
Heat #1 (8 Laps) – Top 5 Transfer: 1. 2-Shane Stewart [3]; 2. 7S-Jason Sides [1]; 3. 49-Brad Sweet [5]; 4. 17-Joey Saldana [6]; 5. A67-Brandon Wimmer [4]; 6. 19-Brent Marks [8]; 7. 45L-Brian Lay [7]; 8. 45-Trevor Baker [9]; 9. 93-Sheldon Haudenschild [2]
Heat #2 (8 Laps) – Top 5 Transfer: 1. 15-Donny Schatz [1]; 2. 5-David Gravel [4]; 3. 44-Trey Starks [2]; 4. 24-Rico Abreu [3]; 5. 17X-Caleb Helms [7]; 6. 49D-Shawn Dancer [6]; 7. 99-Brady Bacon [9]; 8. 10H-Chad Kemenah [8]; 9. 12N-Cole Duncan [5]
Heat #3 (8 Laps) – Top 5 Transfer: 1. 1S-Logan Schuchart [1]; 2. 5T-Travis Philo [6]; 3. 9-Daryn Pittman [3]; 4. 48-Danny Dietrich [2]; 5. 11N-Dale Blaney [5]; 6. 7C-Caleb Armstrong [7]; 7. 7J-Joe Swanson [8]; 8. 83X-Adam Cruea [9]; 9. 11K-Kraig Kinser [4]
Heat #4 (8 Laps) – Top 5 Transfer: 1. 49X-Tim Shaffer [2]; 2. 41-Jason Johnson [3]; 3. 1A-Jacob Allen [1]; 4. 6M-Jac Haudenschild [5]; 5. W20-Greg Wilson [4]; 6. 4-Paul McMahan [7]; 7. 20N-Hunter Schuerenberg [6]; 8. 13-Clyde Knipp [8]
Craftsman Club Dash (6 Laps): 1. 41-Jason Johnson [1]; 2. 7S-Jason Sides [4]; 3. 5T-Travis Philo [2]; 4. 2-Shane Stewart [8]; 5. 1S-Logan Schuchart [6]; 6. 5-David Gravel [3]; 7. 15-Donny Schatz [7]; 8. 49X-Tim Shaffer [5]
Last Chance Showdown (12 Laps) – Top 4 Transfer: 1. 11K-Kraig Kinser [2][-]; 2. 93-Sheldon Haudenschild [1][-]; 3. 4-Paul McMahan [8][-]; 4. 19-Brent Marks [9][-]; 5. 49D-Shawn Dancer [4][$300]; 6. 12N-Cole Duncan [3][$250]; 7. 10H-Chad Kemenah [10][$225]; 8. 99-Brady Bacon [14][$200]; 9. 45L-Brian Lay [6][$200]; 10. 20N-Hunter Schuerenberg [5][$200]; 11. 7C-Caleb Armstrong [7][$200]; 12. 7J-Joe Swanson [11][$200]; 13. 45-Trevor Baker [13][$200]; 14. 13-Clyde Knipp [12][$200]; 15. 83X-Adam Cruea [15][$200]
Feature (30 Laps): 1. 1S-Logan Schuchart [5][$10,000]; 2. 2-Shane Stewart [4][$5,000]; 3. 49-Brad Sweet [9][$3,000]; 4. 15-Donny Schatz [7][$2,700]; 5. 41-Jason Johnson [1][$2,500]; 6. 5-David Gravel [6][$2,200]; 7. 7S-Jason Sides [2][$2,000]; 8. 1A-Jacob Allen [12][$1,800]; 9. 9-Daryn Pittman [11][$1,600]; 10. 11K-Kraig Kinser [21][$1,450]; 11. 49X-Tim Shaffer [8][$1,300]; 12. W20-Greg Wilson [20][$1,200]; 13. 44-Trey Starks [10][$1,100]; 14. 19-Brent Marks [24][$1,000]; 15. 24-Rico Abreu [14][$950]; 16. 17-Joey Saldana [13][$900]; 17. 4-Paul McMahan [23][$850]; 18. 93-Sheldon Haudenschild [22][$750]; 19. 11N-Dale Blaney [19][$725]; 20. A67-Brandon Wimmer [17][$700]; 21. 48-Danny Dietrich [15][$700]; 22. 5T-Travis Philo [3][$700]; 23. 6M-Jac Haudenschild [16][$700]; 24. 17X-Caleb Helms [18][$700]; Lap Leaders: Jason Johnson 1-6; Shane Stewart 7-8, 10-11; Logan Schuchart 9, 12-30; KSE Hard Charger Award: 11K-Kraig Kinser[+11]