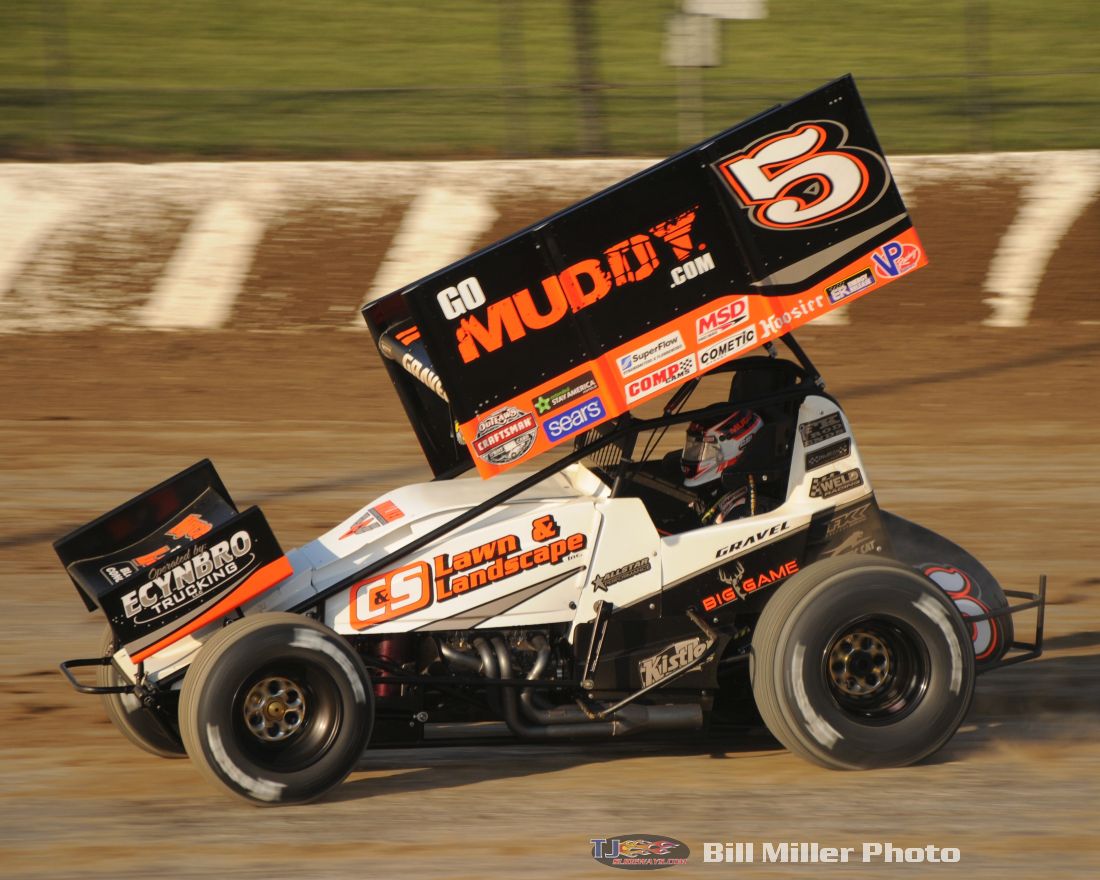 CARLISLE, PA. – May 30, 2017 –  Winning a World of Outlaws Craftsman Sprint Car Series event is a special occasion no matter where you do it. Winning a such a race in front of a group of folks from your hometown makes it a little sweeter.
After Mother Nature delayed the Jersey Outlaw Classic by 24 hours, Gravel scored a front row starting spot at the New Egypt (N.J) Speedway after timing in third overall, winning his heat race and finishing second in the Craftsman Club Dash.
"I'm glad I could win in front of everybody here that came out to watch me," said Gravel, driver of the GoMUDDY.com, J.R.C. Transportation Inc., C&S Lawn & Landscape #5 and former regular New Egypt Speedway competitor. "We had about forty people come out and that is just special. I really want to thank Barry, Derek and Zack for all of their hard work. It meant a lot to win in front of people that had supported me from the get go."
Following the big hometown win, Gravel and the CJB Motorsports team trucked south to the Queen City of Charlotte, N.C. for a Friday night showdown at the Dirt Track at Charlotte.
"The track at Charlotte is so different in the spring than it is in the fall when we go there for World Finals," said Gravel. "We struggled a bit to make it to fourth to make the show and then salvaged an 8th place finish."
Memorial Day at Lawrenceburg (Ind.) Speedway has become a World of Outlaws Craftsman Sprint Car Series tradition over the past few years. The track is among Gravels' favorites and the youngster was off to a hard start as he took to the track on Monday, May 29th.
"We timed in really well," explained the Watertown, Conn. native. "We had a straightaway lead in the heat race and then had a problem with the fueling of the engine. It started to sputter and we held on to finish fifth. It was just a freak thing. It got us into the feature but we missed the dash so we lost some track time. We charged forward and goth from 19th to 10th. We salvaged a top-10 but it was disappointing."
With the month of May at a close, all sights not turn to the upper Midwest and the newly refurbished Jackson (Minn.) Motorplex for the 39th annual AGCO Jackson Nationals. The three day racing event kicks off on Thursday, June 1st and culminates in a $25,000-to-win main event on Saturday, June 3rd.
The event also carries added importance for the team as series partner GoMuddy.com is headquartered in the area.
"With having Tod (Quiring) and his businesses in that area, it makes this trip extra special," said Gravel, who currently sits second in the series standings. "We want to run well there for them and put the #5 in victory lane. We're really looking forward to catching up with Tod, Luke and the whole crew from Muddy Outdoors to see what they've been up to. We're extremely appreciative of their support and putting this car in victory lane is a great way to say "thanks"."