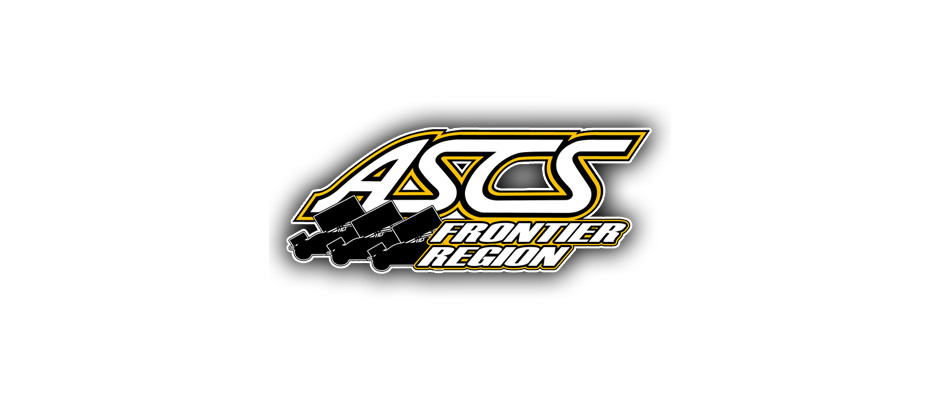 By Andrew Kunas
GILLETTE, Wyo. (June 3, 2017) First trip to Gillette Thunder Speedway was not an issue for Eric Lutz, who won Saturday's feature event to complete the sweep of the 2017 season opening weekend with the Brodix ASCS Frontier Region.
Banking his second career victory with the Brodix ASCS Frontier Region, Lutz led start-to-finish on Saturday night. Normally 25 laps, the feature was cut down to 20 due to circumstances beyond anyone's control that caused delays in the program. A thank you is in order to the staff of the Gillette Thunder Speedway for working to rearrange the running order to get the ASCS feature done first.
"I liked it. It was a lot of fun," Lutz said of the track. "We stuck to the bottom. As the race went on the middle came in and it sealed it for us. The car just got better."
Lutz told fans in Rod End Supply Victory Lane that, even though he lives on the far east end of South Dakota, he'd like to come back to race at the three-eighths mile clay oval in Gillette in the future along with Black Hills Speedway in Rapid City, S. Dakota.
"We'll fit it in when we can. We want to come back," Lutz said. "We got to meet a lot of new people and new fans. It's always fun to see new things."
Anderson, from Spearfish, S.D. finished second aboard his own No. 9a after running in that position throughout the event. D.J. Brink had an podium weekend with a third place effort aboard the SMAC Motorsports No. 75. For the second straight night, it was South Dakota drivers that took home win, place, and show.
Montana's Damon McCune and Rich Martin of Cheyenne, Wyo. raced throughout the event with McCune managing to best Martin for fourth. Martin came across the line fifth. Roger Cummings finished sixth ahead of New Powers and David Hoiness, who both had to come from the rear of the field after earlier mishaps. Eric Flatmoe, who started on the pole, and Shad Petersen rounded out the top-ten.
The series returns to action on Friday, June 9 with the first of five events at Gallatin Speedway in Belgrade, Mont. More information on the ASCS Frontier Region, National Tour and other ASCS regional tours, including schedules and results, can be found onine at ascsracing.com. You can also find the series on Facebook.
Race Results:
ASCS Frontier Region
Gillette Thunder Speedway – Gillette, Wyo.
Saturday, June 3, 2017
Car Count: 18
Heat 1 (8 Laps): 1. 24M-Rich Martin, [6]; 2. 2-Shad Petersen, [1]; 3. 9A-Clint Anderson, [2]; 4. 00-Roger Cummings, [3]; 5. 0-Ned Powers, [4]; 6. 37-Trever Kirkland, [5]
Heat 2 (8 Laps): 1. 5-Eric Lutz, [2]; 2. 27DD-David Hoiness, [3]; 3. 29-Eric Flatmoe, [5]; 4. 66-Lany Reber, [1]; 5. 33-Robert DeHaan, [6]; 6. 8X-Randy Dolberg, [4]
Heat 3 (8 Laps): 1. 75-D.J. Brink, [2]; 2. 56X-Mark Chisholm, [5]; 3. 77-Damon McCune, [4]; 4. 11-Mindy McCord, [1]; 5. 4-Adam Speckman, [6]; 6. 7-Mike Sires, [3]
A Feature (20 Laps): 1. 5-Eric Lutz, [2]; 2. 9A-Clint Anderson, [7]; 3. 75-D.J. Brink, [8]; 4. 77-Damon McCune, [5]; 5. 24M-Rich Martin, [6]; 6. 00-Roger Cummings, [11]; 7. 0-Ned Powers, [15]; 8. 27DD-David Hoiness, [3]; 9. 29-Eric Flatmoe, [1]; 10. 2-Shad Petersen, [4]; 11. 56X-Mark Chisholm, [9]; 12. 33-Robert DeHaan, [12]; 13. 11-Mindy McCord, [10]; 14. 8X-Randy Dolberg, [17]; 15. 7-Mike Sires, [18]; 16. 37-Trever Kirkland, [16]; 17. (DNF) 66-Lany Reber, [14]; (DNS) 4-Adam Speckman,