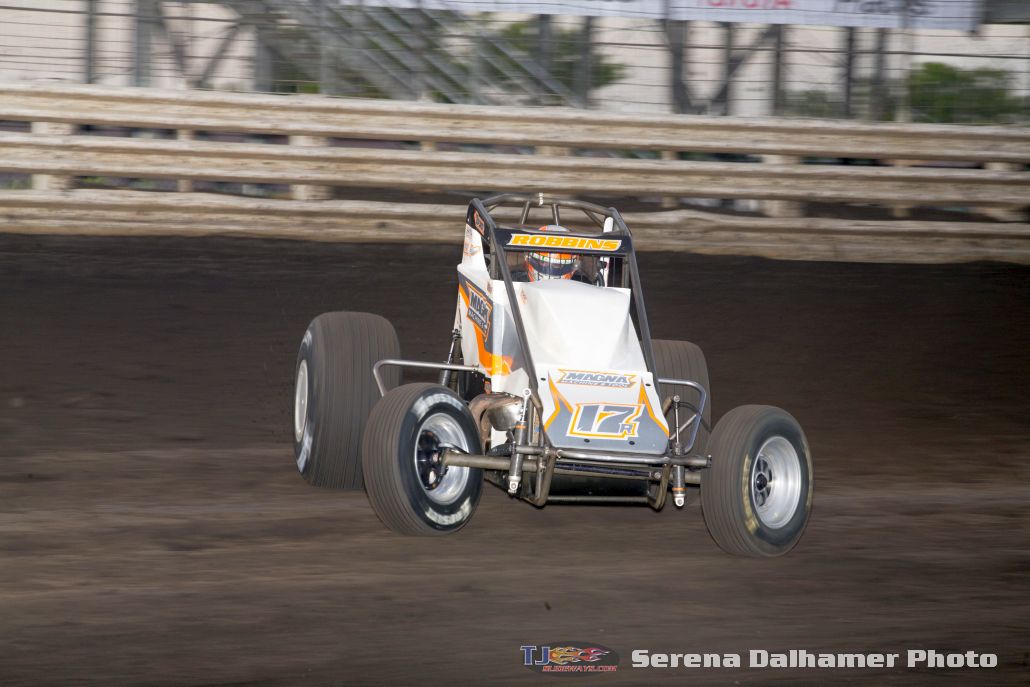 By T.J. Buffenbarger
With Illinois Speedweek, USCS Speedweek, and the National Sprint Car Hall of Fame and Museum inductions behind us the weeks continue to get busier with Indiana Midget Week and Ohio Sprint Speedweek looming. While spring has been a bit soggy at times around the country it seemed to pass so quickly. With summer officially a little over two weeks away racing season is at a torrid pace.
The USAC Amsoil National Sprint Car Series made a big splash with their return to Knoxville Raceway last Saturday. Coming off great show at I-80 Speedway on Friday that featured a wild exchange of the lead at the end of the race the on-track product seemed to improve every time the USAC cars hit the Marion County Fairgrounds oval.Several onlookers called the crowd typical World of Outlaws sized or larger was impressive when I saw the post come up on my Twitter timeline. The reaction to USAC's return to Knoxville was overwhelmingly positive. It will be interesting to see what the future holds as USAC and National Sprint Car Hall of Fame induction weekend seems like the perfect pairing. This also creates a favorable weekend for Jackson Speedway to hold the Jackson Nationals, which had over 100 sprint cars in three classes including the 410 sprint cars, many of which ventured to Jackson from Knoxville with the Saturday off.

Family obligations relegated me to viewing this one on theCushion, but the quality of the racing in all three classes was evident throughout the evening. Can the USAC sprint cars continue to move the needle at Knoxville Raceway? Let's hope the Hall of Fame induction and USAC Sprint Cars are a pairing for years to come.
Michael Pickens amazing season continued this past week picking up two feature victories and the POWRi Speedweek championship. PIckens and the Seamont racing team now sets their sites on Indiana Midget Week starting Wednesday at Montpelier Motor Speedway with the USAC National Midget Car Series.Other guest stars for Midget week include NASCAR driver Kyle Larson and Rico Abreu for Keith Kunz Motorsports along with west coast standout Ronnie Gardner. Indiana Midget Week often does not get as much attention as Indiana Sprint Week, but offers open wheel fans twice the racing with non-wing sprint cars joining the midgets every night.
During the Jackson Nationals 360 sprint car standout Thomas Kennedy had a scary crash where he was whisked away in an ambulance. Thankfully Kennedy only suffered a concussion that will keep him out of action for at least three weeks. Until Saturday Kennedy was having the best season of his career to date. Kennedy is scheduled see a concussions specialist this week
.
I did make it out to Kalamazoo Speedway on Friday for the Auto Value Super Sprints(more on that in this week's Great Lakes edition). Thankfully the 13 cars on hand were more than the 7 that showed up at South Bend Motor Speedway the next night. During the South Bend event AVSS announced they were opening their tire rule to American Racer and Hoosier tire. The question now is if the winged pavement division in the area has enough "want to" among their race teams to follow one or two entire series and produce decent car counts.Not all pavement racing is seeing low car counts as well over 20 cars took aim at the Diamond Cup at Meridan Speedway. Not only did the winged sprint cars make a strong showing, but Meridian officials even brought back Super Modifieds for the weekend with several Utah and Colorado teams competing. Bryan Warf set a new track record in his super modified and won the super and sprint car features to collect to diamond cup rings.
The announcement of the double feature program for the Arctic Cat All Star Circuit of Champions on October 13th should setup an interesting program late int he 2017 season. Wayne County Speedway standout Brad Haudenschild won the dash for that event and will start on the pole, which could make for one of the best stories of 2017 if he could win that race after sitting out a good portion of the 2016 season due to illness. Much like his father Ed Haudenschild, Brad is wildly talented by flies under the radar. Keep an eye on him during Ohio Speedweek at Wayne County and this makeup event at Mansfield.
While Kody Swanson is best known for his exploits on pavement he has quietly collected dirt sprint car wins. Swanson picked up another victory Saturday at Waynesfield Raceway Park.
Topping off Guy Forbrook's weekend of being inducted into the National Sprint Car Hall of Fame and Museum was having his son Brady pick up his first 305 sprint car victory on Saturday at Jackson Motorplex.