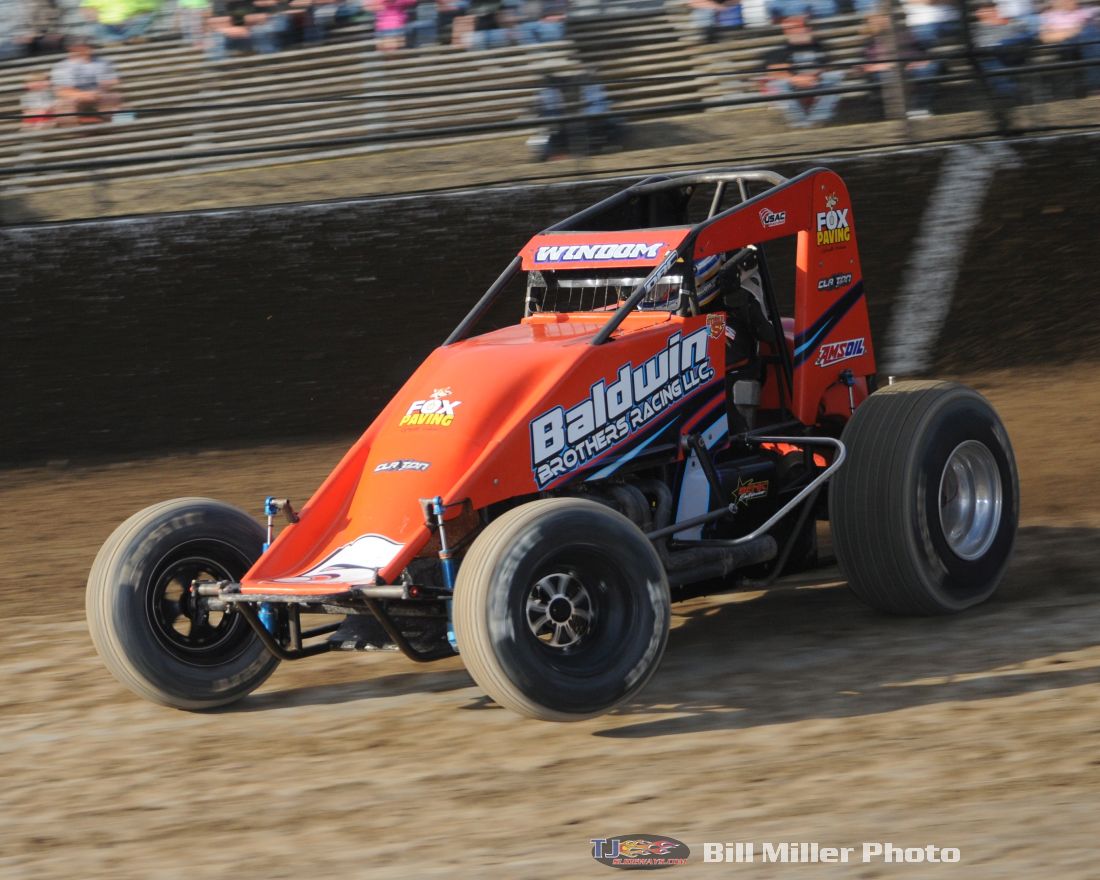 Story by Shawn Brouse
Port Royal – Chris Windom of Canton, Illinois, scored the 30-lap USAC sprint car main event at Port Royal Speedway on Saturday night, spoiling the party for Robert Ballou after the California driver led nearly all 30 laps of the feature.
In the regular 25-lap 410 sprint car main, Blane Heimbach of Selinsgrove overtook Ryan Taylor with two laps to go to notch his 12th career victory at Port Royal.
A one-time winner in his career at Port Royal, Ballou started second in the Eastern Storm USAC feature for the wingless sprint cars and outpaced polesitter Chad Boespflug from the beginning.
Windom started third in the field and maintained that spot for the first five laps before Boespflug started slipping.
A caution flag for debris regrouped the field and wiped out a 2.1 second lead that Ballou had built over Windom and sixth starter Thomas Meseraull.
Ballou got away again when action resumed and had a 1.15 second lead at the halfway point that was extended to 2.813 by the time that a second caution flag unfurled with four laps to go.
And that was the break that Windom needed to get the lead.
When the green flag came back out, Windom pounced to Ballou's inside as the pair raced into the first corner and with that Windom slid up to the cushion just in front of Ballou to begin his run at the front.
Windom was seemingly home free, headed for the checkers but the race for second and third really intensified during the final four laps and with Ballou trying to hang on to second, both he and Justin Grant collided.
The night's fast timer, Grant and Ballou exchanged second twice before racing into the third turn on the final lap with Grant on defense having secured the spot.
Ballou however went for a big slide job as the pair entered the third turn only to find Grant blocking and that sent Ballou up to the fence and flipping, bringing out the red flag.
Ballou escaped uninjured and Grant kept going however Aaron Farney piled into the scene, sustaining damage.
Grant restarted second for the final lap and tried to challenge Windom but Windom kept to the low side to block Grant in each turn, preserving his first ever Port Royal victory, worth $6,000.
Grant rode home second, .371 seconds behind, followed by Brady Bacon, Tyler Courtney and Dave Darland.
Sixth through 10th went to Thomas Meseraull, Chase Stockon, Kevin Thomas Jr., Shane Golobic and Jerry Coons Jr.
Heats for the 28 USAC sprints went to Ballou, Meseraull and Golobic with Darland scoring the B Main.
Grant set fast time with a lap of 19.019 seconds.
Ryan Taylor started on the pole of the regular 25-lap 410-sprint car main with Blane Heimbach starting second.
The initial start was red-flagged when Joey Hershey turned over in the third turn, collecting Curt Stroup and TJ Stutts.
After the stoppage, the event went non-stop to the finish with leader Taylor entering the backmarkers with 15 laps to go.
Taylor kept nearly a straightaway between himself and pursuer Heimbach for most of the event but with less than 10 laps to go, Heimbach began chewing into the lead.
It was clear with five laps to go that Taylor was losing speed in the third and fourth turns while Heimbach was gaining with every tour.
It took until lap 23 for Heimbach to finally take advantage of a slipping Taylor when he was able to ride the inside lane underneath Taylor for the lead as the pair headed for the two-to-go sign.
Taylor came back for a brief moment in the first turn as Heimbach rolled the top and Taylor tried getting back by with an low side move.
But Heimbach dropped off of the cushion to again take control and run to the finish by .944 seconds, worth $3,200.
Taylor settled for second followed by Trey Starks, Dylan Cisney and Trenton Sheaffer.
Sixth through 10th went to Mike Wagner, Justin Barger, Brock Zearfoss, Steve Buckwalter and TJ Stutts.
Heats went to Stutts and Heimbach.
Stay up to date with all the latest Port Royal news and information by visiting the oval's official website at www.portroyalspeedway.com or by following the track on Facebook or Twitter.
AMSOIL USAC NATIONAL SPRINT CAR RACE RESULTS: June 17, 2017 – Port Royal, Pennsylvania – Port Royal Speedway – "Eastern Storm" Presented by DMI
PROSOURCE QUALIFYING: 1. Justin Grant, 11, McGhee-19.019; 2. Thomas Meseraull, 27, Heffner-19.078; 3. Dave Darland, 71p, Phillips/Curb-Agajanian-19.222; 4. Chase Stockon, 32, 32 TBI-19.355; 5. Jerry Coons, Jr., 39, Hogue-19.358; 6. Chris Windom, 5, Baldwin-19.396; 7. Robert Ballou, 12, Ballou-19.416; 8. C.J. Leary, 30, Leary-19.429; 9. Chad Boespflug, 69, Dynamics-19.430; 10. Brady Bacon, 63, Dooling/Hayward-19.487; 11. Jarett Andretti, 18, Andretti-19.538; 12. Aaron Farney, 15F, DCT-19.553; 13. Kevin Thomas, Jr., 44, Pace-19.566; 14. Kyle Moody, 99, Moody-19.702; 15. Alex Bright, 13K, Kaylor-19.727; 16. Tyler Courtney, 23c, TOPP-19.750; 17. Kyle Robbins, 17R, Robbins-19.789; 18. Shane Golobic, 3, Franckowiak-19.901; 19. Isaac Chapple, 52, LNR/Chapple-19.922; 20. Trevor Kobylarz, 14, RT-19.976; 21. Tony DiMattia, 50, DiMattia-19.997; 22. Matt Westfall, 54, Westfall-20.008; 23. Carmen Perigo, 21, Stehman-20.073; 24. Dustin Smith, 77, Gagliardi-20.152; 25. Chad Wilson, 14x, Wilson-20.171; 26. Joey Biasi, B1, Biasi-20.224; 27. Gary Rooke, 42AU, Rooke-20.384; 28. Stevie Sussex, 17GP, Dutcher-NT.
SIMPSON RACE PRODUCTS FIRST HEAT: (8 laps) 1. Ballou, 2. Thomas, 3. Bacon, 4. Courtney, 5. Stockon, 6. Grant, 7. Chapple, 8. Wilson. 2:35.55 (NTR)
COMPETITION SUSPENSION (CSI) SECOND HEAT: (8 laps) 1. Meseraull, 2. Leary, 3. Andretti, 4. Coons, 5. Robbins, 6. Moody, 7. Kobylarz, 8. Perigo, 9. Biasi. 2:39.04
CHALK STIX THIRD HEAT: (8 laps) 1. Golobic, 2. Windom, 3. Boespflug, 4. Bright, 5. Farney, 6. Darland, 7. DiMattia, 8. D.Smith, 9. Rooke. 2:38.56
INDY RACE PARTS SEMI: (12 laps) 1. Darland, 2. Grant, 3. Chapple, 4. Perigo, 5. DiMattia, 6. Moody, 7. Kobylarz, 8. Biasi, 9. Westfall, 10. D.Smith, 11. Rooke, 12. Wilson, 13. Sussex. 4:06.66 (NTR)
FEATURE: (30 laps) 1. Chris Windom, 2. Justin Grant, 3. Brady Bacon, 4. Tyler Courtney, 5. Dave Darland, 6. Thomas Meseraull, 7. Chase Stockon, 8. Kevin Thomas Jr., 9. Shane Golobic, 10. Jerry Coons Jr., 11. Jarett Andretti, 12. Kyle Moody, 13. Alex Bright, 14. Isaac Chapple, 15. C.J. Leary, 16. Aaron Farney, 17. Chad Boespflug, 18. Robert Ballou. 19. Tony DiMattia, 20. Kyle Robbins, 21. Carmen Perigo, 22. Trevor Kobylarz. NT
—————————-
**Ballou flipped on lap 30 of the feature.
FEATURE LAP LEADERS: Laps 1-26 Ballou, Laps 27-30 Windom.
KSE/& IN MEMORY OF MIKE GRASSMYER HARD CHARGER: Tyler Courtney (15th-4th)
WILWOOD BRAKES 13TH PLACE FINISHER: Alex Bright
NEW AMSOIL NATIONAL SPRINT POINTS: 1-Grant-985, 2-Windom-936, 3-Stockon-841, 4-Boespflug-823, 5-Courtney-728, 6-Thomas-716, 7-Leary-644, 8-Bacon-641, 9-Darland-579, 10-Andretti-559.
NEW EASTERN STORM POINTS: 1-Windom-288, 2-Thomas-274, 3-Bacon-260, 4-Meseraull-250, 5-Stockon-241, 6-Grant-240, 7-Andretti-221, 8-Coons-199, 9-Leary-198, 10-Courtney-193.
NEXT AMSOIL NATIONAL SPRINT RACE: June 18 – York Haven, PA – Susquehanna Speedway – "Eastern Storm" Presented by DMI